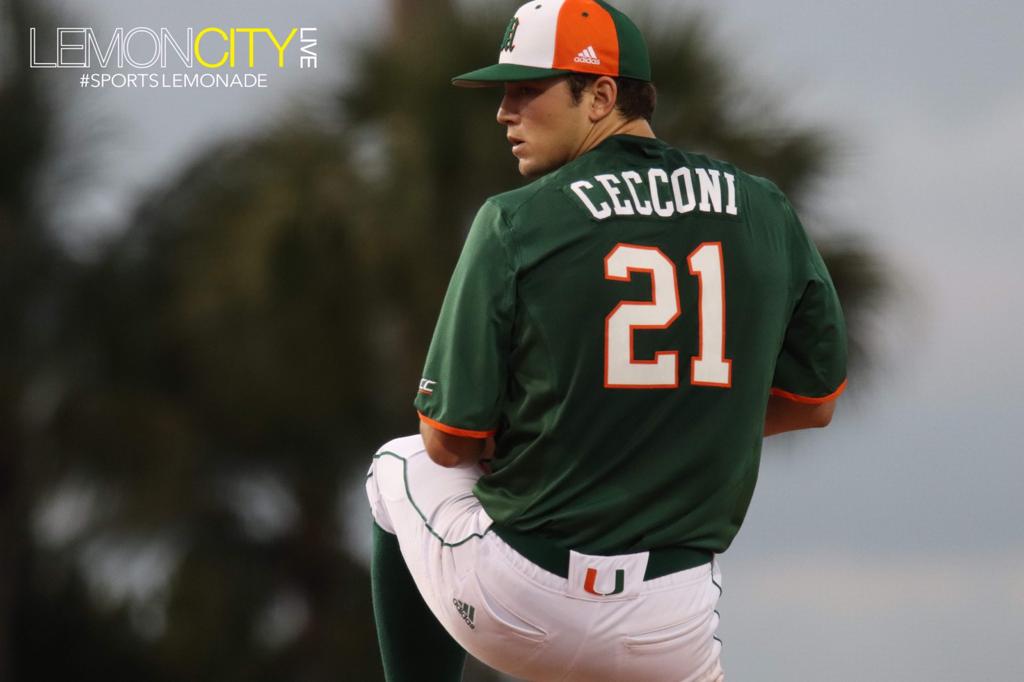 ---
Coral, Gables – It's that time of the year again baseball fans. We're just days away from the 2020 Division 1 college baseball season and the Miami Hurricanes Baseball faithful have lots of reasons to be excited. Those with a love of the game will be rewarded early, watching youngsters hoping to make it to the majors display their talents and drive their respective programs to the promised land: Omaha.
When we last saw the boys, they were playing in the "Fall Classic" against Florida Atlantic University. Several players showed midseason form in a rather unorthodox 12-inning game, allowing for the coaches to play most, if not all, of their roster. The hitting was good and the pitching was phenomenal in some instances. Many of the players mentioned here showed good stuff back in October and in the alumni game this past weekend.
Bats A Plenty
When you look at the 2020 Miami Hurricanes offense, you'll learn rather quickly they can both hit the baseball for contact and belt it over the fence. For the latter, this is because of none other than first baseman Alex Toral. The team's 2019 Comeback Player of the Year, Toral bounced back from a terrible Freshman season to swing a hot .293/.400/.656 slash line, smashing an ACC best 24 home runs and 67 RBIs in the process. It was the second-most by a Hurricane in a single season. He led the conference in HRs and was third-best in Division 1 baseball. He wasn't the only one crushing it, Raymond Gil (13) and Adrian Del Castillo (12) contributed as well.
Classic 𝕸𝖎𝖆𝖒𝖎 with a twist. pic.twitter.com/4LawmXqXuf

— Canes Baseball (@CanesBaseball) February 5, 2020
Chicks dig the longball but Miami can certainly beat teams playing small ball.
This is best represented by their prime leadoff man Jordan Lala. Hitting .276/.446/.386, he drew 61 walks, swiped 28 bags, and scored a team-high 68 runs. You can't score runs if you don't get on base, and Lala definitely gets on base. His speed gives pitchers something to think about while giving catchers fits.
Another fella with great swing speed is Del Castillo. Slashing .331/.418/.576, Del Castillo smacked 12 dingers and drove in 72 RBIs. A versatile player, he had 31 starts in right field, 16 at DH, 12 behind the dish and two at third base. His .331 batting average, 78 hits, 22 doubles, and 72 RBI were all team-bests. He tied Anthony Vilar for most multi-hit games (22) and was second on the squad with 18 Multi RBI games.
Another big hitter is two-way player JP Gates. Ending 2019 with a .340/.371/.510 stat line, he hit nine doubles, four round-trippers, and 31 RBIs on 147 ABs in 52 games. Last year Gates also had a 14-game hitting streak. He contributes not only at the plate but also on the mound. Tossing 17 innings in 20 games, he had his first career start against FGCU in early April, posting a 1-1 record and 5.82 ERA. While not too impressive, especially considering opponents hit .292 against him, the sophomore adds depth to the pitching staff when he isn't helping at DH.
Leading from the mound
Speaking of the pitching, Miami's starters are a force to be reckoned with. Evan McKendry went on to bigger and better things but the Hurricanes are still packing a great rotation. Starting with Chris McMahon, the righty went 3-2 with a 3.73 ERA in 12 starts. Tossing a hair over 60 innings, he punched out 67 batters and issued 23 walks. Opponents at the plate were kept under control, held to just .229 only able to take him yard twice. If you like him, you'll love the next two.
Transferring from Broward College the year before, Brian Van Belle dazzled in his first season pitching for Miami Hurricanes Baseball. Going 10-2 in 16 starts, he posted a 3.30 ERA with over 95 innings pitched, striking out 84 hitters and walking just 24. With opposing batters going .247 at the plate, good luck overpowering this redshirt senior who's as good of a candidate to open Friday nights as anyone.
Meet your team captains for 2020! @GinoDiMare1 announces senior @BrianVanBelle and sophomore @AdrianDelCast will lead this year's Canes! pic.twitter.com/88eV3oZqJo

— Canes Baseball (@CanesBaseball) February 8, 2020
Last and certainly not least, we got Slade Cecconi ready to contribute to the team in his sophomore year. Hailing from Trinity Prep he went 5-4 in 13 starts, posting a 4.16 ERA in his rookie stint. Those numbers may not be eye-catching but the kid looked impressive during the Fall Classic game against the Owls, retiring 10 consecutive batters, seven of those via strikeout. He kept up the good work during the alumni exhibition game, allowing one hit over four shutout innings, punching out 11 of 13 batters. Despite a somewhat higher ERA, he struck out 89 and only issued 18 walks in 80 innings of work, including throwing in relief. Opponents were batting .249 at the dish and the youngster is only going to get better.
No pitching staff is complete without a reliable reliever corps. Daniel Federman and Tyler Keysor lead Miami's bullpen with the former more than capable of long relief. Expect a solid performance from these two, although others may need to step up when the situation arises. And it will. Did anyone notice everyone's (Except Gates) a righty?
The Newbies
The team has plenty of talent and this was just some of it. But like in every program, there is turnover due to the kids transferring out, graduating or simply getting drafted into the big leagues. So what about the new guys? Since we're still on the pitching I'd like to introduce to you a potential future ace on the team.
Grown from Ft. Myers, Florida, Carson Palmquist attended Riverdale High School where he was a four-year varsity starter. The southpaw didn't allow a single earned run in his junior or senior year, topping 106 strikeouts in his last season. This kid looks like fire. Let's see what he can do in his collegiate career. He'd be joined by another rookie southpaw from Clermont by the name of Alex Munroe.
Munroe attended Ridge Community High School, helping the team to a district championship his senior year. In his final season, he posted a 1.27 ERA, K'ing 108 hitters in over 60 innings pitched. He is another candidate to get starts, likely in the midweek games.
The last new face we're glimpsing is a transfer from Mission College by the name of Josh Lauck. Lauck is coming in as a junior where in previous seasons he earned first-team all-conference honors, ranking third last year with six round-trippers and 49 RBIs. Entering 2020 he's a career .318 hitter, slugging .566.
We're putting in work to get better every day! 🙌 pic.twitter.com/j4E7aym8aT

— Canes Baseball (@CanesBaseball) January 14, 2020
The team is ready to make a lot of noise and the experts know it. The Miami Hurricanes have been awarded their fifth Top-10 pre-season ranking with four of those placing them in the Top 5. The National Collegiate Baseball Writers' Association (NCBWA) has UM coming in at No. 5 in their poll. Baseball America too, just recently rated them No. 5 to start the campaign, Miami was also ranked No. 3 by D1 Baseball and No. 4 by Collegiate Baseball. Perfect Game has the Hurricanes checking at No. 7. Considering the team ended last season No. 19, this is huge for the program. Fans and alumni alike are chomping at the bit for a return to the glory days and 2020 might be it.
It's a long season of course and things can and will happen, but assuming health is not an issue the Hurricanes are set for a deep run in the post-season on the road to Omaha.
Schedule and Prediction
The conference is stacked this year with talented teams. According to D1 Baseball, seven ACC squads are on their preseason Top 25. This year's slate is filled with delicious matchups to test Miami's mettle. The Hurricane's first test will come at them early with a home series versus the Florida Gators on the second weekend of the season. Last year Miami let a great opportunity to win the series slip from their fingers in Gainsville but there's reason to believe that will NOT happen again.
UM has another challenge late March when they visit Duke for a weekend tilt and April will be make-or-break for the Canes. They have big matchups against North Carolina, Louisville and Florida State in that order. The series versus the Cardinals could be the most important this season since they're ranked No. 1, at least according to D1 and Collegiate Baseball. Of course, a lot can change between now and then. Other intriguing contests include three sprinkled games versus FGCU, Clemson and the final series of the regular season against Georgia Tech. We also can't forget the home and home series with FIU that has proven to be an exciting rivalry the last couple of years, the first round being at The Light on March 18th.
Excitement is high but the team will have to remain focused and take the one game at a time approach. For Coach Gino DiMare the rankings throughout the year won't matter, it's the ranking of who's the last one standing at Omaha that does. Miami is heavily favored to win the ACC Coastal, but Georgia Tech and Duke especially can throw a wrench into those ambitions. Either way, the Hurricanes are going to win, a lot.
Projected 2020 record: 44-12
The expectations are high, but we are ready. See you at The Light! https://t.co/lF7cwsZyuM

— Canes Baseball (@CanesBaseball) February 6, 2020
(Visited 71 times, 1 visits today)