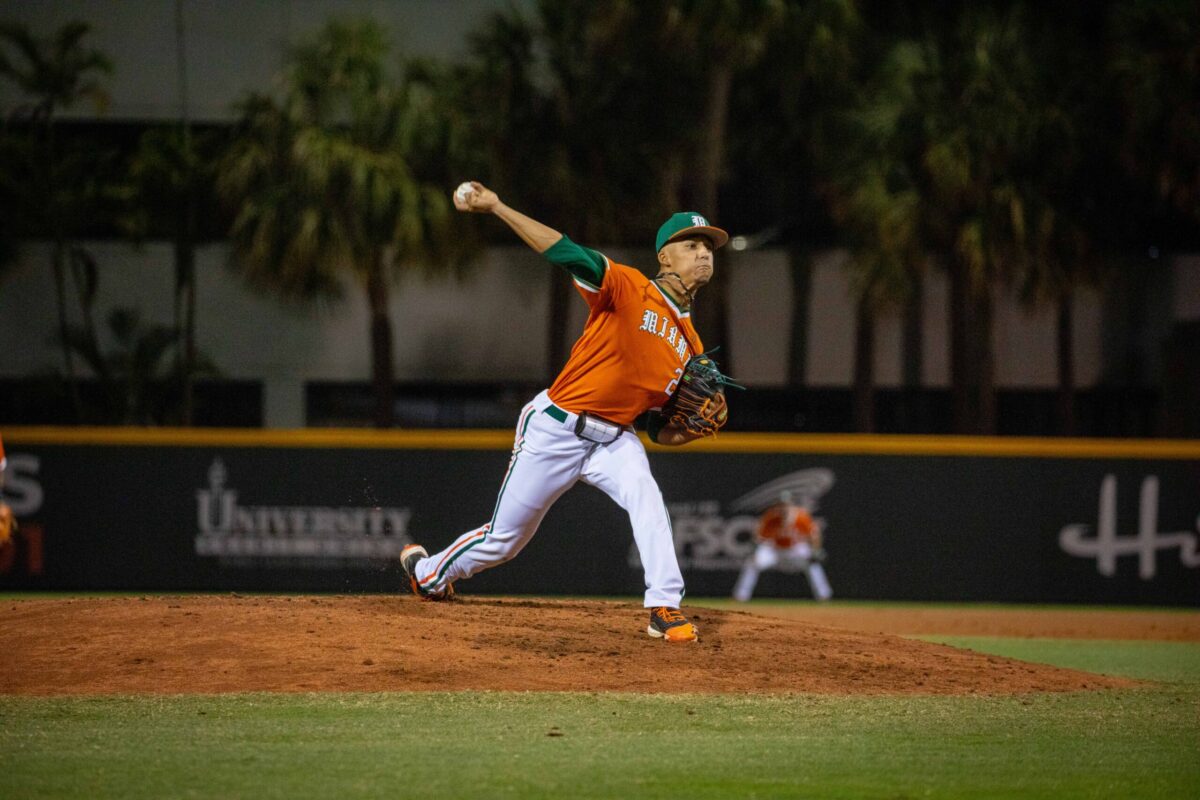 ---
Miami, Florida – What was a low-scoring affair quickly turned into a rout as the Miami Hurricanes power past Wake Forest, winning 10-0 to open the series. Alex Toral hit his first home run of the season, capping off a huge five-run fifth against William Fleming and the Demon Deacons. Fleming had done a good job containing Miami's offense through four until he gave up a walk and then three hits that included a two-run double from Christian Del Castillo and Toral's dinger. Fleming also threw a bases-loaded wild pitch, allowing Jordan Lala to cross the plate.
The Hurricanes improved to 7-4 overall, now riding a four-game winning streak. Wake Forest had missed four games due to COVID protocols. Their last contest was on February 28th versus Notre Dame, losing 10-0. 12 days later they returned to the field, coincidentally losing to the Canes by the same score.
First HR of the season always feels good. @AlexT_20 pic.twitter.com/Bfsds3MNM6

— Canes Baseball (@CanesBaseball) March 13, 2021
Great Pitching, Explosive Hitting
Alejandro Rosario tossed a gem in his first-ever Friday start, pitching seven scoreless innings. The freshman struggled to find the strike zone in the second frame but regained his command, striking out seven hitters. Rosario gave up just one hit all night, walking two.
UM scored their first run of the game in the third. Lala drew the two-out walk, swiping second to set up for Anthony Vilar's RBI single. Vilar hit an up-the-middle bouncer that Michael Turconi managed to scoop up but the throw to first was too low for Bobby Seymour. Lala used his speed to score all the way from second base on the play.
Midway through the contest, the game burst wide open. Lala drew another walk in the fifth while Vilar followed up with a single to left field. After Yohandy Morales grounded out to advance the runners, Adrian Del Castillo was intentionally walked to load the bases. Lala pounced on the wild pitch. Adrian's younger brother Christian drove two home with a double to right field. Miami's big man Alex Toral went yard for the huge two-run blast.
The freshman brought the 🔥🔥🔥 tonight!

⚾️ 7 innings ⚾️ 0 runs ⚾️ 7 Ks ⚾️ 2 hits pic.twitter.com/uJgaP9yd6d

— Canes Baseball (@CanesBaseball) March 13, 2021
He wasn't the only one breaking out the lumber. Vilar smacked a homer of his own, plating Tony Jenkins in the sixth. Miami scored in the seventh and eighth inning via RBI singles, courtesy of Jared Thomas and Christian Del Castillo respectively. Alex McFarlane pitched in relief and finished what Rosario started giving up a mere hit in two innings of work, fanning three.
Game Notes
Freshman Carlos Perez got his first-ever college career hit for the Hurricanes
Miami scored 10 runs on 11 hits committing no errors
Wake Forest scored no runs on two hits committing three errors
Anthony Vilar went 3-for-4 with 2 runs, 3 RBIs, and 1 HR, his second of the season
Alex Toral went 3-for-4 with 1 run, 2 RBIs, a double, and an HR. Was a triple shy of hitting for the cycle
Alejandro Rosario: 7 IP, 1 H, 0 R, 0 ER, 2 BB, 7 K
No. 6️⃣1️⃣ smacks the first hit of his Miami career! @ACCNetwork: https://t.co/uAXqKmY3Q3 pic.twitter.com/2CUHCJfERj

— Canes Baseball (@CanesBaseball) March 13, 2021
Gus Bus Award
This one goes to Alejandro Rosario, the freshman really stepped up and flourished. He kept his cool and stayed in control.
You're Killing Me Smalls
Adrian Del Castillo had a pretty quiet night at the plate going hitless.
(Visited 1 times, 1 visits today)