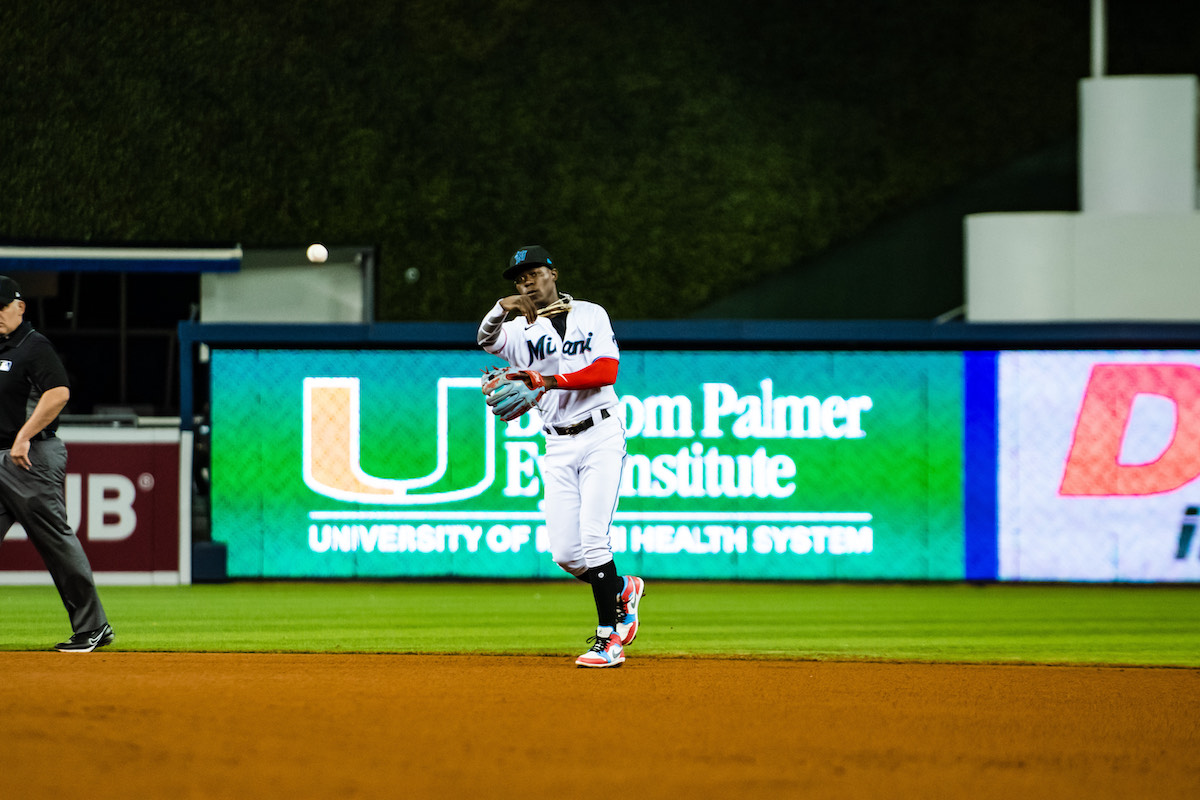 ---
Miami, Florida – The Miami Marlins were unable to produce, losing to the Toronto Blue Jays 3-1 Wednesday night. They recorded only five hits in the effort. Trevor Rogers struggled in the early going but despite regaining control as the game went on the deficit proved too much for the often anemic offense. Starling Marte was the lone Marlin with multiple hits. Rogers lasted five frames giving up three runs (all earned) on five hits.
Limiting The Damage
Toronto struck early, pouncing on Rogers plating two in the first. The Marlins starter gave up a single to Bo Bichette before walking Vladimir Guerrero Jr. Teoscar Hernández ripped an RBI double to put the Blue Jays ahead. George Springer then grounded out as Guerrero crossed home to make it 2-0.
Our talents in South Beach >>>

We're in FLIGHT! pic.twitter.com/kfvH6vQcvR

— Toronto Blue Jays (@BlueJays) June 23, 2021
The Blue Jays threatened again in the second loading the bases for Guerrero. The interesting part is had it not been for Jesús Aguilar stepping off the bag too early when Marcus Semien seemingly grounded out to Jon Berti, the side would've been retired. Luckily, the big-time slugger lined out allowing Rogers and the fish to escape unscathed. 
After the visitors added another run in the fifth to extend their lead, Miami finally got on the board. Marte got the barrel on the ball sending a moonshot to left-center for his sixth home run of the season to make it 3-1 through six innings. Miami's bats stayed quiet until the ninth. Adam Duvall led off with a double to left only to see the effort wasted. The next three hitters were retired to end the contest.
A shooting star. pic.twitter.com/d3Fk8AYCQp

— Miami Marlins (@Marlins) June 24, 2021
Moving Forward
It's yet another frustrating loss. Sure, Trevor Rogers wasn't dominant but the theme continues: The pitching getting little to no run support. They went from outscoring the Cubs 21-5 to scoring only a run in each of the two-game series with the Blue Jays. Jazz Chisholm, Marte, Aguilar, Duvall, Miguel Rojas and Jesús Sánchez. All in the lineup. Fans are expecting way more than a pair of runs to start the six-game homestand. 
No need for a 1000 word column.

The Miami Marlins are not good at hitting the baseball.

— TWM (@TakesWereMade_) June 24, 2021
With the Washington Nationals flying in, the offense needs to find its spark. Miami trails second-place Washington by five games, the division-leading Mets by nine. At the very least there needs to a split in the upcoming four-game series. Otherwise, the hole might be already too deep to climb out of. It's only June but the ball club is trending downwards with the current general consensus of the Marlins being non-contenders/sellers by the trade deadline.
The team needs to turn it around and quickly.
Game Notes
Toronto scored three runs on eight hits committing one error
Miami Scored one run on five hits committing one error
LOB: Blue Jays 8, Marlins 6
Jazz Chisholm: 0-for-4, 1 K
Trevor Rogers: 5 IP, 5 H, 3 R, 3 ER, 2 BB, 6 K
Marlins were 0-for-4 with RISP
Photo | JC Ruiz
(Visited 34 times, 1 visits today)