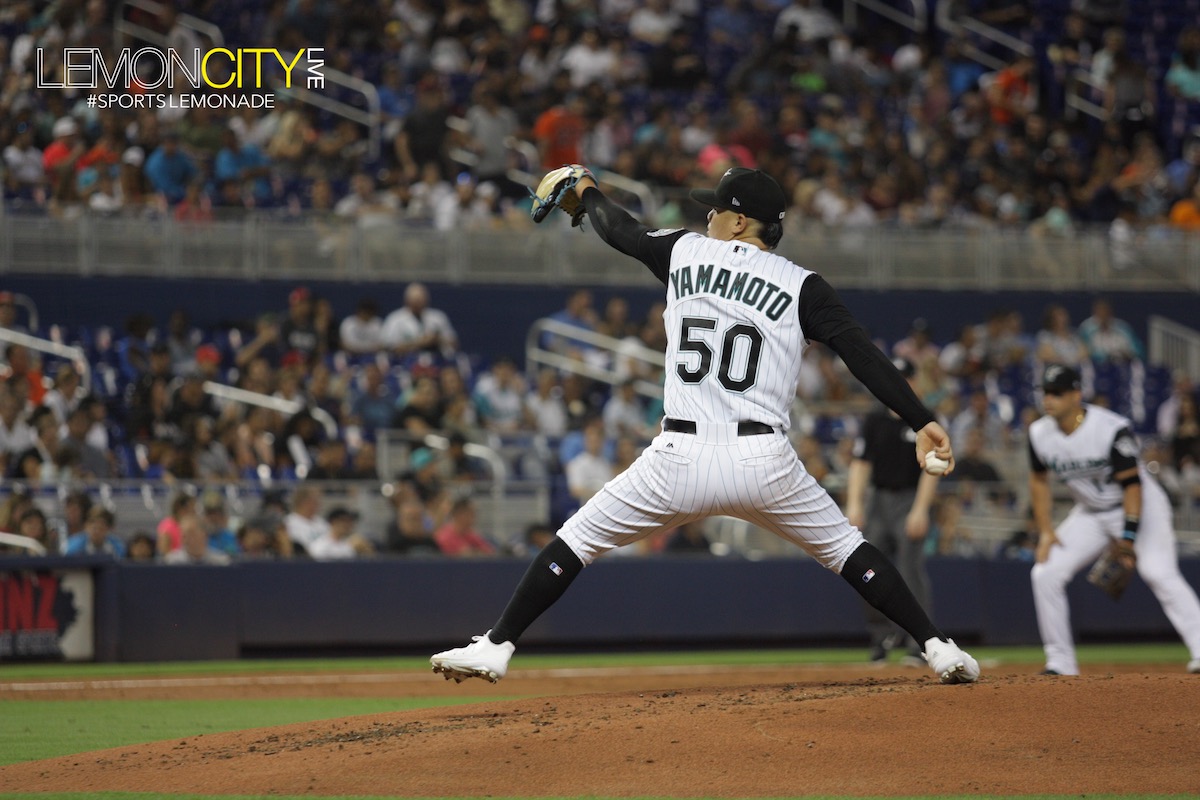 Miami, FL – A disastrous fourth doomed the Miami Marlins Saturday night, losing 9-2 to the Arizona Diamondbacks at Marlins Park during Throwback Weekend. Jordan Yamamoto cruised through the first three innings before issuing back to back walks and eventually a hit by pitch to load the bases for the shortstop Nick Ahmed, culminating in a game-changing grand slam.
Same as yesterday the Marlins got on the board first, this time with a leadoff home run by Miguel Rojas. It was his second blast of the season.
Yamamoto dominated the Diamondbacks on the first go, keeping them hitless. The great performance came to a screeching halt after he ran into trouble with the top of the order, walking Jarrod Dyson and Ketel Marte. Yamamoto then gave up an RBI single to Eduardo Escobar. A groundout to first by David Peralta scored another run to give Arizona the lead. His struggles continued, beaning Christian Walker to put runners at the corners before walking Jack Lamb. The demoralizing grand slam was Ahmed's second of his career. His first came in 2018 against the Chicago Cubs.
A promising night turned into a nightmare.
Alex Young meanwhile, had a stellar evening for Arizona going six strong allowing two earned runs on eight hits. He is now 4-0 with a 2.51 ERA.
Things didn't get any better as two innings later Wei-Yin Chen gave up a two-run shot to Lamb, effectively putting the game way out of reach.
Florida showed some life in the sixth by loading the bases. Brian Anderson and Garrett Cooper laced consecutive base hits while Starlin Castro drew a walk. The potential surge was cut short after Alfaro grounded out to short, ending the effort.
Things got a little heated in the eighth inning after Tayron Guerrero hit Christian Walker with a pitch. Guerrero exchanged some words with Arizona's dugout causing both to empty, as well as their bullpens. Players spilled onto the field but no punches were thrown, no one was ejected. It looks like it just got away from him.
A MESSY BENCH WHO LIVES FOR DRAMA, and Tayron is not into it. pic.twitter.com/6EubBqAWfK

— Miami Marlins (@Marlins) July 28, 2019
Also worth noting that by the eighth inning a trade involving Sergio Romo was finalized, shipping him off to the Minnesota Twins. According to sources, the Twins will also receive right-handed starter Chris Vallimont, who is at High-A. In return, Miami will receive Double-A first baseman Lewin Diaz noted for his power and defense.
Multiple reports: The @Marlins have traded @SergioRomo54 to the @Twins for 1st base prospect Lewin Diaz.
Thank you, Sergio! #JuntosMiami pic.twitter.com/jqpFKA4P04

— Lemon City Live (@LemonCityLive) July 28, 2019
Yamamoto ended the night lasting only four innings, giving up a new career-high six earned runs on two hits while walking three. It's his second consecutive loss. In his last start against the Los Angeles Dodgers, he struggled mightily, also lasting just four innings, giving up five runs on four hits in the 9-0 shutout. He falls to 4-2 with a 3.64 ERA.
Despite the flat performance by the home team, it was a nostalgic evening as former players Luis Castillo, Alex Gonzalez and Kurt Abbott were on hand to commemorate the Marlins of old. Castillo and Abbott took part in the ceremonial first pitch.
Elieser Hernandez is slated as tomorrow's starting pitcher for the final game of Throwback Weekend.
Photo | Edwin Garcia
(Visited 110 times, 1 visits today)