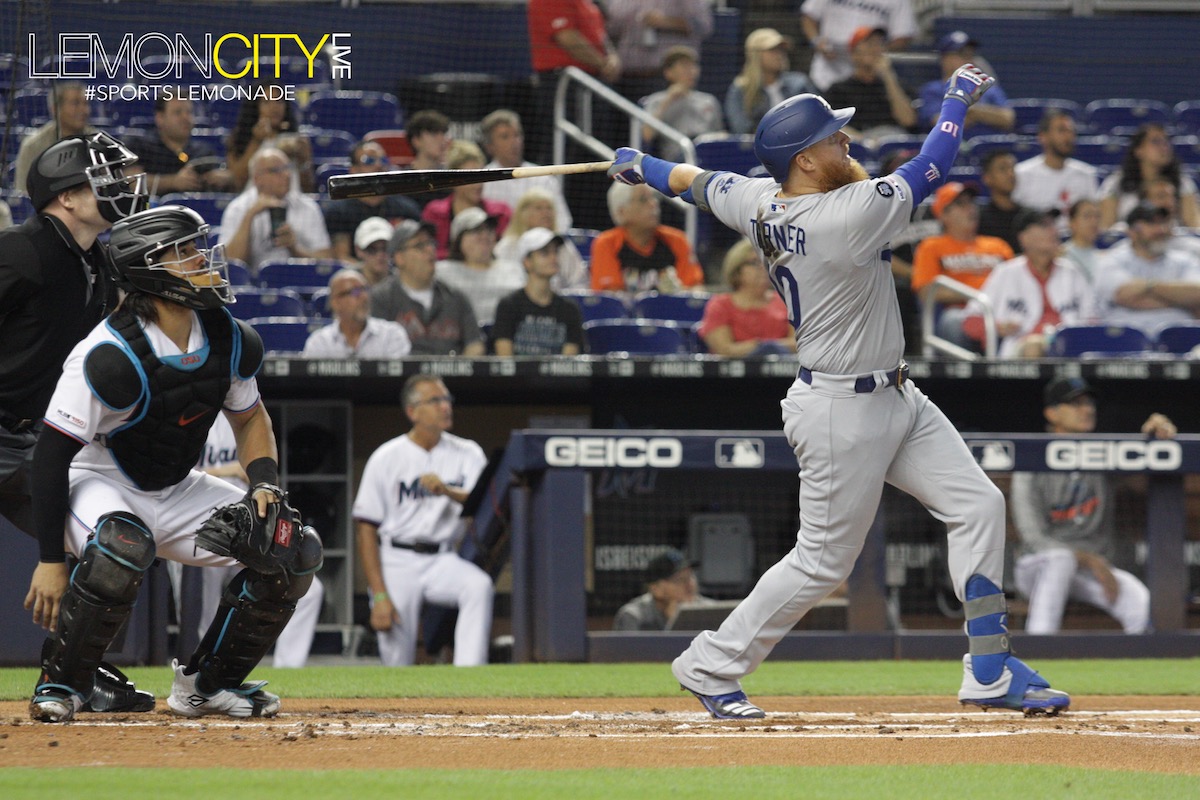 ---
Miami, FL – Clayton Kershaw dominated on the mound as Edwin Rios powered the Los Angeles Dodgers, belting two home runs en route to a 9-1 thrashing of the Miami Marlins Wednesday night. Kershaw put up an absolute gem, striking out seven consecutive batters to start the game at Marlins Park, one short of the major league record. The Dodgers flashed the lumber, slugging four homers in a superb display.
Clayton Kershaw was the only Dodger starter in 2018 to have at least 20 starts of six innings. He did it in 21 of 26 starts. He has now pitched at least six innings in 21 of 21 starts this season.

— Dodger Insider (@DodgerInsider) August 15, 2019
The Marlins were trying to turn the page after last night's 15-1 demolition but LA kept up the theme, frying the fish with the longball. The offense has been anemic all season and tonight was no exception. With just three hits on the night, this series has painfully illustrated what the team has been desperately lacking: Power.
The Dodgers jumped all over starter Elieser Hernandez, scoring three runs in the opening frame on two dingers from Justin Turner and Corey Seager. Hernandez lasted six innings, giving up six earned runs on eight hits while fanning seven. He surrendered all four round-trippers. The righty fell to 2-5 with a 5.40 ERA.
Edwin Rios had a heck of a game as well, hitting his first two career dingers here in Miami. They came in the fourth and sixth innings. The Florida International University alum went 3-for-3, collecting 3 RBIs and a walk in the effort.
Two silent treatments in one night? How you feelin', @Edwin_Rios30? pic.twitter.com/d8qcH6VC2D

— Los Angeles Dodgers (@Dodgers) August 15, 2019
It wasn't just Edwin Rios. The visitors dominated from start to finish, tagging five additional runs in the second half of the game. Curtis Granderson granted the team a minor victory, smacking a pinch-hit home run in the ninth but that was the extent of it.
Eyes On You
There will be several players I'll be keeping an eye on the rest of the way. The season has been over, contention wise, for a while now (For some its been over since May) and all that's left is to call up the boys from the minors. It's likely the organization will be evaluating those they look to utilize as a part of their 2020 plans. Isan Diaz is such a player. The Fish are hoping he can take over duties at second base full time but this will depend on how he does the last six or so weeks of the season in addition to spring training.
So far, Diaz is batting 6-for-31 in August heading into tonight's game slashing .194/.265/.323. He was hitless tonight. The 23-year-old from Puerto Rico was called in on the fifth, earlier this month.
Meanwhile, it's looking like this is Lewis Brinson's last chance to prove he belongs. The remaining stretch of games will determine if Brinson can make that final leap or be relegated to being a "AAAA player". A purgatory if you will, where you're too good for Triple-A but just don't have enough to stay in the majors. He has a lot of work to do, like Diaz he's hitting 6-for-31 on the month prior to Wednesday night's game, displaying a weak .194/.242/.194 slash line. And like Diaz, he was held hitless this evening. Brinson was also called up August 5th.
Another individual worth keeping an eye on is actually performing better than the others currently, that's Jon Berti. He's gone 16-for-44 with five doubles and six RBIs, compiling .364/.417/.523 for the month thus far. One of the bright spots on the team in the second half of the season. He should certainly be an option for the roster next year within the infield either full time or as a fill-in. If Diaz struggles or for whatever reason cannot be the team's second baseman, Berti can always be looked at.
The most frustrating situation right now has to be with Jordan Yamamoto. After starting off his career brilliantly going 4-0 (Including winning on his first three starts), Yamamoto has struggled mightly falling to 4-4 with a 4.42 ERA. Half his losses come at the hands of the Dodgers wherein both meetings he gave up two home runs apiece. He ended his last start lasting five frames, giving up four earned runs on four hits. Not bad at first glance, it's those longballs that can sometimes just wash away your evening.
All that remains now of the 2019 season is development and evaluation. In some ways that been the goal all year, to bring up and mold the youngsters for future contention in the aim of retaining talent. The organization is not just examining the players but also the coach, Don Mattingly. But that story is for another day. Stay frosty.
Photo Credit | Edwin Garcia
(Visited 108 times, 1 visits today)