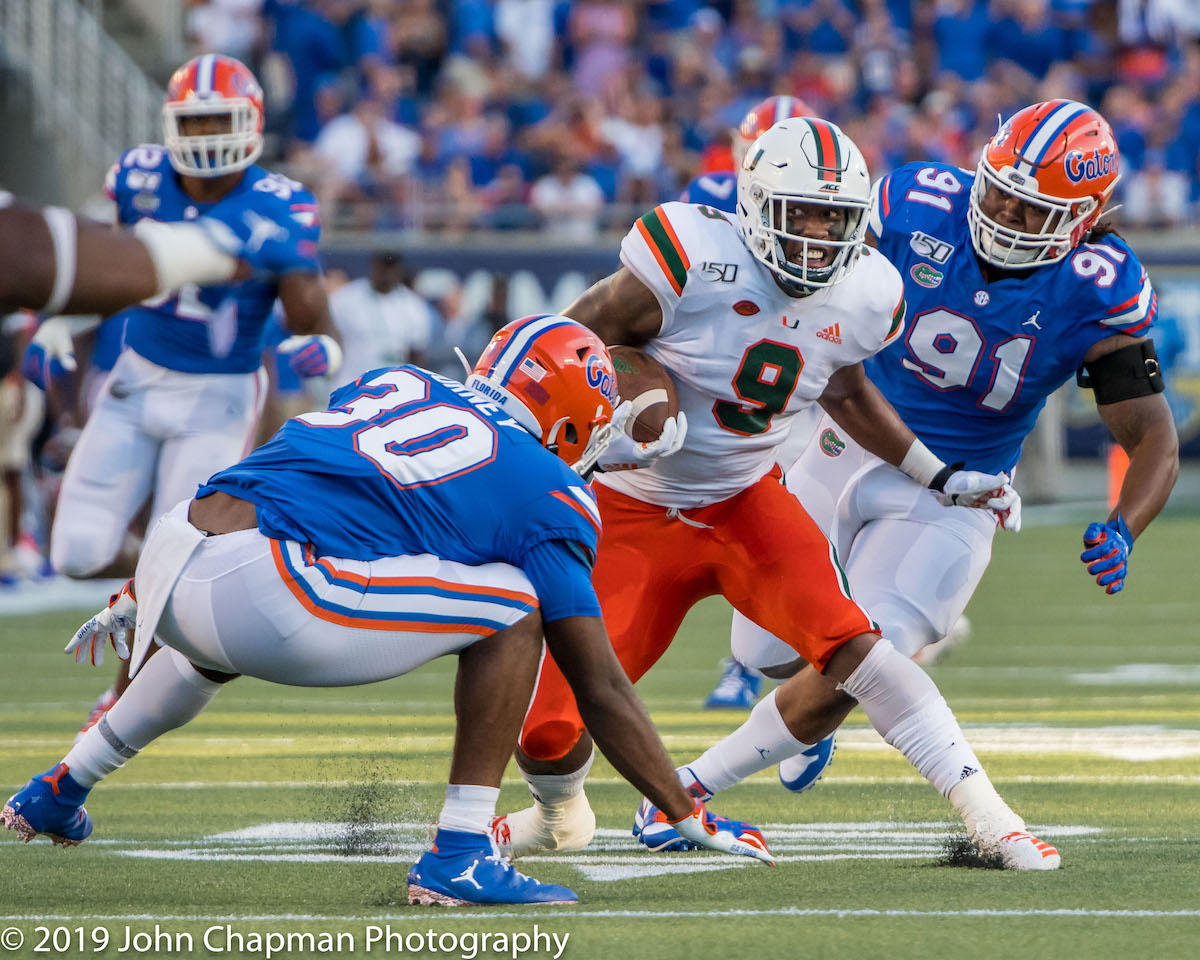 ---
Coral Gables, FL – Coach Manny Diaz said it best, they did not come to play with courage and effort. You don't pat yourself on the back for not quitting. They came to win. There are no moral victories. Not for the University of Miami.
Although a very exciting football game, the "Week 0" showcase in Orlando was a sloppy affair for both teams. For those who think this was merely an assessment of where the Canes stand, this is partially true but make no mistake. Despite it being a non-conference game, it was an important matchup for both UM and Florida Gator fans.
Consider the rivalry, the two teams have a long head to head history going back to before World War 2, starting in 1938. They squared off for 44 consecutive years from 1944-1987, that is a lot of memorable games. In fact, this is the first time the two programs played one another since 2013 and as before, this game didn't disappoint when it came to the excitement and fervor of the fans. For those keeping score, Miami led the series 29-26, winning seven of the last eight meetings. They'll just have to wait for that 30th win.
Jeff Thomas hit cirlce 👀👀👀 pic.twitter.com/i1ddYl997M

— Unnecessary Roughness (@UnnecRoughness) August 25, 2019
That aside, sure, the Florida Gators aren't an ACC opponent obviously but they're a ranked team, #8 in the nation. So of course this game was important, very important. I'm not sure if it's enough to take to the message boards in an expletive-filled rant or heading into work feeling like you're enduring a hangover but it was a tremendous opportunity to start building that bowl game resume.
All right, now let's go over what went right. Starting with the defense, they played effectively forcing four turnovers, splitting evenly between fumbles and interceptions. Whenever the offense struggled these boys kept UM in the game, showing off the brand new turnover chain (And touchdown rings). There are two blemishes that come to mind, they were only able to get the one sack and the Gators were an impressive four-of-four on fourth down conversions. The first one isn't so bad given how they were able to get the ball back but the way they were able to convert every time, especially in the red zone, showed Florida was definitely not afraid of the D.
They went to Jared https://t.co/x9az3CrmhA

— Lemon City Live (@LemonCityLive) August 25, 2019
Miami dominated time of possession (36:13), in the fourth quarter UF held the ball for less than three minutes, maximizing their chances. Jarren Williams, despite getting sacked 10 times, played pretty decent out there going 19-for-29 for 214 yards and a touchdown. He showed spark when it came to pocket passing but Williams needs to learn to get rid of the ball when there's no play, all that negative yardage really hurt their offensive drives. And this doesn't even include the two times he fumbled. Despite the line collapsing on him frequently, the kid never threw an interception under all that pressure. They came close though.
DeeJay Dallas had a good game with 12 carries for 95 yards and a 50-yard rushing TD, helping to literally spearhead the effort. It was great watching Dallas slipping tackles left and right. And he's not the only one. Brevin Jordan caught a sweet pass from Williams in the final moments of the second quarter, bouncing off a defender and going straight into the endzone for the go-ahead score.
Now for the bad stuff
That O-line was a mess and if there was anything the team really needs to fix and fast, it's that. Williams was hurried frequently with an abnormally high amount of sacks. Part of it is on the quarterback but with woefully little protection, it's why the offense struggled. The team had no red-zone presence while the Gators were three-of-four including two TDs. In fact, the Canes were only able to make three points off four turnovers, a mere field goal.
Speaking of field goals, Bubba Baxa missed a chip shot in the fourth quarter that would have brought Miami to within one. Worse, special teams literally dropped the ball late in the third quarter after Jeff Thomas inexcusably muffed on the punt, giving the Florida Gators excellent field position and eventually the lead. I feel that was the momentum shifter that Florida needed, capitalizing on a costly mistake.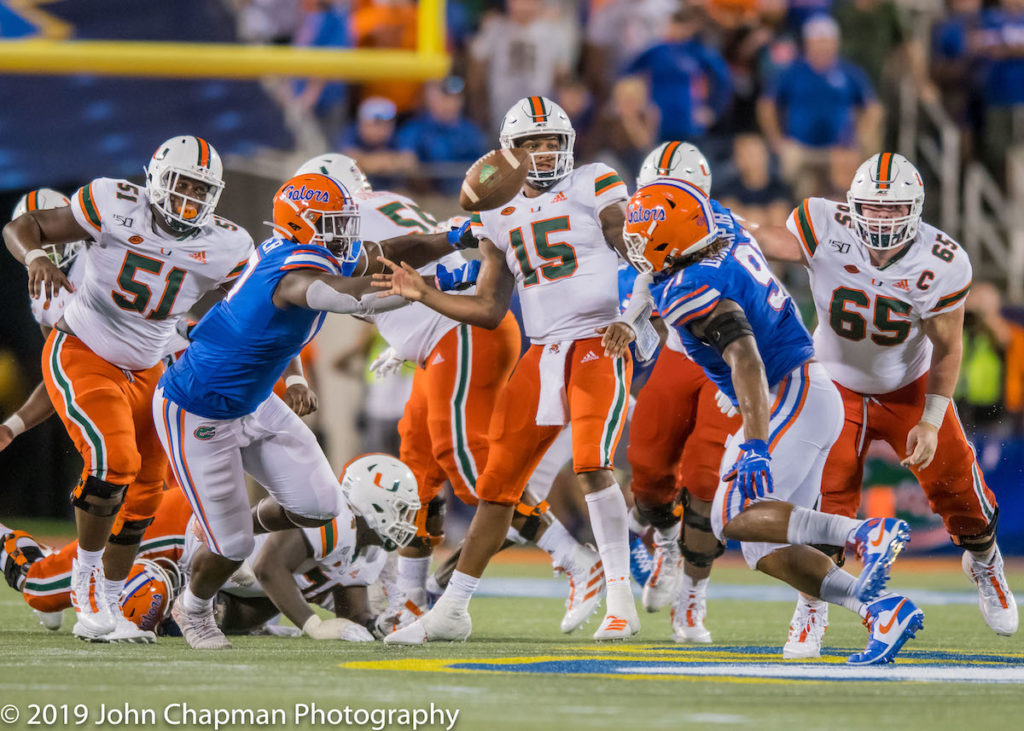 The officiating wasn't exactly stellar either. They were shaking off the off-season rust making some questionable pass interference calls. It wasn't like that time against Ohio State where the team got absolutely robbed but it definitely wasn't mid-season form.
In a game where there were just as many opportunities as there were mistakes, the Canes will have to make good use of their extra time off to regroup, reassess and ultimately rebound from a golden opportunity that was so close yet so far. UM is a program with a lot of history and success, trying to return to the glory days. It's why the bar is set high. Because their expectations are high. They expect to return to national prominence. Will they? They're definitely going to try.
Photo Credit | John Chapman
(Visited 79 times, 1 visits today)