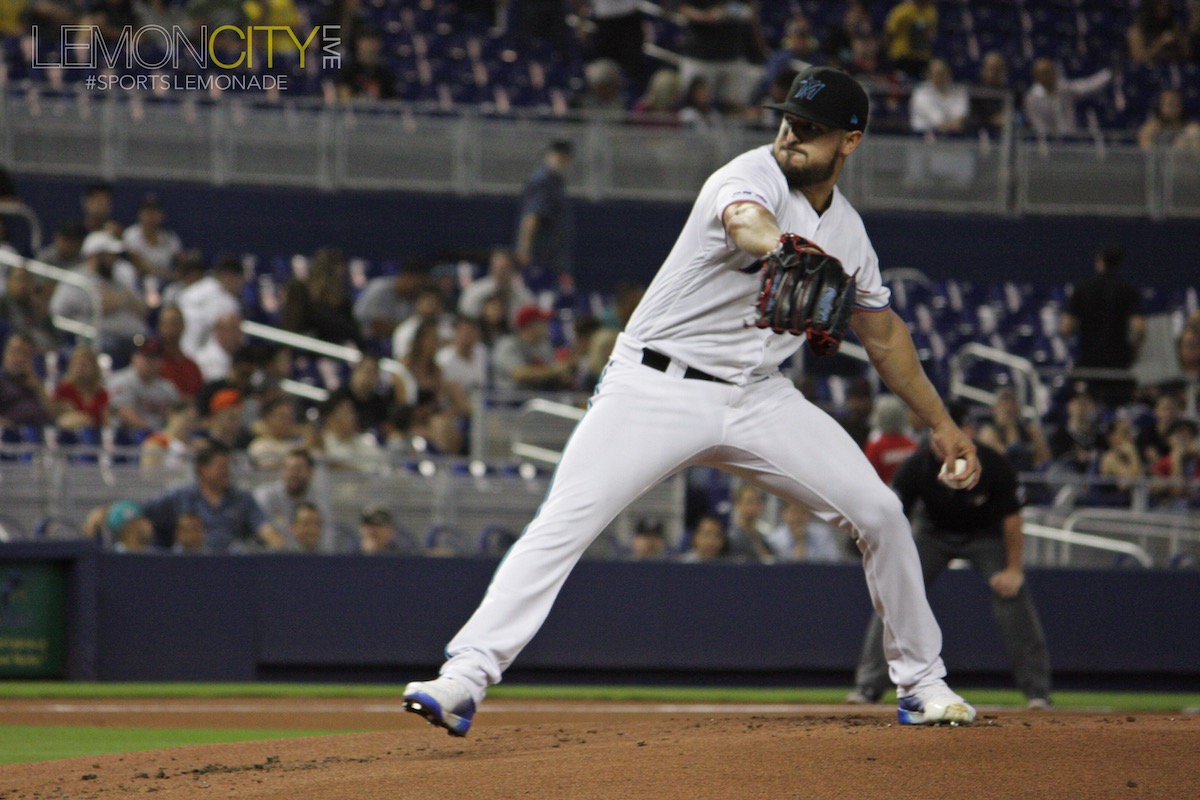 Miami, FL – Rosell Herrera impressed both at the plate and in the outfield, leading the Miami Marlins over the Cleveland Indians 4-2 Wednesday night at Marlins Park. The 26-year-old out of the Dominican Republic went 2-for-4, collecting a career-high three RBIs and a double allowing the Fish to split the brief two-game home series.
Miami swam out of the gates, getting on the board early with a single run. Curtis Granderson started things off on the right foot when he singled on a soft bunt to the third baseman, Jose Ramirez. Miguel Rojas smacked a line drive single to right but Granderson got greedy and was thrown out at third, Rojas advanced to second on the play. Brian Anderson made up for this with an RBI single to center field, scoring Rojas.
Caleb Smith had a dominant outing, tossing seven innings of one-run ball giving the team the best shot possible at a victory. The only blemish of his high-quality start was in the third frame when Roberto Perez got a hold of his fastball and crushed it deep to left off the State Farm hedge. Smith fanned eight hitters, sprinkling four hits.
High fives all around for Roberto Perez and co, tied it up back in the third with a solo shot to left off the State Farm hedge. Got a hold of @CalebASmith12's fastball and crushed it. Plenty of baseball left! 1-1 top of the 4th pic.twitter.com/WWeMjzEZRo

— Gabriel Garcia (@Gabewritesports) May 2, 2019
Enter Herrera!
The home half of the fourth didn't start too well for the Marlins. Starlin Castro and Martin Prado were both retired with no fuss from Cleveland starter Corey Kluber (2-2, 5.81 ERA). Then Jorge Alfaro singled, beating out an errant throw followed by another base hit from Jon Berti. Herrera showed off clutch hitting, slamming a bases-clearing double to extend Miami's lead, 3-1. He would strike again, this time with an RBI single in the sixth inning, bringing Alfaro home for seconds.
In the aftermath of Lewis Brinson being sent back down to Triple-A New Orleans, Herrera has taken up position in center. Normally a shortstop, he's made himself right at home. In the seventh inning, Carlos Gonzalez hit a liner towards the middle with "Varon" making a beautiful diving catch for the out.
Catch baseballs, not feelings. #JuntosMiami pic.twitter.com/JEMMI5b6ry

— Miami Marlins (@Marlins) May 2, 2019
"I try not to do too much with one single hit, you know, to score five runs," Herrera said. "I try to hit a line drive, put the ball in play and try to avoid doing a big swing."
The Indians got a bit of a scare after Brian Anderson clobbered Kluber with a liner in the fifth inning, hitting him on the arm. Kluber left the game with a right forearm contusion.
Carlos Santana notched his fourth dinger of the year off Sergio Romo in the ninth but there were no more surprises for the Marlins.
OUCH!
Talk about bad luck, on the same day the Marlins reinstated Garrett Cooper from 10-day IL due to a left calf strain, Cooper got hit in the left hand by a Trevor Bauer fastball Tuesday night in the third inning. This was part of a corresponding move that optioned Brinson to Triple-A New Orleans. While X-rays were negative, he's listed as day to day with a contusion. Cooper had been on the injured list since March 31. Get well soon!
Player Spotlight: Jon Berti
So I wanted to take the time and briefly showcase one of the latest players to be called up from the minor league farm system. I introduce you to Jon Berti. Coach Mattingly isn't afraid of sending down and calling up folks, so why not? Once in a while, I will point out some of the guys from Triple-A New Orleans since they're the closest to the fateful decision that is the quintessential goal of every prospective ballplayer: To make it to the MLB.
Brought up the same day Austin Dean was sent back down (April 20th), Berti was slashing .286/.490/.486 in 13 games and 35 At-Bats. Berti had recorded two home runs, three RBIs, drew 13 walks and fanned six times. But don't let these numbers fool you, the guy has speed. With already four stolen bases for the Baby Cakes, he's swiped at least 23 bags every year starting in 2011 when he was drafted in the 18th round by the Toronto Blue Jays. It was in 2013 that he had his minor league career high of 56 stolen bases. Hailing from Troy, Michigan his overall numbers in the farm system are as follows: .258/.344/.358 with 33 HRs, 291 RBIs and 108 doubles in 802 games. For those of you wondering where he went for college: Bowling Green State.
Berti is playing at third base while Brian Anderson is out in right field. He made his MLB debut last year on September 26, 2018, for the Blue Jays. He had 15 ABs in four games, notching a double, a triple and two RBIs for his personal stats. Expecting good things from the 29-year-old.
[envira-gallery id="17007″]
(Visited 81 times, 1 visits today)