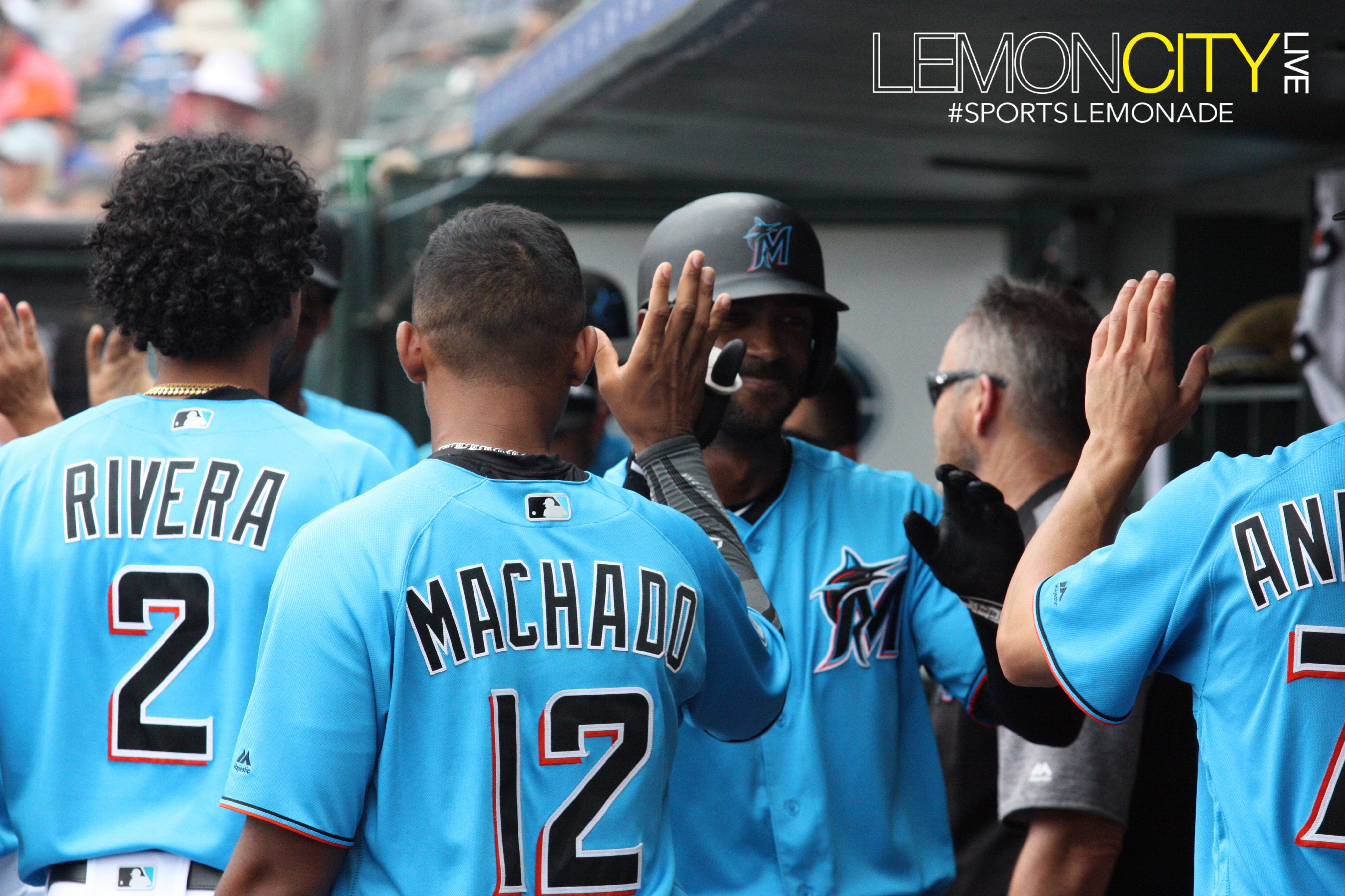 Jupiter, FL – After a very rocky start, the Miami Marlins overcame a deep 6-run hole and powered past the New York Mets 11-6 on an overcast and rainy Saturday afternoon at Roger Dean Chevrolet Stadium. Sandy Alcantara (0-1, 4.70 ERA) was tattooed for six runs in just over three innings of work despite seven strikeouts.
Michael Conforto took Alcantara deep in the 1st for a 2-run bomb to right, putting New York up early. Conforto struck again in the 3rd, this time with an RBI single. The Boys from Shea added three more in the 4th via hits from Jeff McNeil and Peter Alonso to end the rookie's day.
Despite the setback, Coach Don Mattingly has shown no signs of concern.
"A step backward for sure, but he's had a really good spring. You're going to have rough days and days that don't go as well as you'd like," Mattingly said. "It happens, gonna happen to everybody. We'll just see how he bounces back and responds."
By the home half of the 5th, fans were beginning to think this was becoming a rout. They were right, but for different reasons.
Behind the strength of not one but two home runs from Pedro Alvarez, coupled with clutch doubles from Deven Marrero, Curtis Granderson and Miguel Rojas (All three in the 5th inning), the Marlins scored 11 straight unanswered runs stunning Mets fans.
By the start of the 8th inning, droplets were beginning to come down onto the field with the umps finally calling the game in the 9th. There were two outs with a runner on.
A wet end to a wild game.
#Marlins won the game 11-6, their eighth consecutive #SpringTraining win https://t.co/RPFKdA7aVT

— Jordan McPherson (@J_McPherson1126) March 16, 2019
So we're entering the last games of spring training with some positions battles wrapping up. By next weekend the team will be trimmed down to 25 players and it'll be as close as it gets to the Opening Day roster. Here's how I think it'll shake up:
Starting Rotation
I had a lot of fun with this one. Jose Urena has been tapped as our Opening Day starter since February and Dan Straily will likely occupy the two spot. Now for the last three. We've got Sandy Alcantara whose a given but also we have Caleb Smith, Trevor Richards, and Pablo Lopez. Richards had a good spring (1-1, 2.70 ERA, 13.1 IP 14 K's, 4 BB) but Lopez made a very strong case (2-0, 1.29 ERA, 14 IP, 11 K's, 1 BB) that warrants being on the rotation. I see Smith as the odd man out. Forget about Wei-Yin Chen. The guy is sporting an ugly 9.53 ERA in three starts with just over 11 IP.
Relief Corps
One of our strengths this year will be our arms and there will be a lot of depth in the bullpen. As bad as Chen has been, he might be serviceable in his new role. Just look at Adam Conley, he absolutely flourished in middle relief. From June 5th to August 4th of last year, the submariner was tied for 2nd among major league relievers with an ERA of 0.64. Sure, he stumbled after that but the reassignment was a godsend for Conley. Tommy Eveld, Jarlin Garcia, Tayron Guerrero, Drew Steckenrider and of course, Caleb Smith if he loses out in the rotation, are also likely to back up the starters in relief. Austin Brice ( 0-0, 1.69 ERA, 5.1 IP, 7 Ks, 3 BB) is likely to squeak in too. Sergio Romo, due to his experience should get to be the closer to open the season though I wouldn't be surprised if Miami goes with a platoon that includes Steckenrider and maybe Guerrero. We'll see.
Infield
Assuming Martin Prado makes it (Likely) he'll be Brian Anderson's back-up at 3rd and Neil Walker's at 1st. Things get a bit tricky depending on how the outfield shakes out because Prado might compete with Garrett Cooper or even Peter O'Brien for playing time at 1st. When it comes to the shortstop, Miguel Rojas (.517, 5 RBIs, 2 Doubles)  easily outperformed JT Riddle (.194, 1 HR, 3 RBIs). Starlin Castro has 2nd base to himself while Jorge Alfaro is the obvious go-to behind the dish. What about the backups? Chad Wallach (.231, 1 HR, 2 RBIs, 13 AB) and Bryan Holaday are duking it out. Wallach is on the 40-man roster while Holaday is a non-roster invitee. Holaday (.318 BA, 22 AB) has slightly outperformed him this spring although Chad missed some time with a quadriceps injury. Give it to Holaday, for now.
Outfield
This area feels a bit more straight forward with Lewis Brinson, Garret Cooper and Peter O'Brien forming up the core. Curtis Granderson could get the nod when someone has the day off. Austin Dean will sneak more playing time than him though.
Happy birthday, @cgrand3! pic.twitter.com/2DxbsMNcKi

— Miami Marlins (@Marlins) March 16, 2019
Barring any surprises, injuries or freakishly good performances down the stretch, the roster may be all but cemented. If there was any position up for grabs, it's the outfield. One thing is for certain, Mattingly has the unenviable task of deciding who stays and who goes.
[envira-gallery id="16042″]
(Visited 171 times, 1 visits today)