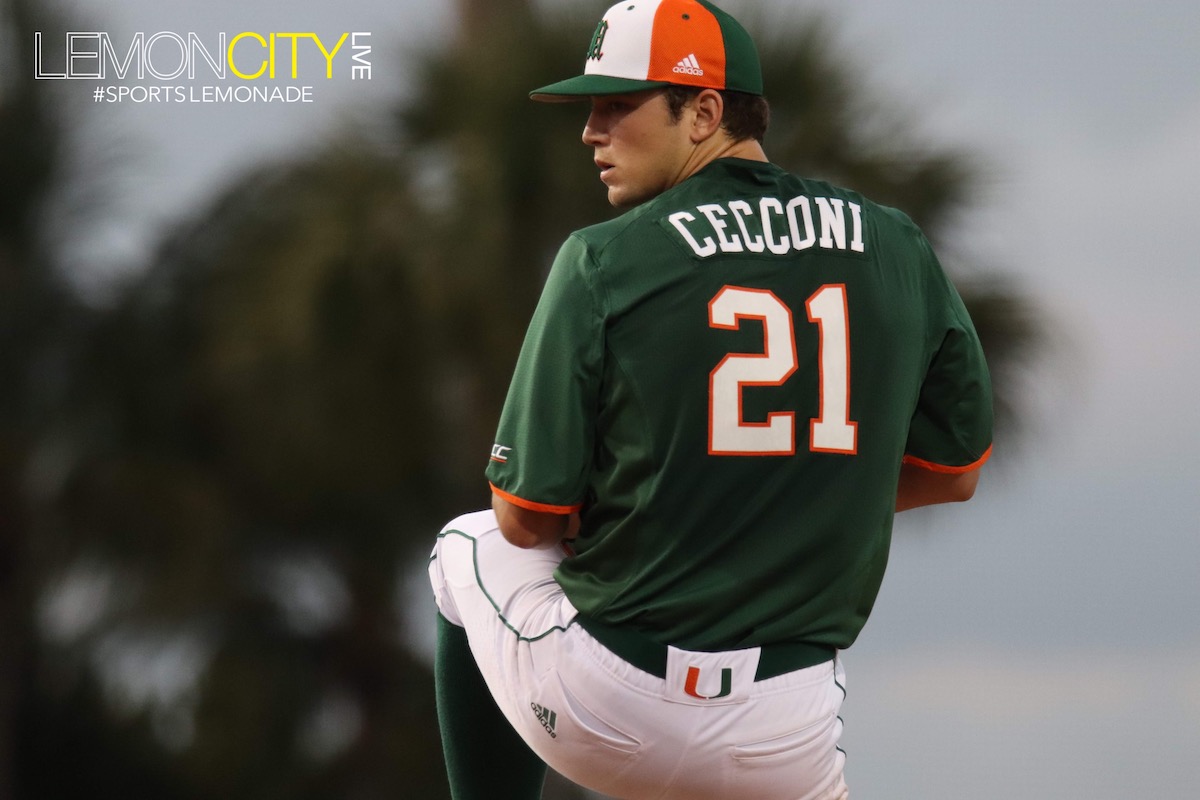 Coral Gables, FL – The Hurricanes completed their midweek sweep of Jackson State in their first-ever meeting, retiring the Tigers 8-1 Wednesday night at The Light. Alex Toral nailed his ninth home run of the season, helping to bring the home team's dormant bats alive. Slade Cecconi (2-0, 2.65 ERA) toed the rubber against fellow freshman and righty Joshua Swartz (0-2, 17.18), tossing over 110 pitches and going a career-long seven innings.
Miami's bats were abhorrently slow to wake up in the second game of the midweek series. It wasn't until the fifth inning the Canes recorded their first hit, an RBI single by Adrian Del Castillo. After a satisfying weekend getaway against Georgia Tech, their hitting was was noticeably tame in the two-game set against the Tigers. They made up for it by drawing 10 walks.
RBI base hit by Adrian Del Castillo, 6-1 Canes against Jackson State as we head to the seventh 🙌. @AlexT_20 dinged mighty no. 9 for a 3-run shot in the fifth to bust the game wide open.

— Gabriel Garcia (@Gabewritesports) March 14, 2019
In the opening frame, Toral reached to first on the fielders choice, bringing Jordan Lala across the plate to put Miami up. Cecconi had another great performance on the mound, keeping JSU to a single run while fanning five and scattering seven hits. After going six up and six down, Cecconi gave up two base hits in the third frame. With runners at the corners, Jackson State pulled a double steal. The Canes didn't fall for it but Del Castillo couldn't hold onto the ball as Wesley Reyes slid in to knot it up.
Cecconi got himself out of another jam, this time in the fourth with a bases-loaded pop-out to Tony Jenkins at center to escape the inning. It was the last time he'd have any real problems. In the home half of the inning, Dylan Cloonan took the ball deep to right only to get robbed by the outfielder, Chandler Dillard.
After the go-ahead single by Del Castillo, Toral busted the game wide open with a three-run blast to right. Try as he did, Dillard would not glove this one. Del Castillo followed up in the sixth with another RBI single for added padding, scoring his teammate Lala deja vu style.
BING BANG PA LA CALLE! Alex Toral belts a three-run homer and Miami leads, 5-1! pic.twitter.com/HXDzDA1g0P

— Canes Baseball (@CanesBaseball) March 13, 2019
With the win, Miami improves to 14-3 ( 2-1 ACC) while Jackson State falls to 6-13 ( 1-2 SWAC). The last time the team played this good was back in 2016. The Hurricanes will now travel to North Carolina for week two of ACC play.
Game Notes
Alex Toral went 1-for-5 with his signature dinger and 4 RBIs.
Adrian Del Castillo had a productive night, going 2-for 3 with 2 RBIs. Del Castillo's 15-game hit streak snapped on Tuesday night.
Freddy Zamora was named ACC Player of the Week after a dominant performance against Georgia Tech, going 7-for-13 (.538) with 2 doubles, 2 HRs, 4 runs, 4 RBIs and a SB.
After a 12-3 start, head coach Gino Dimare has most the wins over 15 games by a first-year coach in UM history.
Miami finished the night with 8 Runs, 7 Hits and 2 Errors.
JSU concluded the evening with 1 Run on 9 Hits and 2 Errors.
Gus Bus Award
Alex Toral takes this one home again for effectively putting the game out of reach for the Tigers with Mighty No. 9.
You're Killing Me Smalls
Raymond Gil had a very forgettable night, going hitless in 5 At-Bats and striking out twice.
Postgame with the Canes
[envira-gallery id="15991″]
(Visited 247 times, 1 visits today)