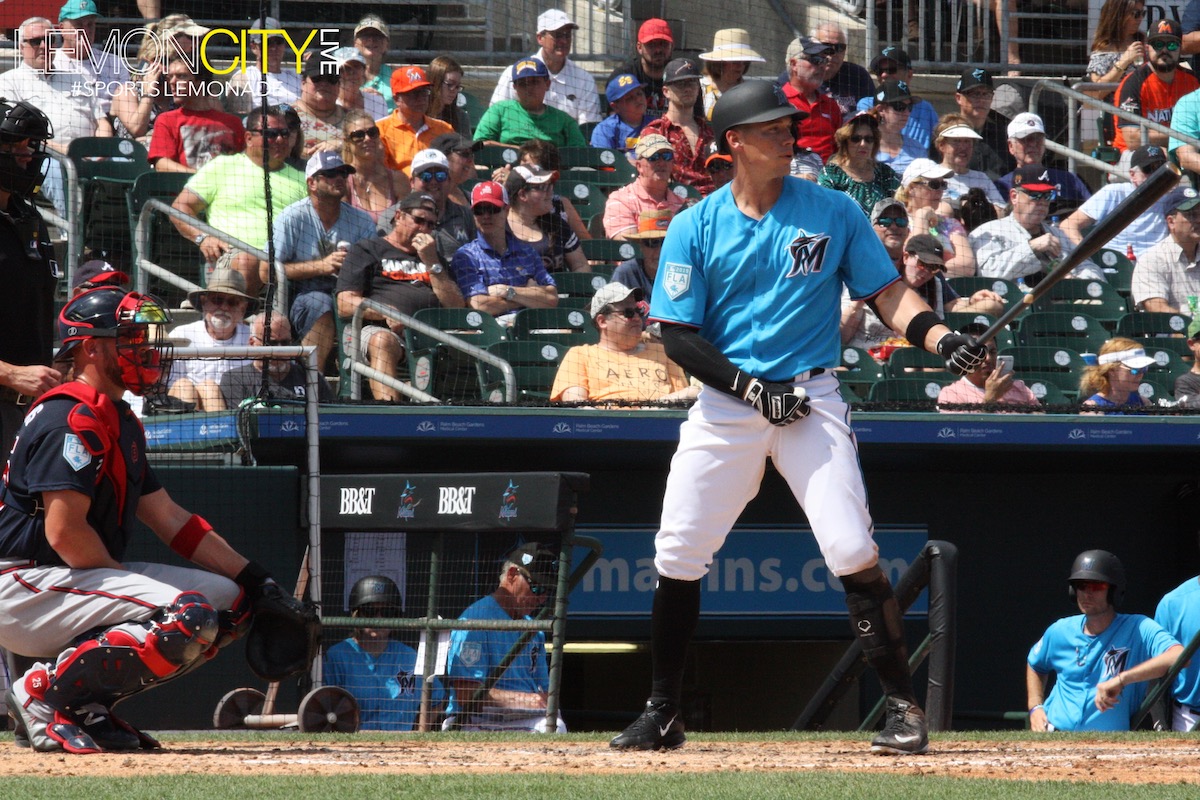 Jupiter, FL– Peter O'Brien played like an All-Star Sunday afternoon, powering the Marlins to their third straight win, beating the Atlanta Braves 5-2 at Roger Dean Stadium. After a very slow start in spring training, O'Brien hammered his first home run to break the deadlock in the fifth, a two-out grand slam to left field. Sandy Alcantara (0-1, 2.35 ERA) went up against Julio Teheran (0-1, 6.00 ERA) in his third start of Grapefruit League play, his first against Atlanta.
GRAND SLAM! Peter O'Brien lifts one deep into leftfield to break the tie. 5-1 @Marlins bottom of the 5th. #MarlinsST #OurColores pic.twitter.com/vp3ZHF8TKU

— Gabriel Garcia (@Gabewritesports) March 10, 2019
Prior to the game, O'Brien was batting an atrocious .087 in 23 At-Bats as part of an otherwise very ugly spring. He helped give Miami the lead twice. Early in the first, the outfielder laced an RBI single to right field, scoring Isan Diaz. He isn't the only one struggling. Diaz (.143), Starlin Castro (.174) and JT Riddle (.083) are off to very bad starts as well. Alcantara, meanwhile, had another effective outing, lasting four and a third innings giving up a pair of hits and fanning five.
Despite leaving with the lead, Alcantara remained winless after incoming pitcher Riley Ferrell gave up the game-tying run to Adam Duval. Duval hit a liner to center bringing Sean Kazmar across the plate. Ferrell's tenure was brief, lasting two-thirds giving up the lone RBI-single, striking out one. Despite the no-decision, Alcantara has been a definitive bright spot during spring training rocking a 1.50 ERA through 12 IP, sprinkling 6 hits while bullying 14 batters. He does have 10 walks so far, an area to improve upon.
With two outs and the bases loaded, O'Brien put Miami ahead for good, lifting one deep to left for the all-expenses-paid trip for four to home. It was the third meeting between the division rivals with Miami dropping the first two. As they say, third time's the charm.
To say today's performance was a shot in the arm is an understatement. The Hialeah native and Braddock alumn is in his second year with the Marlins following a 2018 campaign where he played in 22 games, batting .273 in 66 at-bats. He recorded four homers, five doubles and 10 RBIs during that span, looking to fill the void in the power department. Plate discipline is a major problem, however. In 26 appearances at the plate, he's struck out 15 times this spring. Yikes. Given the time of year, its only natural to work out the kinks when the games don't matter. Hopefully, this is the start of something great to close out the Grapefruit League. Don Mattingly will likely be looking to O'Brien to flash that muscle as part of a young club in the midst of a rebuild. He has the potential to hit 20-30 home runs this year if he is an everyday starter and remains healthy.
💪🏼 The Fish are looking good! @Marlins win their 3rd spring training game in a row. https://t.co/gEtNdSRZc4

— Lemon City Live (@LemonCityLive) March 10, 2019
Game Notes
Braves won the two previous meetings: 6-5 (March 3) and 4-0 (March 6).
Miami finished the game with 5 Runs, 6 Hits, and no Errors.
Atlanta wrapped up their afternoon with 2 Runs, 6 Hits and an Error.
Peter O'Brien ended the day going 2-for-3 with a grand slam and 5 RBIs. This bumps his batting average up to .154.
Time of Game: 2 Hrs 45 Mins
Player of the Game
Peter O'Brien. Shocking,
Stale Fish Sticks
Martin Prado remains hitless this spring, going 0-for-12 so far in 5 games. Curtis Granderson has a single hit in 11 At-Bats for a minuscule batting average of .091. Neither one has a guaranteed roster spot. By the looks of it, these two players will be part of those cut by the organization. Their saving grace is experience, if the team lacks depth (They should search for it in the minors) there's always a chance at playing off the bench or having a start here and there.
Injury Report
Jorge Alfaro has been readmitted to the injured list, tweaking his right knee again on Tuesday after being picked off at second base. Alfaro initially injured his knee in the Grapefruit League Opener on February 23rd, slamming full speed into the dugout railing after chasing down a foul ball. His playing time has been very limited with only 5 At-Bats, two of them hits. The team is fairly confident he'll be ready for Opening Day.
[envira-gallery id="15911″]
(Visited 107 times, 1 visits today)