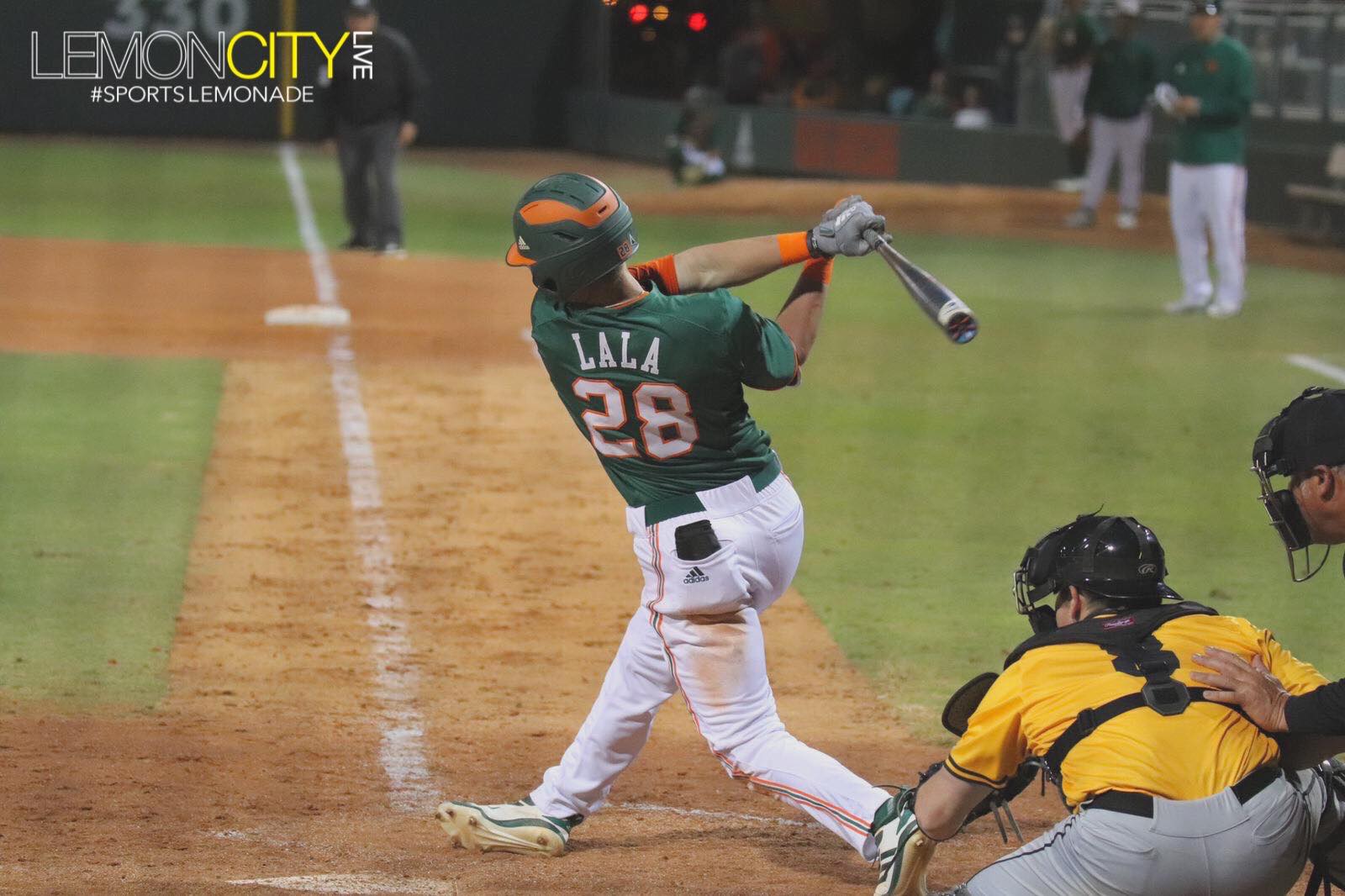 Coral Gables, FL– Jordan Lala started things off with a bang as Miami Hurricanes Baseball took care of business, downing Appalachian State 6-1 for their 10th win of the season Wednesday night at The Light. Slade Cecconi (1-0, 3.27 ERA) dominated in his midweek start, keeping the Mountaineers largely contained to the dugout. He was opposed by sophomore righty, Kepley Cameron (0-2, 5.00 ERA).
Lala smashed Cameron's first pitch to right to give Miami the early lead. It was the first time a Canes player managed such a feat since Carl Chester on March 21, 2015, against Wake Forest.
Jordan Lala's leadoff homer is the first by a Cane since @carlchester9 vs. Wake Forest (3/21/15) pic.twitter.com/xquh3oQrFN

— Canes Baseball (@CanesBaseball) March 6, 2019
Cecconi dazzled from the mound, whiffing a career-high eight batters. The freshman righty did run into some trouble in the second but got himself out of a bases load jam, forcing Alex Leshock to lineout toward right to end the threat. Chad Crosbie made the excellent catch, zeroing in on the sinking fly. Cecconi sprinkled a pair of hits through five frames including back-to-back 1,2,3 innings in the third and fourth. He finished the night going six strong, giving up one earned run on four hits, picking up his second win of the season.
Despite the explosive start, Miami's bats were largely silent the first third of the game.
UM's first chance to produce more runs came in the home half of the third. Anthony Vilar drew a two-out walk before advancing all the way to third on two wild pitches, including one that forced Freddy Zamora to hit the deck. He also walked. App State then made a call to the bullpen ending Cameron's night. He was replaced by Jason Cornatzer who retired Adrian Del Castillo to end the inning. Del Castillo did manage a single later in the game to extend his hitting streak to 12-games.
Adrian Del Castillo singles to left and extends his hitting streak to 12 games to begin his Hurricane career pic.twitter.com/3jPe3xRQwX

— Canes Baseball (@CanesBaseball) March 7, 2019
Golden opportunity number two came knocking in the fourth.
With one out and the bases packed with Canes, Tony Jenkins broke through with a sac fly to center, scoring Alex Toral. Lala struck again, this time with a grounder past first baseman Robbie Young, bringing Raymond Gil across the plate to put Miami up 3-0.
The Mountaineers threatened again in the sixth with runners at second and third but Cecconi limited the damage before leaving for the night. JP Gates took over pitching duties, working a 1,2,3 seventh to keep up the dominance from the bump.
Miami tacked on a pair of insurance runs after Lala laid down a two-out bunt that resulted in an error at first base. The leadoff man got tangled up with Young but quickly recovered, making it over to second. During the commotion, Luis Tuero and Gil made it home without incident.
Appalachian State did not go quietly. The Mountaineers mounted a last-ditch effort in the ninth, taking advantage of Mark Mixon and loading the bases with two gone. It was time to bring out the righty. Daniel Federman came out of the bullpen and slammed the door. Federman earned his third save of the season, retiring Luke Allison for the win.
The winning streak grows to five as Miami improves to 10-2. Appalachian State falls to 4-7. The Hurricanes now prepare to face Georgia Tech this weekend to open conference play.
Game Notes
UM finished the night with 6 runs on 11 hits and an error. Appalachian State scored 1 run on 6 hits committing 2 errors.
Jordan Lala was busy tonight going 3-for-5 with his leadoff hr and 2 RBIs.
Luis Tuero finished 2-for-3 with an RBI.
Miami remains undefeated at The Light (8-0). They're 2-2 on the road.
It was the first meeting between the two programs since 2011. Canes took 2 of 3 in the weekend series.
Miami leads overall series 4-1.
Gus Bus Award
Jordan Lala takes this one home with that historic leadoff homer. It was the freshman's first home run as a Cane.
You're Killing Me Smalls
We got a quiet night from Alex Toral, going 0-for-3. He did draw a walk, setting up the Tony Jenkins sac fly for Miami's second run. The baseball gods demand more home runs!
(Visited 177 times, 1 visits today)