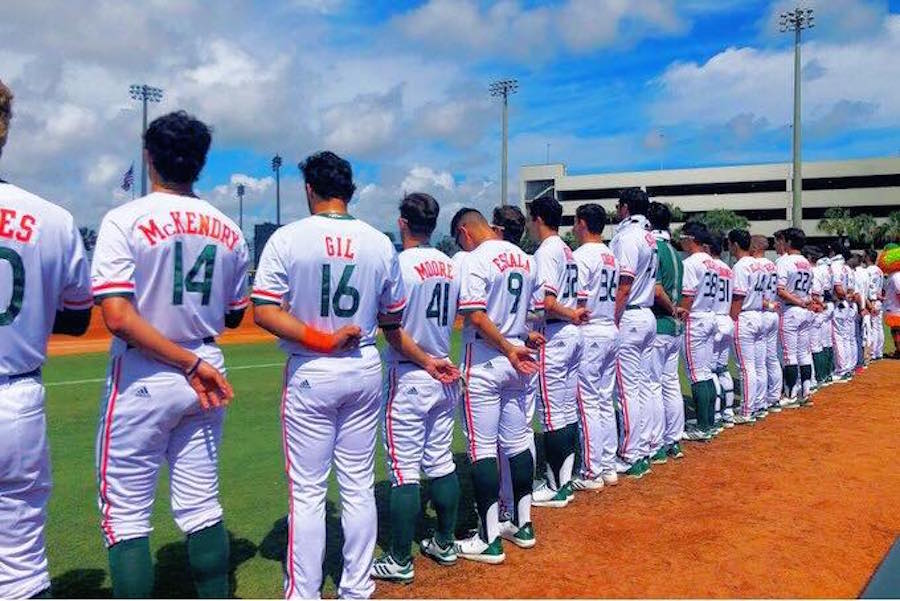 Coral Gables, FL – The Miami Hurricanes Baseball team cranked the power all the way up on UMBC, going yard five times to obliterate the Retrievers 20-1 Sunday afternoon at Mark Light Field. Brian Van Belle (1-1, 1.50 ERA) dominated with a career-high nine strikeouts as Freddy Zamora hit a tremendous grand slam in the fourth inning, providing ample run support.
Van Belle had an effective opening frame, striking out two. His lone blemish was an error at first, a pickoff attempt that advanced the runner all the way to third base. A sac fly from AJ Wright drove in Blaze O'Saben to give UMBC the early lead. It proved to be his only mistake, one easily forgotten.
Because Miami responded with 20 unanswered runs.
After retiring the first two batters, UM's bats immediately came alive with back-to-back doubles from Zamora and Adrian Del Castillo to tie the game. Alex Toral hit a comebacker to the pitcher, narrowly missing his left cleat as it bounced its way into center field for the go-ahead RBI-single.
Stay hot, Del Castillo! The freshman smacks an RBI double to right to push Zamora home and tie the game at 1. pic.twitter.com/SabN3iXHqf

— Canes Baseball (@CanesBaseball) March 3, 2019
For the next four innings, UM flexed its impressive muscle at the plate. Anthony Vilar took Trabacchi to right for a 2-run bomb, his first of the season and the team's 12th of the year. Raymond Gil then pummeled one over the scoreboard in left field for his third dinger, putting the squad up by four.
The Canes were only just getting started.
Nick Trabacchi's (1-0, 0.00 ERA) day came to an end after issuing two consecutive walks, bringing in Tanner Esposito.  After walking Vilar to load up the bases, Freddy Zamora greeted the reliever with an incredible grand slam to left. Despite a great effort from Ethan Wentzlaff, he came up just short at the wall. Gil homered again to cap off a six-run fourth, effectively putting the game out of reach for the Retrievers.
Brian Van Belle had a terrific outing lasting five innings giving up just one run (unearned) and two hits. The bullpen took over continuing their dominance on the mound. Mark Mixon, Jeremy Cook, Alex Ruiz, and Albert Maury Jr contributed to the effort.
That's a career-high NINE strikeouts for Van Belle! He strikes out the side in the fifth and Miami leads, 11-1 pic.twitter.com/3IL4LjjAzj

— Canes Baseball (@CanesBaseball) March 3, 2019
Toral piled on with his seventh home run of the season, a three-run blast in the fifth to add to UMBC's woes. Gabe Rivera tripled to left after the seventh inning stretch to drive in two more in a very lopsided affair. Miami improves to 9-2 while UMBC falls to 2-4. Looking ahead, the Hurricanes will host Appalachian State Wednesday night before facing ACC rival Georgia Tech next weekend at the Light.
Game Notes
This was the first weekend series between the two programs.
Last time these two teams met was back in 2009 where UM trounced UMBC 11-1 in a midweek matchup.
UM leads the all-time series 5-0.
Hurricanes finished the game with 20 runs on 19 hits and 2 errors. UMBC wrapped it up with 1 run on 5 hits and 2 errors.
Both Tony Jenkins and Jordan Lala went 6-for-6 in stolen bases.
UM is definitely flexing its muscle, lifting 16 balls into the stands so far this season. To put it in perspective, the team did not hit their 11th home run of the 2018 campaign until April 7th.
Runs by inning: The Canes are proving to be a very potent force in nearly every frame. After 11 games this season, in the first alone the team has belted 8 runs so far. But their best inning by far is the third where they have 17, followed by 15 in the seventh.
Gus Bus Award
A lot of guys were in the running this time around but there can only be one. Raymond Gil was absolutely fantastic today, going 4-for-4 with two all expenses paid trips around the diamond and three RBIs. Keep up the good work!
— Canes Baseball (@CanesBaseball) March 3, 2019
📷Credit – Canes Baseball Twitter
(Visited 251 times, 1 visits today)