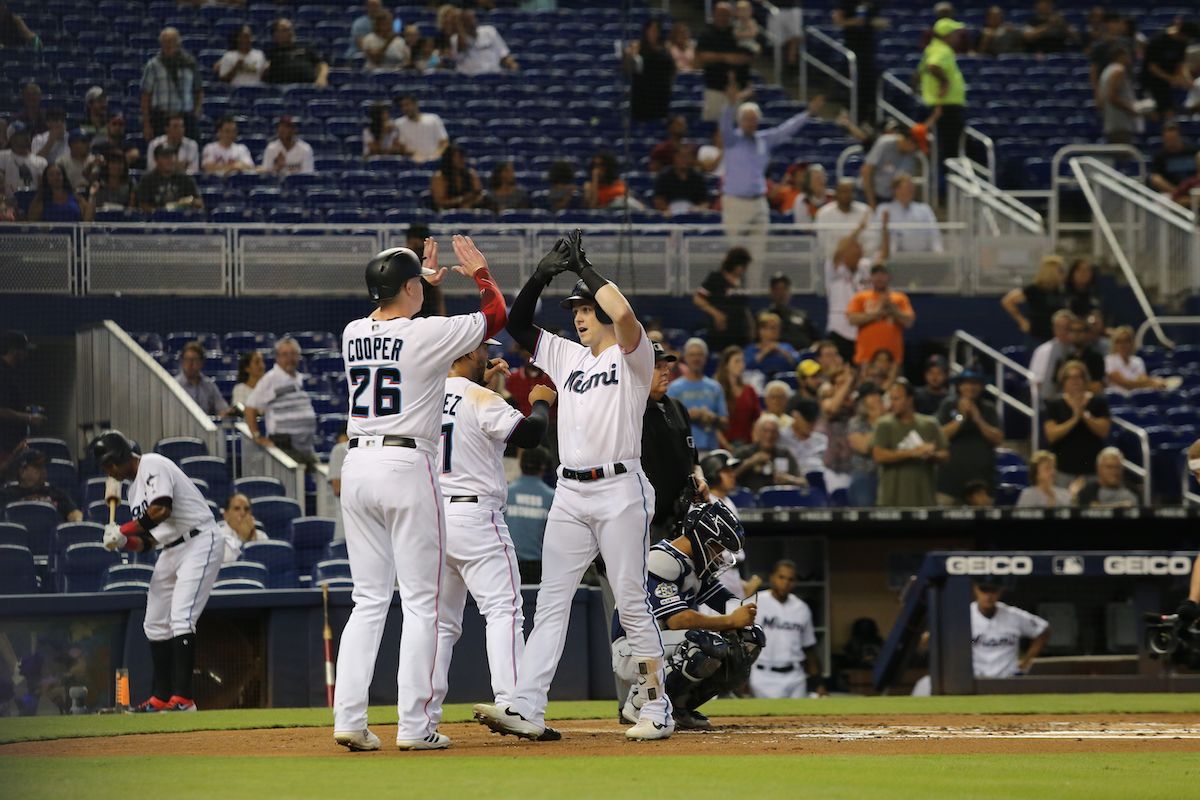 Miami, FL – It appears Jordan Yamamoto is human after all and honestly, we should still feel very optimistic about his outlook. He got roughed up in the 2nd inning despite starting strong in the 1st with two strikeouts, one being Manny Machado.  It was probably the worst he's looked so far this season. Things just didn't go right at all. He hit a batter, an error drove in a run, he gave up some walks, gave up base hits and just seemed out of sync in the 2nd inning. Good thing for him though, the Miami Marlins were able to chase off Logan Allen after a couple of innings with their bats which provided Yamamoto with a comfortable lead.
He settled down after that rough 2nd inning (some credit should go to the rally pigeon that Garrett Cooper kept trying to chase off) only allowing 1 hit and 0 runs after. Yamamoto allowed more hits in this game than any of his previous games.
GARRETT, STOP, WE SPEAK HIS LANGUAGE

…

.

tweet tweet pic.twitter.com/7zjtxQRf1L

— Miami Marlins (@Marlins) July 17, 2019
Speaking of roughed up, Padres pitcher Logan Allen will never forget his first outing against the Miami Marlins. He gave up 7 runs, 7 hits, and 3 walks and gave up a 440ft 3-run HR to Brian Anderson in the bottom of the 1st which is his 13th on the year. 
The Marlins put up 3 in the bottom of the 2nd which extended the lead to 7-3. The momentum of the game seemed like it was going to be a slugfest, but it settled down with 3 straight scoreless innings from both teams.
In the bottom of the 6th, Miguel Rojas delivered with a blast up the middle to drive in Yadiel Rivera to extend the lead to 8-3. Sterling Castro delivered a 3-run RBI triple later in the inning.
What's better than loaded bases?

Unloaded bases.

But they have to be loaded 1st. They're very specific about these things. pic.twitter.com/1yZVYR6Tpl

— Miami Marlins (@Marlins) July 17, 2019
Garret Cooper hit a liner into left-center field in the bottom of the 8th inning and has now homered in back-to-back ball games. The Marlins put up 12 runs, which is their highest total for the season at Marlins Park.
Adam Conley gave all of us a scare, allowing 3 runs on 4 hits in the top of the 9th, but was able to close out the game.
Yamamoto picks up his 4th win of the season putting him at 4-0 this season, and his next start is scheduled to be against the Dodgers on the road. Today he faced a tough test and things will only get more difficult against Los Dodgers. He needs this though. Young pitchers NEED to face adversity and deal with the roadblocks early on to be able to really gauge where they stand. It won't be an easy outing, but definitely a big game for Yamamoto coming soon.
The Marlins picked up the 12-7 W on the first of a three-game series against the Padres, and now improve their record to 35-57 and the Padres fall to 45-49.
Excuse us, do you have a moment to talk about your Marlins' 12-run night? #JuntosMiami pic.twitter.com/RDpqKBGuek

— Miami Marlins (@Marlins) July 17, 2019
On Wednesday the Marlins will face a familiar face to the organization, Chris Paddack. Marlins fans may not remember the name but they will remember the player he was traded for and will either roll their eyes or let out negative comments; Fernando Rodney.
Hopefully, this win could be the start of some positive momentum heading forward as they will be heading on the road after this series to face the Dodgers and White Sox.
[envira-gallery slug="marlins-vs-padres-7-16-19″]
(Visited 82 times, 1 visits today)