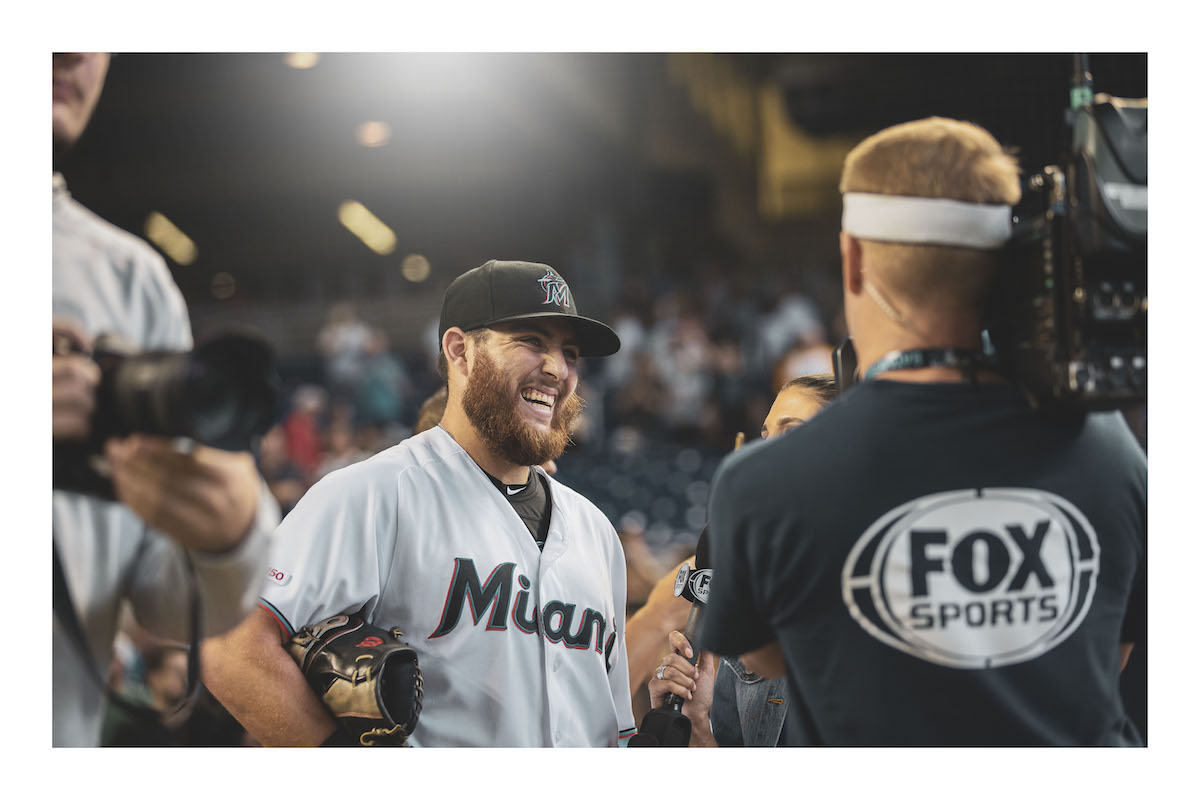 ---
Miami, FL – It was a day of firsts as the Miami Marlins finished their final homestand of the season on a high note, defeating the Washington Nationals 5-3 Sunday afternoon at Marlins Park. Magneuris Sierra hit his first career triple and Jeff Brigham recorded his first career save in a great send-off for the fans during Fan Appreciation Weekend.
Last home game for @Marlins. Some finishing touches before the finale of Fan Appreciation Weekend. @Nationals Austin Voth (1-1, 3.58 ERA) vs Pablo López (5-8, 4.94 ERA). Keep it locked with @LemonCityLive for game updates and post game.#JuntosMiami #OurColores #SportsLemonade pic.twitter.com/4F7vecMkVB

— Gabriel Garcia (@Gabewritesports) September 22, 2019
Pablo Lopez (5-8, 4.94 ERA) toed the rubber against fellow righty Austin Voth (1-1, 3.58 ERA) in the three-game series finale.
The Nationals rushed out the gates with two consecutive base hits from Trea Turner and Adam Eaton. Lopez struggled a bit, throwing three straight balls to Anthony Rendon before lasering one past the shortstop Jon Berti, scoring Turner for the first run of the game. Berti would dish out some payback later in the seventh. The Marlins starter got out of the inning after Juan Soto grounded into a double play and Harold Ramirez made a leaping catch at the warning track to keep Nats first baseman Howie Kendrick inside the ballpark.
The Fish responded with Sierra hitting his first major league triple. After Berti lined out, Starlin Castro sac flied to center to knot it up 1-1. Sierra had been hitting great as of late, averaging a hot .381 in the past eight games. He'd finish the day going 2-for-3 with a walk and a double. After the game, he was reported to have suffered a mild left hamstring strain. This late in the season, he likely played his final game in 2019.
Motion sickness. 🤢 pic.twitter.com/dKK0tOlBMF

— Miami Marlins (@Marlins) September 22, 2019
Miami threatened in the second frame but was turned away.
Ramirez tried to get the offense going with a stand up double after Isan Diaz struck out leading off. Austin Dean hit a soft roller, moving Ramirez over to third in the resulting out. In order to get to the pitcher, Lewis Brinson was then intentionally walked. The strategy worked, Lopez popped out with a runner in scoring position to end the threat.
Lopez ran into more trouble in the fourth.
Soto drew a walk followed by a single from Kendrick. Things got worse after a wild pitch moved up the runners with no outs. Brian Dozier then grounded to Berti at short on a fielder's choice, applying the tag to Kendrick instead. Despite the out, Soto scored on the play as Washington regained the lead. Victor Robles seemingly hit into an inning-ending double play but Nationals Manager Dave Martinez challenged the call. Diaz pulled his foot off the bag at second base too early. While Robles is out at first, it left the runner in scoring position. Lopez intentionally walked Yan Gomez to face rival hurler Austin Voth but Voth makes him pay with an RBI single into center to help his own cause.
The Fighting Fish rallied in the seventh using a great combination of muscle and contact hitting. Dean led off with a blast to AutoNation Alley to put Miami to within a run. Then with Brinson and Sierra on base, Berti doubled on a sharp line drive past right fielder Adam Eaton for the go-ahead 2-run double. Unwilling to settle, Castro laced his own impressive triple down the third-base line, just past Rendon, to bring Berti across the plate, capping off a four-run inning.
Jerseys off their backs … LEVELED UP by the 'Lins#JuntosMiami pic.twitter.com/bcLsl3Q7e4

— Miami Marlins (@Marlins) September 22, 2019
Yay or Nay?
Now that the season is coming to an end it's time to tackle the recent move regarding the skipper. As you may or may not know, the Marlins organization has given manager Don Mattingly a two-year contract extension, to continue overseeing the rebuild here in South Florida. A lot of folks have sounded off leaning both ways and I will do the same later in the week weighing his performance during his tenure here in Miami and giving my own verdict. How much of the front office is to blame? Did he lack enough talent for success or did he mismanage the stars he had? Was Mattingly just inheriting a really bad situation from the previous ownership?
These questions and more will be answered in my last column of the 2019 Miami Marlins season.
Game Notes
Ryne Stanek pitched a beautiful eighth in relief, striking out three of four batters faced allowing for Jeff Brigham to come in and collect his first save.
The total attendance for the 2019 season was 811,302. Higher than last year's which drew 811,104.
Heading into today Miami had lost 8 of their last 10 contests and finish with a record of 30-51 at home.
The Marlins now head to Citi Field for a four-game set against the New York Mets.
Fan Appreciation Weekend concluded with many Marlins players giving away equipment and literally the shirts off their back to the fans.
Photo Credit | Nicolas Primout
(Visited 64 times, 1 visits today)