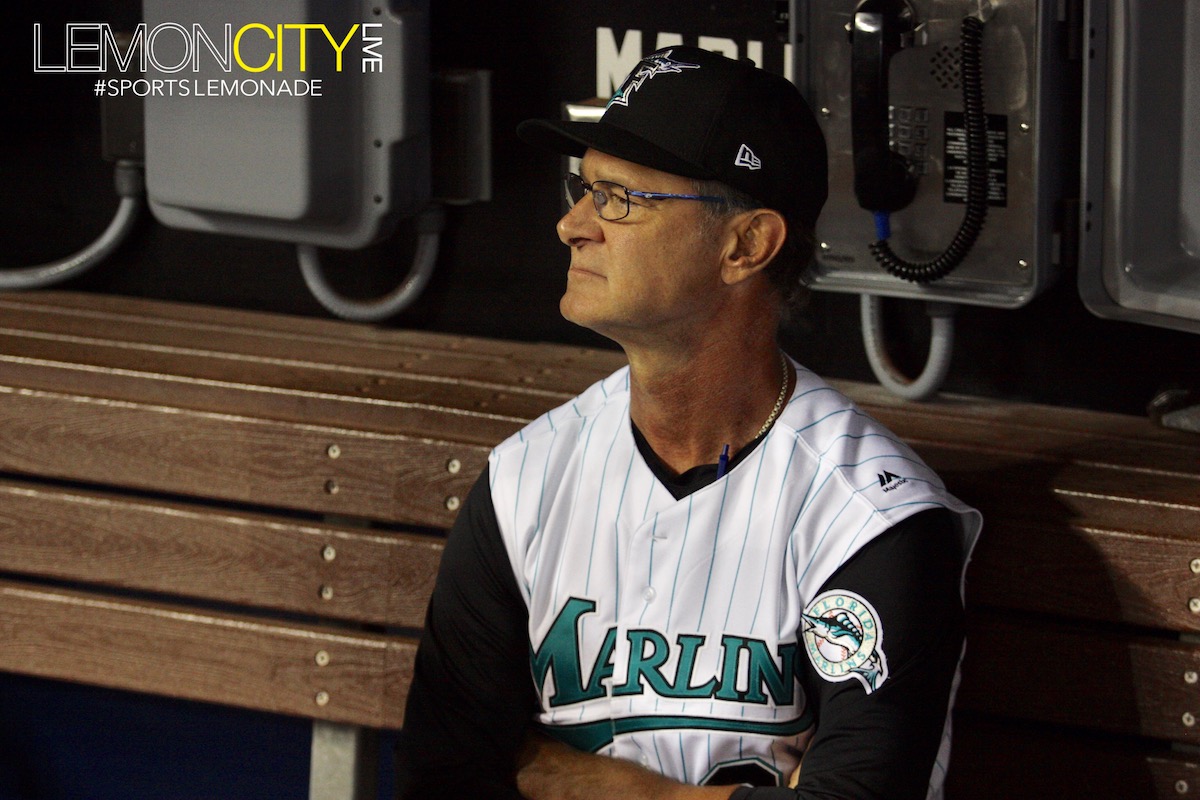 ---
Miami, FL – The news broke a couple of weeks ago that the Miami Marlins gave a two-year contract extension to manager Don Mattingly, with a third-year mutual option. This makes him the longest-tenured manager in Marlins history. That's longer than Jack McKeon, John Boles, Fredi Gonzalez and the very first Marlins skipper I ever met, Rene Lachemann. Those are the only other managers to last four seasons. The move is seen as surprising to some since it was expected that the new ownership would hire their own for the position. The Don Mattingly contract extension has been met with criticism while others seem okay with the decision. Since everyone else weighed in, it's my turn to wade into the subject.
I'm surprised. Not because Don isn't a good manager but because this regime has rid itself from most of last regime. Mattingly survives back-to-back worst records in NL while team started rebuild by being good teacher and calm influence to young team. https://t.co/oDDkpb7UmL

— Will Manso (@WillManso) September 20, 2019
If you're disappointed at the organization, consider this:
Firstly, let's check out how the Marlins finished every season from 2016 on.
2016: 79-82 THIRD PLACE (7.5 GB from Wildcard)

2017: 77-85 SECOND PLACE (10 GB from Wildcard)

2018: 63-98 LAST PLACE

2019: 57-105 LAST PLACE
In Mattingly's first season, the Fish just missed the playoffs for their 13th consecutive year. They were arguably one, probably two pieces away from entering the post-season for the first time since 2003. They likely needed another arm either to improve the rotation or add more depth to the bullpen that was anything but lights out. Then tragedy struck, the unthinkable. In September of that year, Jose Fernandez was killed in a boating accident.
This sent shockwaves through the team, its fans and the league itself. The Marlins' best pitcher, a beloved son of the Cuban-American community, passed away. The fire sale was apparently coming anyway, delayed due to the late Fernandez. Again the team missed out on the playoffs in 2017 despite finishing second in the division. Then, what fans were dreading, came to pass. Giancarlo Stanton, Marcel Ozuna, Christian Yelich and Dee Gordan were traded away in the offseason. JT Realmuto was then shipped out after the following season in February 2019.
With the barren farm system rated as one of the worst in the league, the organization under Jeffrey Loria was unwilling and unable to sign free agents to bolster the team. They couldn't trade for anyone without giving up a core player in return. With the loss of Fernandez, the gap became too wide to overcome. Without good prospects to trade and with the owners unwilling to open their wallets, especially after that gigantic contract they made with Stanton, the outcome was inevitable: Trading their core to restock the minor league system. And this, of course, is assuming Loria even cared about all that.
We had the hitting, and it was only going to get better as the years went on, but when you take a look at the pitching staff, you'll see 2016 was as good as it got.
2016 starters: Jose Fernandez, Tom Koehler, Adam Conley, Wei-Yin Chen, Justin Nicolino, Jose Ureña, Andrew Cashner

2017 Starters: Dan Straily, Jose Ureña, Adam Conley, Edinson Volquez, Tom Koehler, Vance Worley

2018 Starters: Jose Ureña, Wei-Yin Chen, Trevor Richards, Dan Straily, Caleb Smith, Pablo Lopez
Keep in mind everyone listed here met the criteria of making at least 10 starts. Without Fernandez, the pitching rotation was a lot weaker.
He was irreplaceable.
And even if Miami could find another guy like Fernandez, could the Marlins have afforded him? I mean it's the Miami Marlins after all. Over on the bullpen side, you could argue Miami had depth with serviceable arms for sure, but they didn't necessarily have a great closer.
In his first year, Don Mattingly's team suffered a gut-wrenching tragedy followed by the roster getting blown up midway into his contract. From there, he was handed a very young core to develop, a group of players years away from coming to fruition as All-Stars. Assuming things went right, of course. This is a lot to preside over. I really don't know how much of a say the skipper has when it comes to the selection of personnel, but I feel Mattingly made the best of a bad situation, witnessing the fire sale and forced to start anew.
It was even worse in 2018.
He was given young ballplayers with an abysmal pitching staff that had the bullpen coming out early in relief more often than not. You'd be happy if the starter pitched five innings.
Realmuto was the last of a core from an era full with what-ifs.
Now, does this exonerate Mattingly of his responsibilities as a manager? Of course not. It's still his watch. After everything that has transpired, how much of it is on him as opposed to the former ownership and Front Office?
Mike Hill discusses the return of @Marlins' manager Don Mattingly for the 2020 season and explains why he felt Mattingly was the right fit for this ball club.👂#JuntosMiami #MLB pic.twitter.com/PGLhUDT8Dc

— FOX Sports Florida & Sun (@FOXSportsFL) September 28, 2019
Some will point to Lewis Brinson being a flop under his tenure. How much of it is on Brinson and how much of it is on the coach and those tasked with his development? If Mattingly is going to take a ding on that one, shouldn't he take SOME credit as well with how Brian Anderson has been coming along? Or the more recent Harold Ramirez?
In the end, I'm fine with the Don Mattingly contract extension. Donnie is seemingly good with the youngsters even though he isn't one of those coaches that are really into analytics. Considering the intent of nurturing these rookies into good baseball players, I'm good with Mattingly being the point man on this. With that said, heading into Year three of the rebuild, he better come up with some tangible results. Or else, he will lose faith with the one person whose opinion truly matters, Derek Jeter's.
(Visited 43 times, 1 visits today)