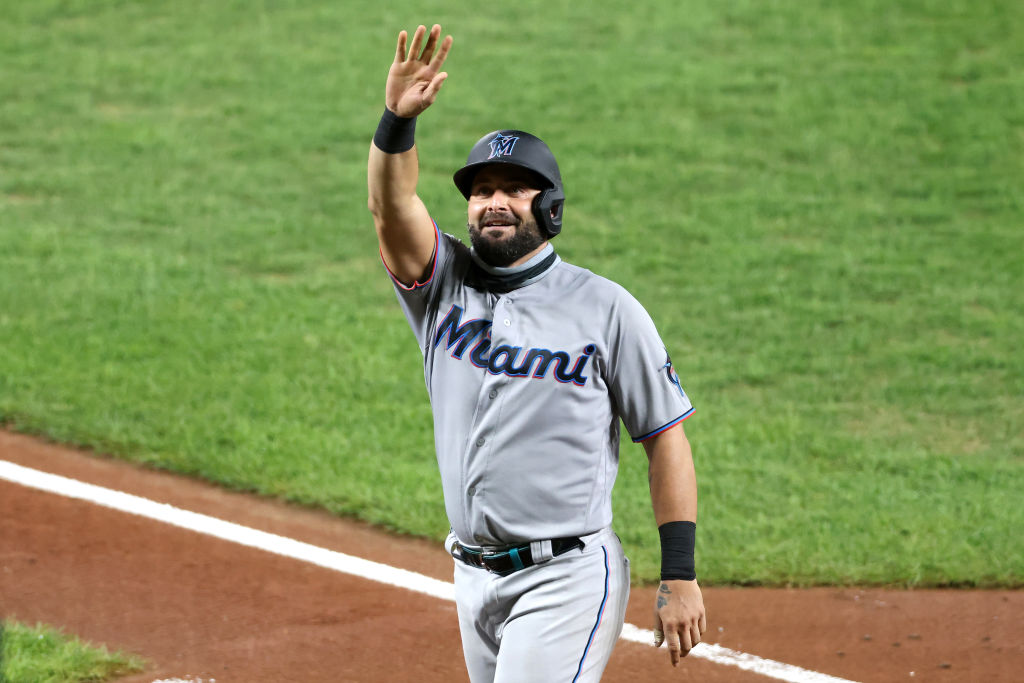 ---
Miami, Florida – Pablo Lopez was dealing in his 2020 debut, mowing down seven hitters to tie his career-high in the Marlins 4-0 win over the Orioles. The righty dominated, tossing five shutout innings in a game that saw several debuts. Speaking of, Monte Harrison made his MLB debut, coming up with a defensive gem early in the second inning robbing Pedro Severino of a line drive.
.@Team_Harrison3. Snatched.#JuntosMiami pic.twitter.com/NmaD6OkzmK

— Miami Marlins (@Marlins) August 5, 2020
It was a quiet game until the fifth when Francisco Cervelli got mean with John Means, smashing his pitch to leftfield. Cervelli hit the Marlins first homerun since pausing their season, the sixth overall. Even though they were ahead, the Fish gave themselves a bit more breathing room in the following frame.
Jon Berti added some insurance with an RBI single, scoring Jonathan Villar from second after the wild pitch by Travis Lakins. The four-game series is a reunion for Villar, playing against his former team. He finished the night going 1-for-4 with a run. Brian Anderson drew a walk to load the bases, setting up Logan Forsythe. The former Phillies player made a decent impression in his first game wearing a Marlins uniform. Forsythe hit a seemingly easy grounder to third but Renato Núñez bobbled it, causing his first error of the year and Miami's third run.
Once Lopez was done, the bullpen's reinforcements officially arrived and picked up where he left off.
James Hoyt made his Marlins debut, striking out two in the sixth. The right-hander showed his stuff, particularly his changeup. Richard Bleier also appeared, pitching an effective seventh in his first 2020 appearance with the team.
Jesús Aguilar blasted his third homer of the season, a late-game solo shot. After eight days of inactivity and 20 cases of COVID-19, the Miami Marlins came out with a victory.
LA BOMBA.@JAguilarMKE / #JuntosMiami pic.twitter.com/rNbZA4j4Eu

— Miami Marlins (@Marlins) August 5, 2020
DJ Speaks
During the Zoom call press conference Marlins CEO Derek Jeter emphasized empathy and accountability. Jeter reported on the affected players' health stating most cases were asymptomatic while some had mild symptoms. He also noted how disheartening it was to continue to read and hear about rumors of the players' actions. The bottom line: there was no salacious activity despite unconfirmed reports but they did let their guard down.
"Our guys were not running all around town after our game in Atlanta," Jeter said. "I need to ask that to stop, they don't deserve that."
Jeter was also very candid in saying that some of the traveling party had a false sense of security after leaving Miami. He said they are all responsible for not following protocol which includes the coaching staff and players. Their review showed a lack of adhering safety measures such as wearing masks and exercising social distancing. A couple of individuals did leave the hotel but to get coffee, even clothes. In one case a player went out to have dinner at a teammate's house. There was no hanging out at bars, no clubs.
Miami Marlins Virtual Press Conference with CEO Derek Jeter.

Continued here: https://t.co/8jfCTFhCcX pic.twitter.com/qbnaurG57v

— Miami Marlins (@Marlins) August 4, 2020
When asked about whether the protocols promulgated by the league prior to the season starting were sufficient, Jeter did not really criticize it given how lax his team was in following them.
"In our particular situation we made mistakes," He said. "It be kinda hard for me to sit here and say that the protocols weren't good because we made our own fair share of mistakes."
It's been an adjustment for everyone, not just for the team but for the league in general. Habitual behavior that in other years was permissible is now strongly discouraged such as high fiving in celebration in order to curb infection.
What It Means
Feels good. #JuntosMiami pic.twitter.com/dDWf4i8IRC

— Miami Marlins (@Marlins) August 5, 2020
The Miami Marlins are back! For tonight at least the Fighting Fish kept up their winning ways but will need to carry their momentum into tomorrow's twin-bill with the Orioles. The new faces, for the most part, played well matching the hopes of the organization. The ballclub feels they can compete and are fighting to prove it. Considering how vilified the team was in recent days, the boys are playing with an even bigger chip on their shoulder.
(Visited 21 times, 1 visits today)