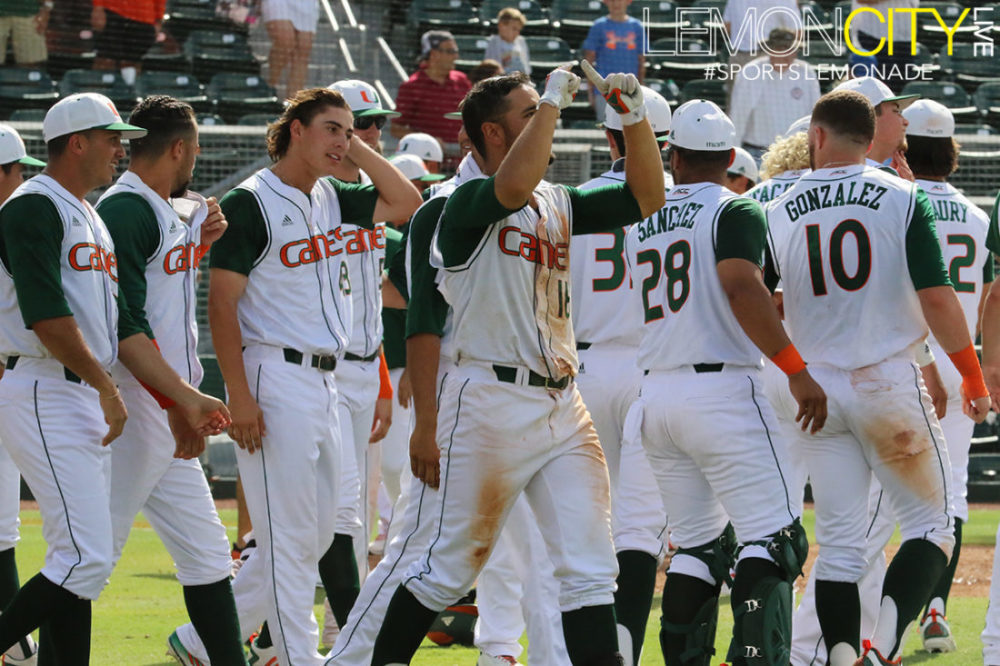 Coral Gables, FL – It's that time of year again guys and gals as the University of Miami Hurricanes (And FIU) prepare for what looks like another promising season of college baseball. Here, we're going to preview some of the storylines for the Canes in the wake of their 44-year postseason streak coming to a heartbreaking end. Time for a fresh start.
The Last Hurrah
This year marks the end of an era as Jim Morris will take the helm for his 25th and final season. The skipper has quite the resume beginning his career back in 1975 with Appalachian State. Eventually, he came to lead the UM program in 1994, churning out impressive milestones like making it to Omaha in 11 of his first 15 seasons, including setting an NCAA record for guiding a program to the College World Series in each of his first six years in Coral Gables. On top of all that we can't forget winning the CWS itself in 1999 and 2000. He also won ACC Coach of the Year 4 times (1983, 1987, 1993, 2008). No doubt he will try to make this last go a memorable one.
Always feels good to get back on the diamond. pic.twitter.com/l6ibYg4vBt

— Canes Baseball (@CanesBaseball) January 27, 2018
The Old Guard
15 players return from last years' encouraging 31-27 (16-13 in ACC) bout including infielder Romy Gonzalez, southpaw and All-ACC ace Jeb Bargfeldt, relievers Andrew Cabezas and Frankie Bartow, outfielder Michael Burns and of course righty Greg Veliz. Despite losing guys like junior outfielder Carl Chester and right-hander Jesse Lepore to the MLB's First-Year Player Draft, these aforementioned individuals will be our veteran leaders and the core of UM's effort to return to Omaha. Here's a taste: Hailing from American Senior High, Romy Gonzalez helped lead American to division 7A state championships in 2014 amassing several awards including first-team honors and all-state honors. As a freshman he started his college career with a 4-game hitting streak, lacing a game-winning two-RBI single against Bethune-Cookman in late March and recorded his first homerun at Georgia Tech in early May. In his sophomore year, he was one of just two players to start all 58 games finishing the year with a .265 average, 11 homers and 38 RBIs. If you like this kid, you'll love the rest.
The FNGs
First day of puttin' in work. pic.twitter.com/XJmuVedWrQ

— Canes Baseball (@CanesBaseball) January 26, 2018
This seasons recruiting class was ranked 8th nationwide by Baseball America, the Canes have recruited quite the formidable cast including two guys that said thanks but no thanks to the MLB draft, right-hander Chris McMahon and Ray Gil. Ay, Charles Johnson did it. However, the team will be without McMahon for a while due to undergoing surgery to repair a torn meniscus in his left knee. He's out until at least late March to early April. The other freshman who chose instead to play for UM is infielder Ray Gil. Gil comes from Gulliver Prep where he helped the team to four regional appearances and two district championships grabbing All-Dade Honors and finishing his high school career with a cool .350 batting average, 13 HRs, and 80 RBIs. We'll see whether the rookies will make a splash in their opening year of their college careers and if they can gel well with their fellow veteran teammates.
Omaha or Bust?
Countless All-Americans and Major League Baseball players.

25 College World Series appearances.

Four national championships.

It's All About The U. pic.twitter.com/IUGbWVVQhr

— Canes Baseball (@CanesBaseball) January 17, 2018
Now that the 44-year postseason streak is over, many are asking whether or not the Canes can bounce back and return to the College World Series spotlight. They have the eighth best recruiting class with a strong core of vets leaving the team really with the task of both staying healthy and developing game-winning chemistry. Not only that, but we have a tough schedule including in-state rival and CWS defending champ Florida along with Notre Dame, Virginia, North Carolina and Boston College. And those are the home games. On the road, we go up against FSU and Georgia Tech to name a couple.
With a fresh start so to speak and a hungry squad, 2018 will be an interesting year for Canes baseball.
(Visited 208 times, 1 visits today)