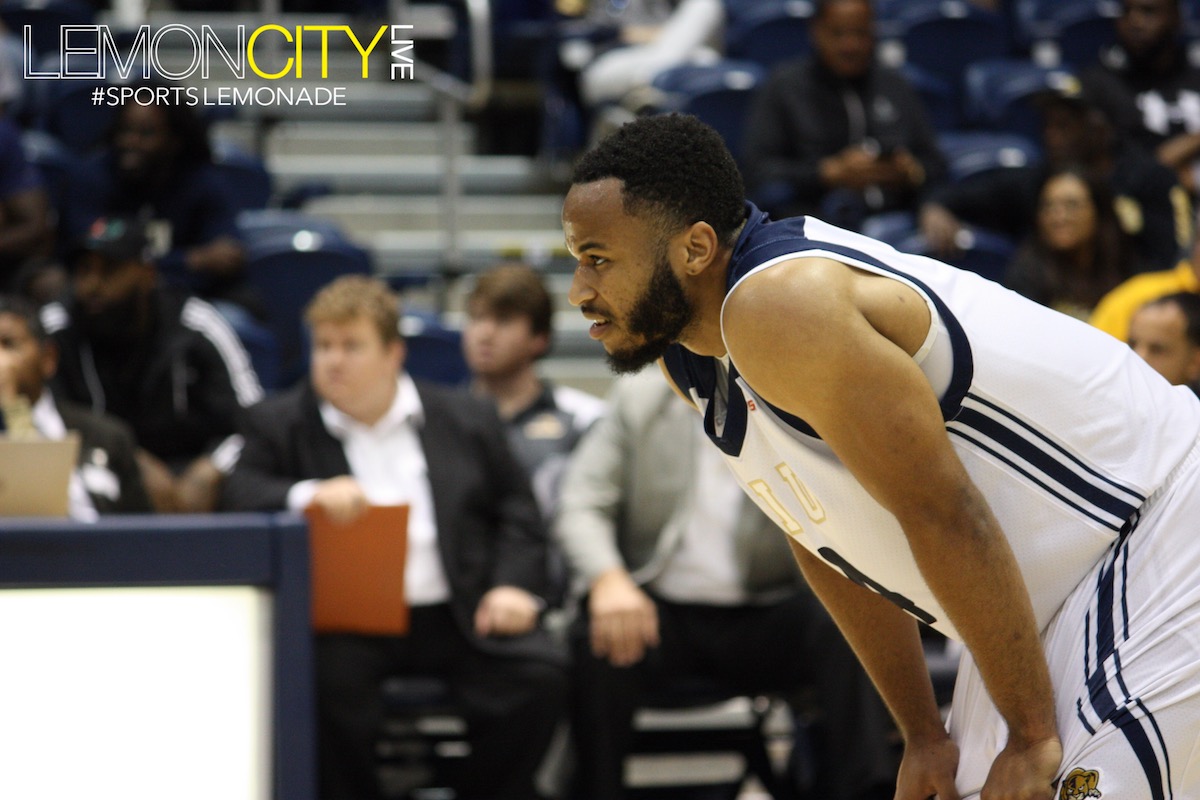 Ocean Bank Convocation Center, Miami, FL.– Sometimes you just want to go home… I'm sure the guys were happy to be back. The FIU Panthers return home after losing 2-straight on the road last weekend, at Rice and at North Texas. FIU ranks in the top half of the conference at #6 in scoring defense, but falls to #10 out of 14 in offense. Brian Beard Jr. said in his post-game press conference that these two wins this weekend are needed to climb back into the middle of the pack, so that they can make a run in the playoffs.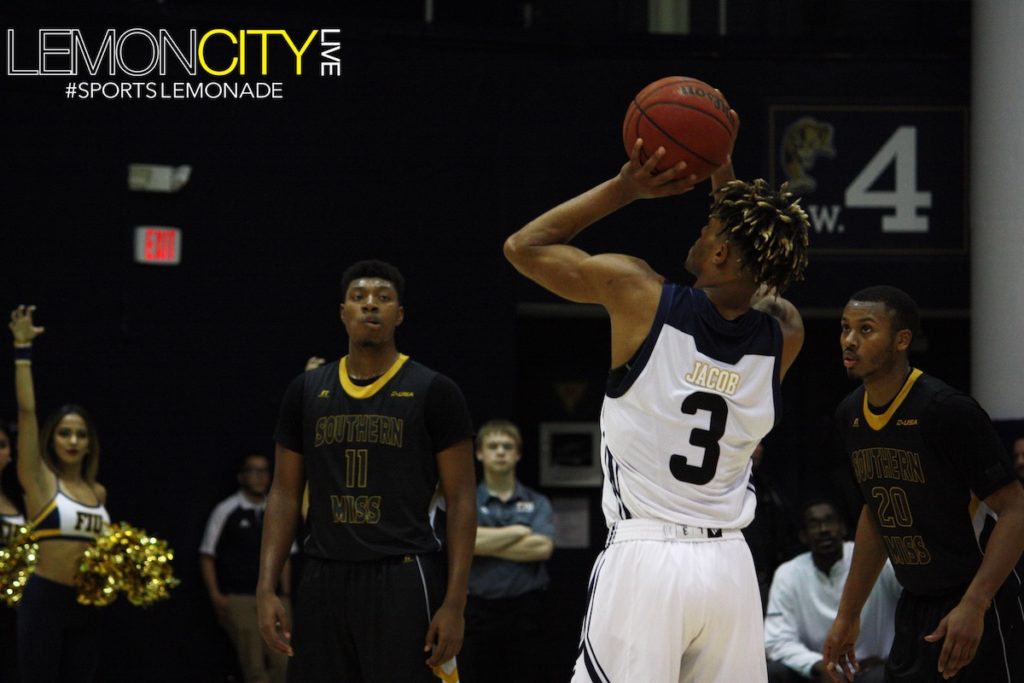 Southern Miss came into this game with a .500 overall record, but weren't doing as well in the conference. Nevertheless, ahead of FIU in the standings, much like FIU, they also need wins in order to make a Conference USA playoff appearance, and have any hope of salvaging the season.
First, I just want to point out that Southern Miss has a guy named Tim Rowe (#12) that legit looks like Eddie Munster grew up. It's the slicked back hair that did it. I like it. (Google the name if you're a millennial) He kid had a decent game with 7 pts, 1 reb, 1 blk, and 1 stl. The first half started slow, with both teams struggling to reach 20, but finally did so when Brian Beard hit a free throw, on an 'and-1' play, to put the Panthers up 20-18 with 5:14 remaining in the half. From that point on, The Beard and Eric Lockett took over for FIU, and the Panthers finished the half on an 11-10 run, leaving them up 31-28. Brian had 14, and Eric had 8 pts at the end of the half. Trejon Jacob was 0-4 from the 3-point line at the half, and wasn't living up to his name. I've got more on that later.
#FIU takes a 31-28 lead into the locker room at the break. Brian Beard, Jr. with a game-high 14 points. pic.twitter.com/Mg8wNfwDDX

— FIU Men's Basketball (@FIUHoops) February 2, 2018
The second half was where FIU woke up. The Panthers get off to a good start, scoring 7-straight unanswered points. FIU would be leading 43-30 at one point, but the Golden Eagles would go on a run of their own. After a 13-2 run by Southern Miss, FIU's lead was down to 2, at 45-43. Once again, Brian Beard takes over the game, dishing it and taking it to the hole. Tr3jon doesn't appear to have the same energy he had earlier in the season, losing rebounds and sometimes looking lost in the shuffle, but just after I typed that he hit a big 3 to put the Panthers up by 9, Tr3jon! He eventually finished the game with 11 pts and 8 rbs. Maybe he just needs a confidence boost? After the game I asked Coach Anthony Evans about Tr3jon's shooting struggles, and he confirmed my thoughts about it being a mental thing. He explained how last season he played in junior college, and was struggling at this point in the season with the grind that comes with Div 1 college ball. He also said that being home this weekend and watching the ball go through the hoop should help his confidence moving forward. The Panthers maintained a healthy 5-9 pt lead down the stretch, but had to play till the end to keep the Golden Eagles at bay. Southern Miss began fouling Osasumwen Osaghae to take advantage of his free throw weakness. He was eventually subbed out and the Panthers put the ball in their trusty PG's hands, the Beard! FIU's defense, along with kept sinking foul shots late in the game, kept the Golden Eagles from making a comeback with the "Hack-a-Shaq" method. However, Southern Miss wasn't going down without a fight, not as along as the game was still within somewhat of an attainable reach. There was less than 30 seconds left and bodies are flying all over the place, but FIU was able to come through. The Panthers won a very hard-fought game against a scrappy Southern Miss Golden Eagles team, who had a 4W – 5L conference record. FIU now sit at 4W – 6L, with Louisiana Tech coming to pay a visit on Saturday.
It's a wrap.
—-#FIU #PawsUp pic.twitter.com/CUKsXh77Pu

— FIU Men's Basketball (@FIUHoops) February 2, 2018
For a full gallery from this game, please CLICK HERE.
(Visited 97 times, 1 visits today)