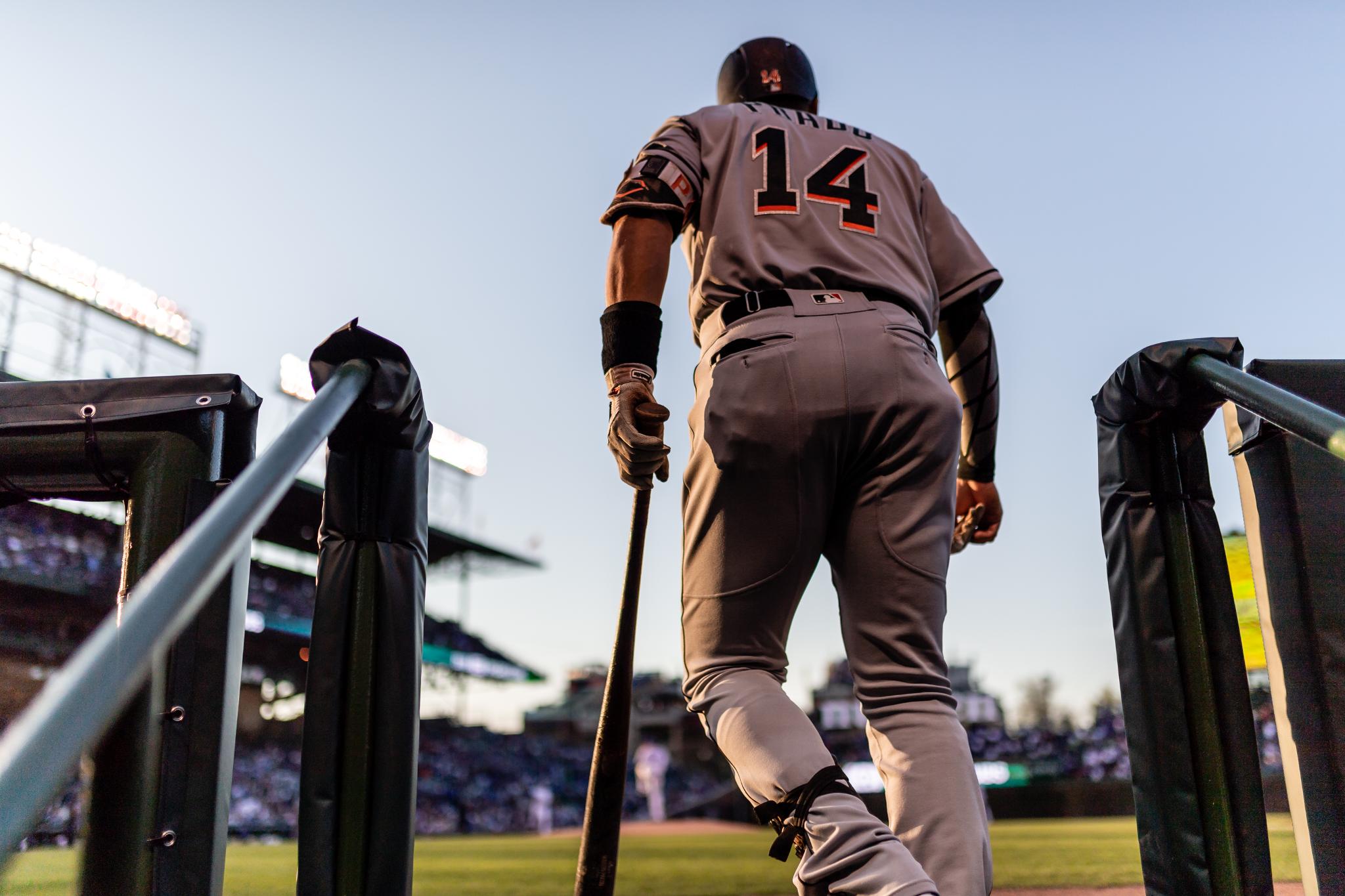 Hey there Marlins faithful, it's been a while so my bad for the general absence. Unforeseen circumstances drew me away from our lovable team. With that said, I have not stopped watching, cheering and cringing at the team.
When we last spoke, the Marlins got swept by the Brew Crew. Pretty crazy considering it was a four-game series. Aren't we glad it wasn't a playoff game? The losing streak extended to five after dropping the opener with the Dodgers, but then an amazing thing happened: We won that series. Then the Rockies, then the Phillies…and then the Reds.
Before the fans knew it, the team won eight out of 12 carrying four straight series victories.
On every side aspect of the game, the Marlins displayed good baseball. J.T Realmuto remained a force throughout the stretch with contributions from Cameron Maybin and Miguel Rojas. For the others, they had their moments depending on the series in question. Starlin Castro was tearing it up against the Phillies and Reds while Brian Anderson kept up his own productivity.
When it came to the pitching, we saw good starts from Jarlin Garcia, Dillon Peters and Caleb Smith among others. Heck, the bullpen wasn't bad either, holding opposing offenses at bay and protecting leads, as expected of them.
ICYMI: KKKKKKKaleb Smith did it again! #JustGettinStarted pic.twitter.com/mLC2MupeiH

— Miami Marlins (@Marlins) May 6, 2018
Even better, Dan Straily, Martin Prado and Wei-Yin Chen are back. The injury bug is no more and we're pretty much back at full strength.
Man, we were on a roll. The momentum was on our side and with everything falling into place and coming together, nothing could stop us from surprising everyone with a really good run.
And then you wake up!
The Cubbies definitely threw cold water on us, issuing the Marlins their fourth sweep of the year and it didn't get any better with the Braves, dropping three of four. And so! We're more or less right back where we started, a flash in the pan. The fizzle after the sizzle.
The Marlins score 2 in the 7th on Miguel Rojas' 5th HR of the season.#JuntosMiami pic.twitter.com/eH0ndaKnbd

— Miami Marlins (@Marlins) May 9, 2018
Garcia got uncharacteristically batted around in Chicago (And to a lesser degree against Atlanta) while Chen, as expected actually, got torched. In case you were wondering, the Marlins got outscored 26-16 in the latest series with our NL East rival. Similarly with our bats and starters, our bullpen took a stumble too. Drew Steckenrider got tagged for six runs last Thursday, blowing the game for us. He'd get another dose of Déjà vu Saturday night, botching a 5-5 tie late in the game. Of course, to be fair, Tyler Cloyd gave up three more runs in the ninth, effectively putting it out of reach for our offense in that particular game.
So as the ballclub heads into its next slate of games, now what?
The new additions have forced coach Don Mattingly to tweak his roster a little bit, giving the returning players an opportunity to shake off the rust. With that said, this team wasn't exactly built to win championships. As I previously mentioned, ups and downs (Especially downs) will be this team's motif for the year. One week they will be exactly as expected, losing left and right. And then there'll be times they'll resemble a competitive team.
Messing with the line-up will help some, staying healthy will too but when it comes to our pitching it's the same as last year. Jose Ureña has become this year's Edinson Volquez (No-hitter too maybe?), going a surprising 0-6. Although it's not entirely his fault. Ureña's best chance at nabbing his first W came in the Rockies series late April, despite a marvelous seven innings of one-run ball, he got nothing but donuts from his teammates.
In fact, the Marlins are dead last when it comes to runs, slugging and on-base percentage. They're 29th in batting average. Forget the lack of a star in the starting rotation, forget the bullpen. That little stat line is unsustainable. As illuminated with Ureña, all it takes is one run. This is how Miami will turn it around, even a little, by improving their performance at the plate.
#Marlins' Monte Harrison is 3-for-4 with a 2B and HR for @JaxShrimp. It's Harrison's 3rd three-hit performance in his past 10 games. No. 1 on @Marlins Top 30 Prospects list: https://t.co/0T7vLHSJk3 pic.twitter.com/9VmMO1XOij

— MLB Pipeline (@MLBPipeline) May 6, 2018
Trouble is, there's no clear answer to the Marlins hitting problems other than simply calling up better players or even getting better players through trades. If they could do that, the team wouldn't have been blown up in the first place in what amounted to a salary dump. So it really just leaves us with the hope of further development from our rookies. And that's what we're left with really. More and more loses.
Check out the Miami Marlins Prospect Spotlight: P Sandy Alcantara. 100+ Fastball! #MiamiMarlins #MLB pic.twitter.com/NNETNoIowC

— FOX Sports Florida (@FOXSportsFL) May 5, 2018
All we can do is hope.
And pray.
Until next time, stay frosty.
Photo Credit | Marlins Twitter
(Visited 163 times, 1 visits today)