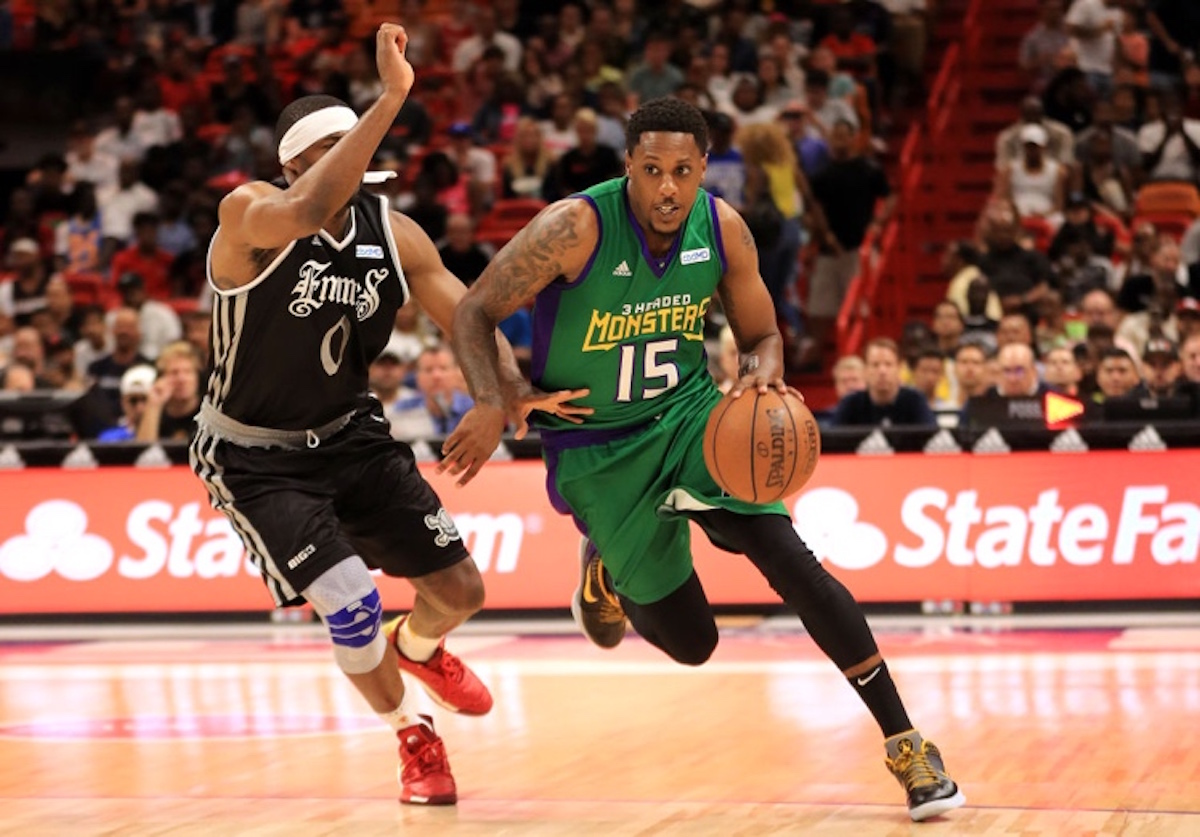 ---
Miami, FL – Gone are the days of NBA players having to head oversees late in their careers when their NBA tenures have come to an end but they're not ready to retire. Founded by Ice Cube, probably on a good day, most likely a Friday, The premier half-court, 3-on-3 basketball league, BIG3 features many of the greatest, most popular and skilled players of all time. A lot of these former pros spend their post-basketball careers ballin' up rec leagues and YMCA gyms, so why not get these former stars together, tour them around the country, and showcase what they've still got, pandering to fans' nostalgia?
The league has 12 teams, but every city hosting a BIG3 stop gets to treat their fans to three energetic games, where the 1st team to score 50 points wins. The three BIG3 games that Miami fans got to watch were (5-2) Power: 43 vs (3-4) Tri-State: 50, (3-4) Three-Headed Monsters: 50 vs (3-4) Enemies: 32, and (4-3) Ghost Ballers: 50 vs (4-3) Trilogy: 47.
Power vs Tri-State
Power had the opportunity to clinch a playoff spot, and even pulled to a 27-20 lead at halftime, but Nate Robinson, Jason Richardson, and Amar'e Stoudemire wouldn't allow their season to slip away. Nate Robinson iced the game with a 3-point and-1 shot. Tri-State still has some work to do to make the playoffs. They need to win on their next stop in Indianapolis to keep their hopes alive. Power still only needs to win one more game to clinch their playoff spot.
Three-Headed Monsters vs Enemies
The Three-Headed Monsters spread the wealth in their win vs Enemies. Mahmoud Abdul-Rauf and Rashard Lewis both scored in double figures, and former Miami Heat PG, Mario Chalmers hit a huge 4-point shot which changed the feel of the game and pushed Three-Headed Monsters forward. He finished with nine points. Enemies, on the other hand, couldn't get it going. Craig Smith was the only player to reach double figures. The Three-Headed Monsters keep an outside playoff shot alive and Enemies take a huge loss and are now desperate for a win next week to keep their playoff hopes alive.
Ghost Ballers vs Trilogy
Miami welcomed back Carlos Arroyo. This is the former FIU Panther & Miami Heat player's 1st season with the BIG3, playing for Trilogy. However, he wasn't much of a factor and finished the game with five points. In the closest of the three Miami games, the two teams needed a win to keep their playoff dreams alive. Ghost Ballers took the early lead against Trilogy. Chris Johnson utilized the pick-and-roll masterfully and led his team to victory, scoring 14 points and collecting seven rebounds.
Next up, the BIG3 travels to Detroit & Indianapolis for week 9 before finishing up the regular season in Dallas, week 10, right before the playoffs. Triplets have already secured a playoff spot, the only team to do so. The last two weeks will certainly be eventful as the remaining teams fight for a playoff spot.
(Visited 111 times, 1 visits today)