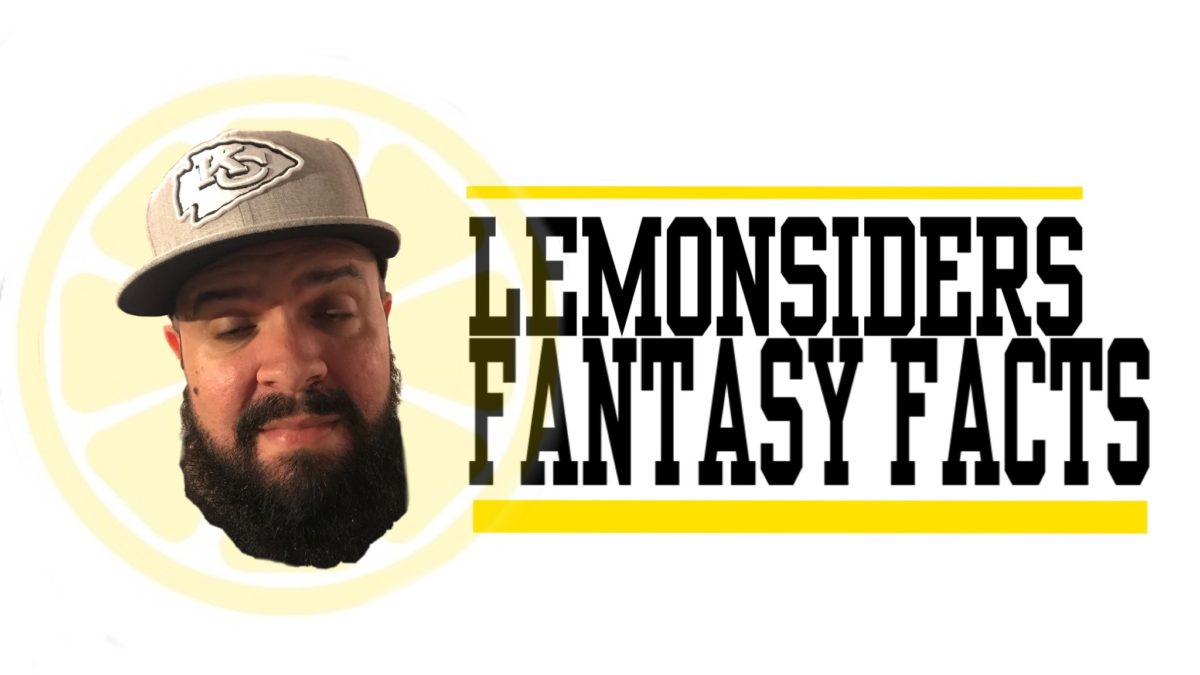 Gotta be real with you guys. I'm bitter and I need to vent a little to let this bitterness out. My Chiefs proved me right (unfortunately) on showing that they are phonies losing to the 1-8 freaking Giants (now 2-8). They have lost 4 out of their last 5, they have drastically limited the number of touches for Kareem Hunt per game and oh yeah, they extended Andy Reid's contract before this season!! 100% convinced I may never see a KC Super Bowl victory in my lifetime and even with teams year after year being filled with talent, it always goes to crap. To make things worse, I had a bad week in fantasy in all my leagues. Just not a good week at all football wise but hey, hope yours went great and if it did, I don't want to hear about it. Yes, I'm THAT bitter at the moment. We're heading into Week 12 which means 2-3 more weeks for regular season in fantasy football and then it's playoff time. No time to cut corners here. Grab a frozen mug and get ready for these cold hard Lemonsiders Fantasy Facts on guys you should hold, toss out and add.
Hold
Was never too crazy about Samaje Perine but now I'm forced to love him. Chris Thompson, the Redskins best RB, was carted off this week and with Rob Kelly being injured and just not good at all, this leaves all the volume to Perine. Volume is key in fantasy. You don't even have to be great but if you get a lot of volume, you're definitely usable. Some of you picked up Perine after Kelly's injury and now, I would hold on tight to him since he is now the featured back in the Redskins offense.
RB Samaje Perine has eclipsed the 100-yard rushing mark in #WASvsNO, first time the #Redskins have had a 100+ yard rusher since Rob Kelley against Green Bay on 11/20/16. pic.twitter.com/ZxA7HGM6O6

— Washington Redskins (@Redskins) November 19, 2017
Toss Out
After Week 4, Jordy had 60+ fantasy points but since then ( Week 5-11) he's had less than 30. Four straight games with single digit points guys! The injury to Aaron Rodgers DESTROYED Jordy's production along with every offensive skill player for the Packers. Unless you're in a keeper league, Jordy Nelson is droppable because he's not startable at all. Not much reason to keep him unless you're a believer than Rodgers may come back this season which as of now, is a huge maybe.
Six sacks.
Three interceptions.
Two forced fumbles.
The defense was "off the charts." : https://t.co/9yEMJAlwJH pic.twitter.com/2IoRYRSuz2

— Baltimore Ravens (@Ravens) November 19, 2017
Easier to convince you why to drop him than why to hold on to him. It's this simple, if you're not willing to start a guy and you're just going to stash him on your bench, why have him? If you're going to stash someone, stash someone with upside. You're not going to get that with Doug Martin. That's a fantasy fact. This offense is bad and the team is bad. Drop him and let someone else deal with that headache.
Stashed Doug Martin during his suspension thinking he'd pay off once he returned… pic.twitter.com/L2LxQW92Nc

— FantasyFootballNerd (@ffnerd) November 19, 2017
If you're stashing the Vikings or Broncos or any defense because of their "name", you're doing it WRONG. If you're going to stash defenses, stash defenses with good matchups. I'm in some leagues with teams having 2-3 defenses and ALL of them have bad matchups. Good teams to stash for defenses besides the obvious one in the Jags would be Bears, Lions and Ravens. You're best bet is to play the matchups weekly or stash the right ones. Stop holding on to players and defenses based on LAST years numbers.
Add
Once the Bills benched Tyrod for rookie Nate Peterman many people, including myself, dropped Tyrod. Who knew Peterman would throw 5 INT's and that Tyrod would come back in and actually have a usable fantasy game. Look, the Bills coaching staff is still "trying to figure things out" but we now know Tyrod is their best option for ROS. His schedule is extremely favorable so pick him up if someone had a quick trigger finger like me and dropped him in your league.
Tyrod Taylor: Hey Coach.

Sean McDermott: Yeah Tyrod?

Taylor: pic.twitter.com/YEUzLj8jon

— Trevor S # 🤭kkema (@TampaBayTre) November 19, 2017
Totally a dart throw but this is someone you'd stash because of their upside. He showed it this week going for 7 receptions, 180 yards and 2 touchdowns. You're not going to get that every week of course but there IS a chance of you getting usable performances out of him. Two games against the Pats secondary and a week 16 matchup against my awful KC defense makes Kenny Still a worthy pickup.
Another handcuff player but one with upside. The Bills wide receivers are pretty awful and actually, the best two receivers right now are their running backs. Cadet had 7 catches this week for 53 yards. Not someone you'll look to start as your RB1 or RB2 but he can fill in as a Flex option based on the matchup PLUS has tons of upside if McCoy were to go down.
Be sure to check with us each week where we will discuss not only start, bust alerts, and sleepers for that particular week, but also who you should be adding to your roster and who you should be dropping.
Don't forget to follow us on Twitter, Facebook, and Instagram.
(Visited 66 times, 1 visits today)