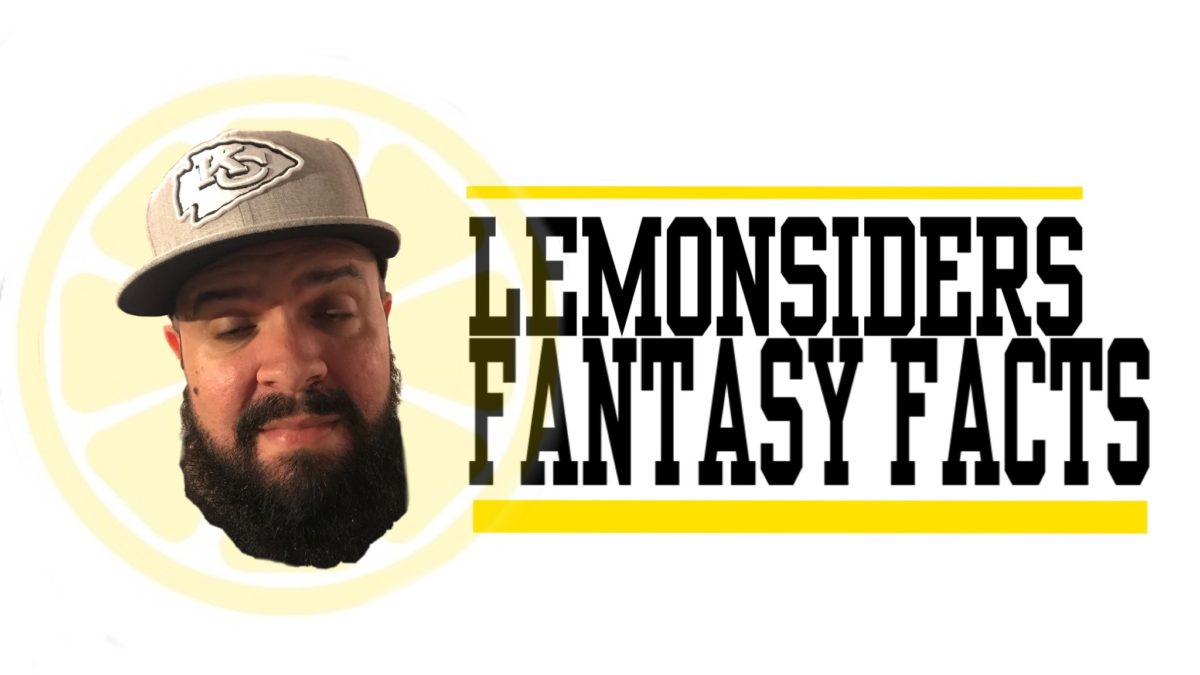 Assuming if you're reading this it's because your team made the playoffs! Either that or you're looking to go out strong in your consolidation bracket. Either way, you're at a point where if you lose you are done for the season so who you have on your roster is extremely important. Here's a quick Fantasy Fact that often gets overlooked too at this point of the season. It's not just about having guys on your roster that you want to play but it's also about blocking your competitors from having them too. With 2-3 weeks left in the season, a strategic move is to stash 2-3 defenses with good upcoming schedules and perhaps some running back handcuffs as well. Looking ahead and being strategic is smart but over analyzing isn't so know the difference. Let's just jump into Lemonsiders Hold, Toss Out and Adds for week 14. (We're gonna be giving you a few more adds than toss outs this week too!)
Hold
Yes, Zeke is scheduled to come back in Week 16 against Seattle but this week's game against the Redskins showed what Alf could do with a healthy o-O-line. He exploded for 127 yards off 27 touches and faces the Giants in Week 14 and the Raiders in Week 15. Two very favorable matchups for the Cowboys run game. Like I said earlier, you may not be comfortable playing Alf but he's worth stashing so none of your other league mates can play him.
When you had Alfred Morris as a sleeper. pic.twitter.com/WuCxJVH6AW

— Marcas Grant (@MarcasG) December 1, 2017
Toss Out
With Tyrod Taylor being carted off and most likely out for the season, there's no way you could feel comfortable with any of the Bills pass catchers. The rookie Nate Peterman will be the Bills signal caller moving forward and on the season his stats in 3 appearances this  (including 1 start) are 145 yards, 1 TD, 5 INT and a QB rating of 46.7. Highly doubt you will feel comfortable playing Zay or Clay with a QB with those numbers throwing them the ball.
Buffalo Bills fans. #GoBills pic.twitter.com/Za4dqPPIFV

— Pat Walker (@PatrickDWalker) December 3, 2017
He's been dinged up with ankle injuries and at the end of Week 13's game against Baltimore, he bruised his throwing hand. X-rays were negative on any fractures but any injury to a throwing hand causes concern. If he's good to go, you may get away with playing him Week 14 against TB but wouldn't feel excited playing him Week 15 & 16. If you have another QB on your roster with better matchups, let someone else get stuck with the gamble of playing Stafford.
Started off with Aaron Rogers, broke his collar bone, moved to Mathew stafford and he just got hurt, if he's done for the season and I'm stuck with Jacoby brissett🙃

— Verm (@AndrewVerm98) November 23, 2017
Add
Wait what? Rodgers? Yeah, you read that right guys. Aaron Rodgers will likely be cleared to play Week 15, just in time for them fantasy playoffs! After getting injured in Week 6 against Minnesota, GB's wide receivers production took a nose dive but things are about to drastically change soon. I do have to note though, his matchups will be rough but if you've been streaming QB's, you'd feel more comfortable playing Rodgers than any of them so giddy up on adding Aaron.
The Packers are 6-6.

They play the Browns next week.

Aaron Rodgers comes back the week after.

Oh no… pic.twitter.com/yPyy4eryAS

— 12up (@12upSport) December 3, 2017
Good chance this defense is already on someone's roster but they are not 100% owned in Yahoo & ESPN leagues and they very well should be. Two out of their next 3 games are against the Bills which means they will face Nate Peterman in both of those matchups. The Pats defense has improved late in the season and facing the Bills twice during fantasy playoffs is just too good to pass up.
Great team win today by the New England @Patriots pic.twitter.com/uwQfFxbrws

— Lacey Noonan (@laceynoonan) December 3, 2017
Jimmy G got his first start with the Niners this week and despite not throwing for a TD, he threw for 293 yards against a tough Chicago defense. Next two opponents are much more favorable in the Titans and Texans and Goodwin led all 49ers receivers with targets (8), receptions (8) and receiving yards (99). Goodwin has scored double-digit points in 3 straight games and should continue the next two weeks against weak pass defenses.
The #49ers end the first quarter with a big play from Jimmy Garoppolo to Marquise Goodwin. #SFvsCHI pic.twitter.com/Jv7OcxIZqe

— Rob Lowder (@Rob_Lowder) December 3, 2017
Not a great matchup for Week 14 but has the ultimate matchup against the Browns Week 15 and a great one as well for Week 16 against the Colts. Let's be real, the TE position has been a dumpster fire this year and we've been bouncing around streaming tight ends. With injuries, let downs and bad matchups across the board be sure to stash Watson for Week 15 & 16 if you're in need of a TE for those weeks.
Waiver Wire: HOU has allowed 17 red zone TDs this year (15 of those via the passing game). Ben Watson (13% owned) has over 25% of Baltimore's red zone catches which is 6th most among Tight Ends. #FantasyFootball #NFL #DFS pic.twitter.com/ntu6G86kFX

— The Fantasy Fringe (@fantasy_fringe) November 23, 2017
If he's sitting on your waiver wire, snag him up now that Rodgers return seems to be very likely for Week 16. It's not 100% written in stone that the discount double check QB will be back for sure but IF he is, Jordy Nelson's production will take a HUGE boost moving forward. Still find it crazy that we're in Week 14 and Jordy isn't 100% owned in leagues despite being healthy.
Be sure to check with us each week where we will discuss not only start, bust alerts, and sleepers for that particular week, but also who you should be adding to your roster and who you should be dropping.
Don't forget to follow us on Twitter, Facebook, and Instagram.
(Visited 57 times, 1 visits today)