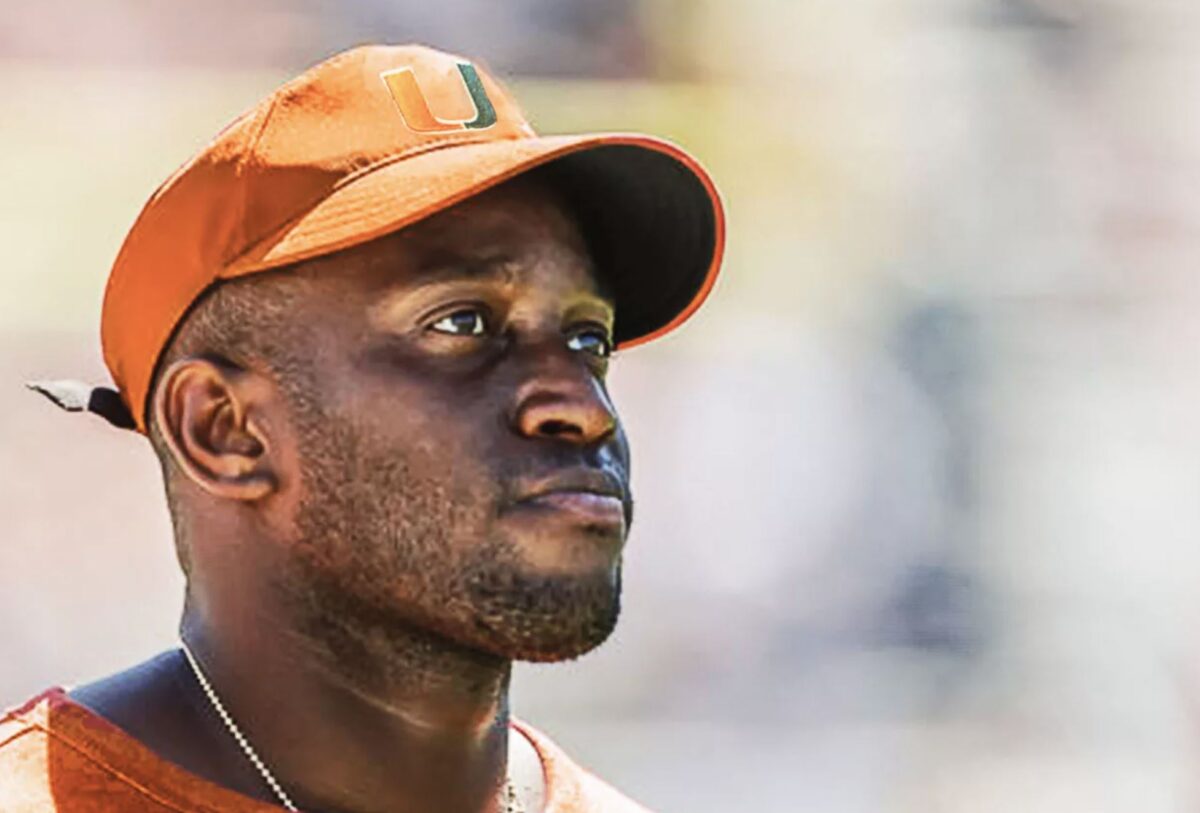 ---
Miami, Florida – Say hello to Travaris Robinson, the Miami Hurricanes' new Defensive Backs coach. "T Rob" brings both experience and the magic touch. Similar to when the football program hired Rhett Lashlee, I want to see what kind of an impact he'll make in his inaugural year. At first glance, however, it looks like the Hurricanes made a great hire. The former South Carolina defensive coordinator and DBs coach has been widely received as another quality addition.
Robinson's inclusion has raised the spirits of fans who showed deep disappointment in the defense's performance. Wielding 15 years of college coaching experience, he's recognized as one of the best recruiters in the country. T Rob is also a Miami native.
Excited to join the 🙌🏿Family!!! https://t.co/zf4R87Xg6W

— Travaris Robinson (@Coach_TRob) January 9, 2021
South Carolina, Florida, Auburn, Texas Tech, Southern Miss, and even Western Kentucky. The man has been to a lot of places. Everywhere Mr. Robinson goes, he brings with him a work ethic that yields results. For example, in 2019 the Gamecocks defense held its opponents to 20 points or less on five occasions. It isn't too recent but back in 2017, South Carolina led the SEC and was ninth in the country in turnovers forced (28) while only allowing 20.7 points per game. Music to the ears of UM fans. The previous year they were tied for 10th with 27 turnovers forced, 15 of them interceptions.
In his first season for the Florida Gators back in 2011, the secondary was ranked seventh in the nation in pass defense and was eighth-best in total defense. The success carried over to the following year allowing just seven touchdown passes, the second-fewest in the country. UF had 20 interceptions that season, can you imagine Miami cranking out those numbers? For context, UM had seven INTs in 2020.
A Way With The Kids
Those were just some examples of his experience but what really makes him a great add is his recruitment skills. Robinson stated that doing your homework on who is key in the decision is critical to the success of recruiting talent. He also emphasized transparency with both the recruit and the family. T Rob wants to show them the path to success both as a football player and as a man. A lot of the kids he sees come from the same background as him, driving Robinson further to guide them in being successful.
Credited with developing a long list of players who achieved various personal accolades at the college and professional level, Robinson mentioned it isn't necessarily about getting the four or five-star athlete. For him, it's about evaluating guys that fit in the system. The DBs coach looks for players with length. If they display ball skills, athleticism, and other desired traits then it's the type of recruit the team wants.
The Miami Hurricanes have hired Travaris Robinson — the former South Carolina defensive coordinator and a Miami native — as their new defensive backs coach.

— Tim Reynolds (@ByTimReynolds) January 9, 2021
Some Forward Thinking
We shall see if past success can turn into future success. So far I'm feeling optimistic with T Rob but a real evaluation will take place once he has a season with UM under his belt. The Miami native attended Coral Park High, earning his own awards as a defensive back and wide receiver. The hope is the former NFLer can help turn the defense into a dominant unit. When I looked at his experience and the players he brought up it made a good first impression. But what really stood out was his recruitment acumen and approach.
Some guys can develop talent but are poor at being a salesman. Others are the opposite. Remember, there's an art in pitching to a recruit (and their family) the idea that both your school and football program will nurture their talent towards ultimate success both on and off the field. The Canes have been weak at recruiting in the cornerback position for years, a trend many want to reverse.
Travaris Robinson, ladies and gentlemen. pic.twitter.com/ywWcLO8yby

— Stephan_Urkel (@pbcorbust) January 12, 2021
With Robinson's philosophy on man coverage, the fans might see a more physical, aggressive defense next season. I'm a lover of potent defenses. Sure grinding the ball on the ground or airing it out for the big scores is sexy but something about a shutdown unit is alluring. Throwing down and imposing your will on the field, causing turnovers to give the offense the chance to create their own highlight reel. The No-Name Defense, the 1976 Steel Curtain, the Legion of Boom, the 2000 Baltimore Ravens, these teams showed what dominance looks like.
I am not saying UM will suddenly turn into a defensive juggernaut, not in a season anyway, but this hire based on initial impressions looks like a definite step in the right direction.
(Visited 86 times, 1 visits today)