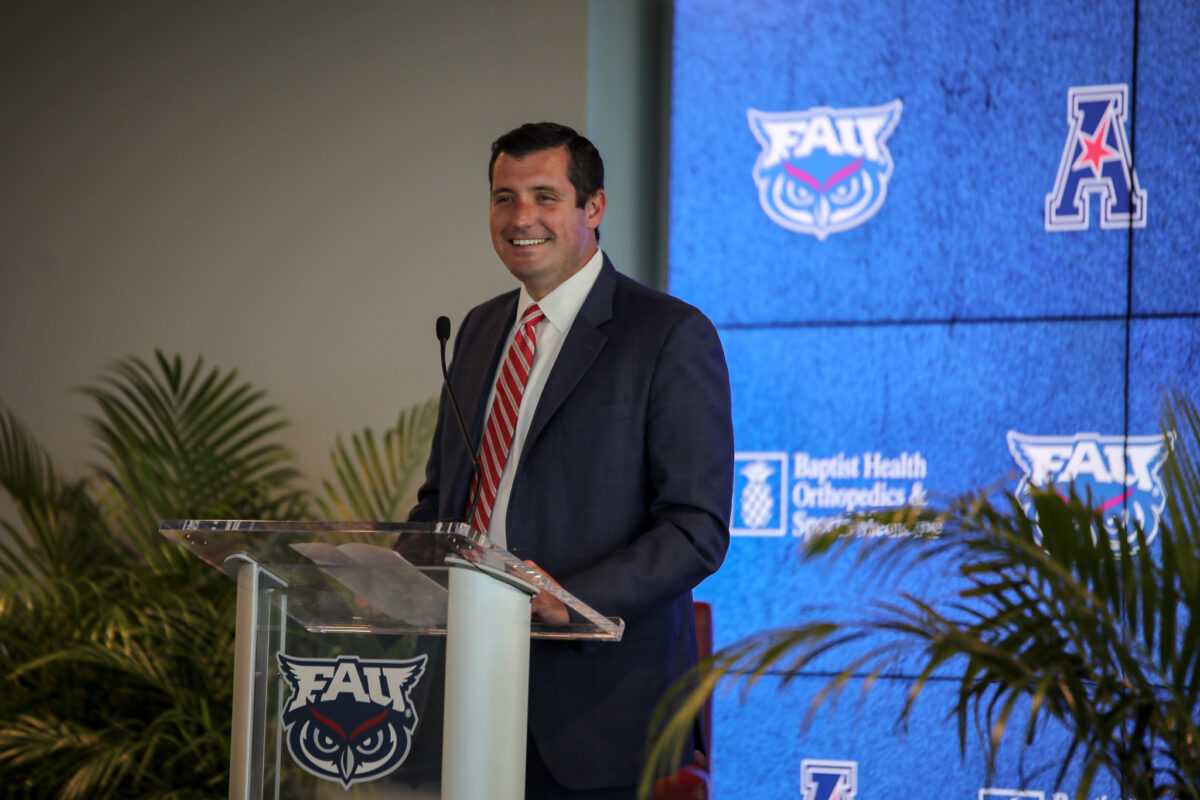 ---
As officially announced Thursday morning, the FAU Owls and five other Conference USA schools will be joining the American Athletic Conference (AAC). 
Besides FAU, the others include the University of Alabama at Birmingham (UAB), the University of North Carolina at Charlotte, the University of North Texas, Rice University, the University of Texas at San Antonio (UTSA).
A new era of excellence.

📰 https://t.co/fOCtvCQwa2 pic.twitter.com/54egXPpKjX

— #WinningInParadise (@FAUAthletics) October 21, 2021
"I am extremely pleased to welcome these six outstanding universities to the American Athletic Conference," said AAC Commissioner Aresco. "This is a strategic expansion that accomplishes a number of goals as we take the conference into its second decade. We are adding excellent institutions that are established in major cities and have invested in competing at the highest level. We have enhanced geographical concentration which will especially help the conference's men's and women's basketball and Olympic sports teams. And we will continue to provide valuable inventory to our major media rights partner, ESPN, which will feature our members on the most prominent platforms in sports media. Additionally, we increase the value in live content options for CBS Sports, which features selected men's basketball games from the conference."
This comes after the news Monday that the schools have sent in applications to go to the AAC.
As received via a public records request, the application sent by FAU was an email sent by Vice President and Director of Athletics Brian White to Aresco. It read: 
"Mike,
Please consider this email as Florida Atlantic University's application for membership into the American Athletic Conference. We believe that we would be an excellent fit both academically and athletically.
Thank you,
Brian"
Per a public records request, #FAU AD Brian White sent an email to #AAC Commissioner Michael Aresco on Oct. 18 that reads: pic.twitter.com/lIEQt1Oc2p

— Zachary Weinberger (@ZachWeinberger) October 22, 2021
As straight to the point as you can be for White.
"This is a momentous, historic day for Florida Atlantic University," White said. "Congratulations to everyone who has played a role in putting FAU Athletics in position to join a prestigious conference such as The American. Also, thank you to Mike Aresco and everyone with The American for the invitation. We greatly appreciate our time in Conference USA and have experienced great success in the conference. The increased exposure we'll receive in The American will ensure even more people learn about our wonderful institution."
Another FAU official who expressed their excitement about the conference realignment was President John Kelly. 
"Florida Atlantic University is proud to be one of the newest members of the American Athletic Conference. As we enter a new era of academic and athletic excellence, the university – and especially our student-athletes – will benefit greatly from the additional resources and exposure afforded by membership in a Power 6 conference," Kelly said. "I am very proud of our accomplishments as a member of Conference USA and I look forward to continuing our tradition of Winning in Paradise with The American."
For FAU Board of Trustees Chair Abdol Moabery, he talks about the benefits of FAU joining the AAC.
"This is a great day for Florida Atlantic University. Membership in The American means more expansive media coverage, additional support for our student-athletes, and exciting new rivalries," FAU Board of Trustees Chair Abdol Moabery said. "We have enjoyed and will continue to enjoy our time in Conference USA and we're proud of our many awards and accolades, including championships in multiple sports. I'd like to thank former Commissioner Britton Banowsky and Commissioner Judy MacLeod for their leadership."
Besides the initial announcement and the press conference Thursday, there was a media call with AAC commissioner Michael Aresco and the athletics associate directors of the six schools, including White. 
Aresco talked about the schools and how joining the AAC is nothing, but beneficial to them.
"I think they will definitely take great advantage of the exposure and the platforms that are going to be provided by this conference," Aresco said. "So we look forward, down the road, and we're not certain when they're going to come in yet. That's still to be decided."
On FAU, Aresco mentioned how FAU has an "important presence" in South Florida and expressed the excitement of having a partnership with the school. 
The official press conference with FAU officials saw them accept the invitation to the AAC and celebrate the university and the donors of the school.
During the press conference, White mentioned former coach Howard Schnellenberger, who passed away in March, and how he was critical to get to the point that FAU is at now. Even Schnellenberger's wife, Beverly, attended the press conference. 
White spoke about how moving to the AAC will bring the university national exposure because of the conference's television deal with ESPN. 
The head coaches of the different FAU programs released statements on Twitter talking about their enthusiasm about the news:
The #WinningInParadise Standard.

🗣️ @CoachTaggart pic.twitter.com/ytt5NkzmCj

— FAU Football (@FAUFootball) October 21, 2021
A commitment to #WinningInParadise.

🎙️ @CoachDustyMay pic.twitter.com/74JR81tzSL

— FAU Men's Basketball (@FAUMBB) October 21, 2021
Hear from @FAUCoachMac on the move to The @American_Conf pic.twitter.com/KjK4tjLiLw

— FAU Baseball (@FAUBaseball) October 21, 2021
🗨️ @coachsully10 pic.twitter.com/gcjTOCpMZ0

— FAU Women's Basketball (@FAUWBB) October 21, 2021
The excitement didn't stop after the announcement for FAU, as they enjoyed a big win for the Owls football team over Charlotte later that night. 
According to ESPN, the conference realignment is set to possibly start as early as the 2023-24 season.
Until then, FAU will try to make the most of their time left with Conference USA, and that doesn't start and stop with football. 
More records were requested with everything involving the move from FAU to the AAC. Keep track with Lemon City Live for updates.
Photo courtesy of FAU Athletics. 
(Visited 48 times, 1 visits today)