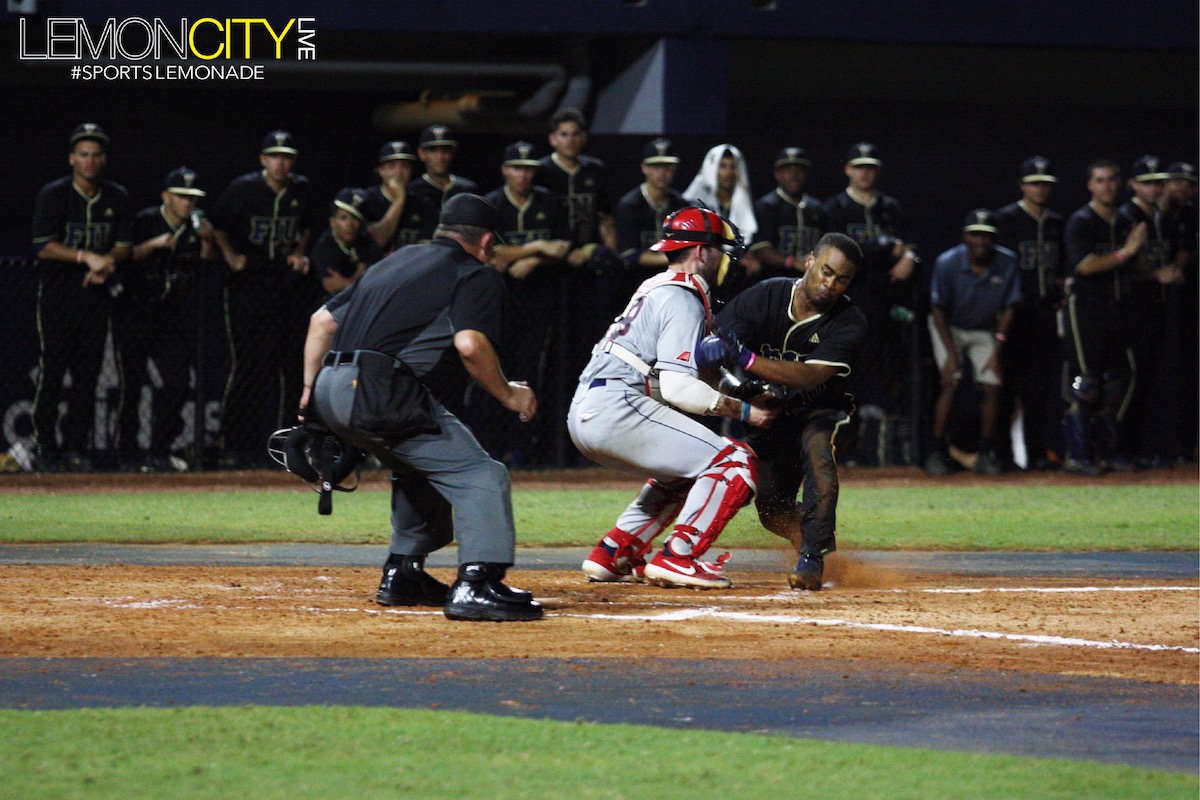 Miami, FL – There's nothing more American than opening day baseball, except maybe Morgan Freeman, arguably the greatest president this country has ever seen. Last night, FIU Baseball opened up their 2019 campaign hosting Stony Brook, making the trip from Long Island, NY. I hear they have a great iced tea over there. Well, they must have shared some, or all of it with the Panthers because FIU got off to a rough start. They did make it interesting, as do all stories involving Long Island iced teas, but the ending is always the same… face down in a pool of your own vomit, only to wake up the next day and do it all over again!
FIU Baseball on opening day!

Posted by Lemon City Live on Friday, February 15, 2019
If you follow FIU Baseball, (and as a baseball fan in South Florida, why the hell wouldn't you? These guys are awesome!) then you probably remember last season's opening day spanking, when Logan Allen gave up something to the effect of seven runs in the 1st two innings, and FIU ultimately lost 22-1 to Mizzou. It wasn't that bad last night, but Allen gave up two homers in the 2nd and a wild pitch and some errors in the 5th put the Panthers down 5-0.
#Panthers looking to win on #OpeningNight.
Rough start, but climbing back in, scoring 4 in the bottom of the 6th. #PawsUp!

SBU 7 6 2
😾 5 7 1
⬆️7️⃣@FIUBaseball #SportsLemonade pic.twitter.com/rB4o1kzVr6

— Lemon City Live (@LemonCityLive) February 16, 2019
It got interesting in the 6th and 7th innings, as the Panthers put on their rally caps and nearly evened up the score. Stony Brook increased their lead in the top of the 6th to 7-1 before FIU began their run. Leadoff batter, Derek Cartaya was walked by Stony Brook starting pitcher, Greg Marino, who was pulled after that. They probably should've left him in the game, because his replacement, Sam Turcotte let the inning get away from him. While the Panthers are known for slingin' the long ball, they got back into this one by taking the small ball approach. In all, eight Panthers got on base (Billy Bean lives for this shit) and five runs were scored. We don't call them the Pour It On Posse for nothing!
The 7th inning was almost a repeat. FIU's 1st three batters loaded the bases, all on walks. How's that for some patience at the plate? With no outs, Jose Garcia struck out. Seth Cannady hit a sac-fly, bringing in Jarrett Ford. Then, Juan Texeira was forced out at 2nd, as Kobe Lopez hit into a fielder's choice. FIU only managed one run with the bases loaded and no outs. That, in my opinion, is where this game was lost.
#Panthers had the bases loaded w/ 🚫 outs, but only managed 1 run. Better than 🚫 runs!#PawsUp!

SBU 7 7 2
😼 6 7 1
⬆️8️⃣@FIUBaseball #SportsLemonade

— Lemon City Live (@LemonCityLive) February 16, 2019
True, you can't give up this many runs and expect your bats to win it for you, but in any sport, when you don't kick them while they're down, your opponent isn't likely to return the favor. Stony Brook did what they had to and stepped on the throat of FIU, scoring six runs, three in the eighth and ninth innings respectively, to close out the game. That Long Island iced tea defeated FIU 13-7 on opening night. Let's hope FIU avoids it tonight when they take on Stony Brook in game two of their three-game series.
#Panthers rally late but drop the opener tonight to #StonyBrook
We'll be back tomorrow for game 2!
See you there #PawsUp!

SBU 13 14 2
😼 7 9 2
FINAL @FIUBaseball #SportsLemonade pic.twitter.com/iQkrgagrYj

— Lemon City Live (@LemonCityLive) February 16, 2019
Panther Player of the Game
One Homerun
Two Doubles
Two RBI's
[envira-gallery id="15401″]
(Visited 122 times, 1 visits today)