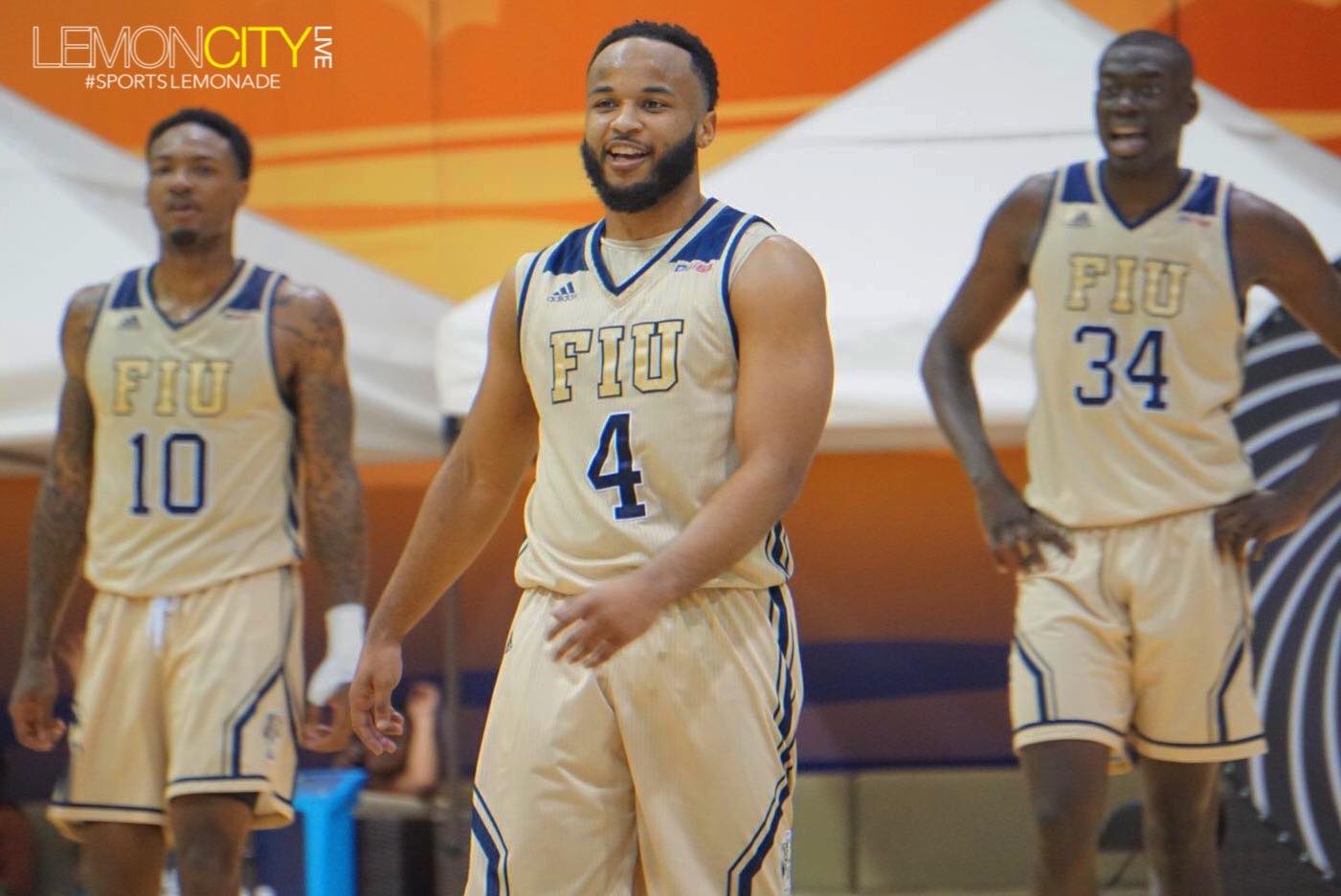 Miami, FL – Is there anything more emotional in collegiate sports than senior night? Especially after a season like FIU Basketball just had, where their seniors led them to their best season in many years, it's bittersweet to see these guys move on. Last night, FIU closed out their 2019 regular season hosting the North Texas Mean Green, but before the game, the program honored players, Brian Beard Jr, Willy Nunez Jr, Elhadji Dieng, and Michael Douglas, who owns FIU's sixth spot on the all-time career games played list.
The Panthers dominated the matchup. They led by as many as 15 points when it was 49-34 early in the 2nd half. North Texas looked more Green and less Mean as they could not find an answer for the Panther point guards. The Beard and Antonio Daye Jr. both had great games, scoring 22 and 20 points respectively. Brian finished the season ranked #4 in steals in the nation. He had two last night. Beard's two steals gave him 173 for his career. On Saturday, he surpassed Dwight Stewart for 3rd place (172, 1988-91) on FIU's career steals list. He's now only four steals away from tying, and five from surpassing, Carlos Arroyo (177, 1997-01) for 2nd all-time in school history. The 69-59 win was FIU's 1st back-to-back wins since winning four-straight from November 17th – 28th, winning at Dunk City.
Panthers pick up 69-59 win over North Texas on Senior Day!#Pawsup pic.twitter.com/m192ogtzCW

— FIU Men's Basketball (@FIUHoops) February 16, 2019
Although it was the last game of the regular season, FIU still has to play in the Conference USA Bonus Play round, which is something particular to C-USA. Here's how it works, according to the Conference USA website:
"Within the format, the 14 programs will play each other once and their travel partner twice in the first seven weeks of the conference season. At the conclusion of the seven weeks, teams will be placed in one of three groups based on conference standings through the first 14 games of league action. The teams will be divided into two groups of five (1-5 and 6-10) and a group of four (11-14). During the final three weeks, teams will play within their respective grouping for the last four games of conference play. Home and away games within the groups will be determined by a preset formula.
 
Once all 18 games have been completed, the top 12 teams based on final league standings will be seeded in the conference tournament. Teams will be guaranteed seeding within their respective group. For example, if a program lands in the second group (6-10), it will seed no higher than six and no lower than 10 in the tournament field."
FIU is grouped with FAU, LA Tech, Marshall, and North Texas. Their Bonus Play schedule looks as such:
2/23, FIU at FAU (4 p.m.)
3/3, LA Tech at FIU (12 p.m.)
3/6, FIU at Marshall (7 p.m.)
3/9, North Texas at FIU (7 p.m.)
The Panthers won at FAU (78-74), they won at home vs. LA Tech (75-69), they just won at home vs. North Texas (69-59), and they lost a close one at Marshall (105-97). All these games are winnable, so don't be surprised if the Panthers are the #6 seed heading into the conference tournament.
Senior Day + ESPN+ = The Dub

Watch today's @KSDTCPA Recap with @jeremykballard, @antoniodayejr & @CTSAlumni23. #PawsUp pic.twitter.com/jOrymOxfhI

— FIU Men's Basketball (@FIUHoops) February 16, 2019
Free Throw
(Visited 218 times, 1 visits today)