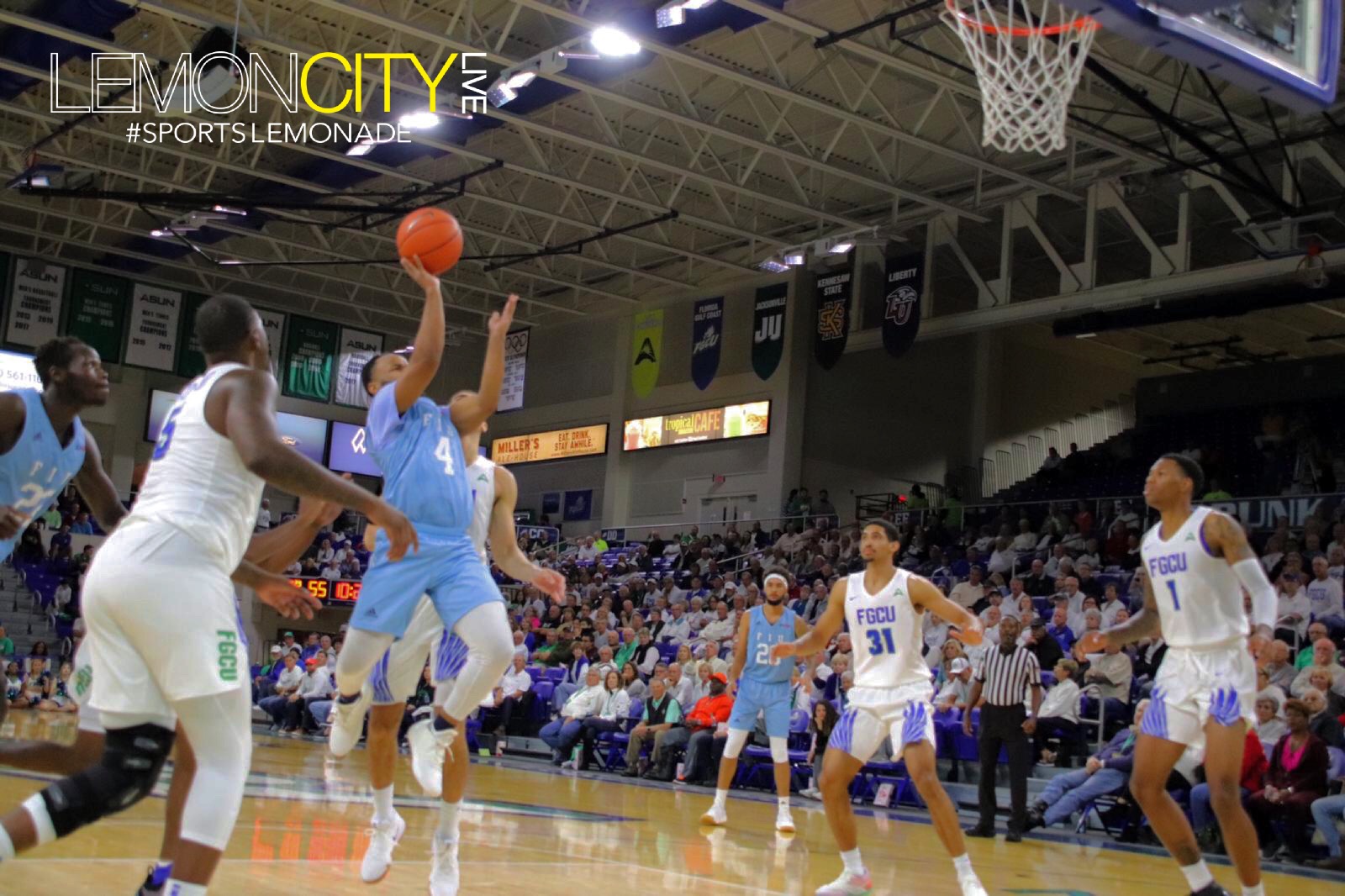 Ft. Meyers, FL – There's a 1st time for everything. For us here at Lemon City Live, this is the first time we cover an away game for one of the teams we normally cover. The honor went to FIU Basketball visiting Dunk City, taking on the Florida Gulf Coast University Eagles. The Panthers are coming off a 104-84 win against Ave Maria and are 6-1 coming into this game. Their hot start equaled their best seven-game start in program history! (1983-84) Meanwhile, the Eagles were 2-6, far removed from that memorable NCAA tournament 1st round victory over Georgetown. This is FGCU's 3rd straight game vs. a Conference USA opponent, having already played, and lost, to UTSA (76-65) and FAU (85-68).
.@FIUHoops Getting some shots in before they take on the Eagles of FGCU. Stay up to date with all the action as the Panthers attempt to improve to 7-1 #PawsUp #FIUvsFGCU pic.twitter.com/3VMg6ad3Tr

— Brett Shweky (@bshweky47) November 29, 2018
The Panthers didn't earn their 5th +100-point game of the season, but they really only care about the W's, or dubs as the kids call them. I've been saying since the start of the season that this game would be FIU's litmus test to see how good they really are, and the Panthers didn't disappoint. Well, they almost did.
The game began evenly contested, with our Dade County Cats jumping to a 8-12 lead in a little over five minutes. From there, the Eagles went on a 31-12 run, taking a 15-point lead! 39-24. FGCU made four three-pointers in that span. However, after that, FIU went on a 2-10 run of their own to end the half. It was at that point that FIU began to play the way we've to come expect this season. The 1st half ended with Dunk City leading 41-34. By the way, one of Dunk City's best players is a guy named Dinero Mercurius! (#31) That's an And1 mixtape name if I've ever seen one. He had a nice game, going for 14 points, 8 rebounds, 4 assists, and 4 steals.
At the half, @FGCU_MBB #DunkCity leads the @FIUHoops #Panthers 41-34. Brady Ernst (FGCU) & Devon Andrews (FIU) lead all scorers with 9. pic.twitter.com/W9a2LfHF0i

— Lemon City Live (@LemonCityLive) November 29, 2018
If the 1st half was a 5 o'clock shadow, then the 2nd half was a straight-up Man Beard! However, coming out the gate in the 2nd half was Trejon Jacob. Tr3jon scored six straight to bring the Panthers to within three. He Finished with 13 points. Brian Beard Jr. had 19 2nd-half points, going 4-6 from the 3-point line (including the go-ahead 3-pointer), and adding three assists! The game went down to the final seconds. FIU led most of the 2nd half, but somehow they let FGCU creep back up and take the lead with less than a minute remaining. But, with :14 seconds left, the bearded senior took his team under his wing (or paw?) and willed FIU to an 80-81 victory! Another standout player was Devon Andrews. He had a low-key great game, finishing with 15 points, 8 rebounds, 4 assists, and 4 steals! He also led the team in minutes played with 31.
He's a baaaaad man! The Beard put up 19 2nd-half points, and along with some clutch Defense down the stretch by Elhadji Dieng, leads @FIUHoops to their 7th win in 8 games! 7-1 is the best start to a season in program history!#PawsUp 😼 pic.twitter.com/0RX7pxqyoz

— Lemon City Live (@LemonCityLive) November 29, 2018
In his postgame press conference, Coach Jeremy Ballard made sure to point out that the 2nd half victory was a defensive effort. It wasn't in turnovers, blocks, or steals, but limiting 2nd chance points in the 2nd half that won the game. In the 1st half, FGCU had 17 2nd-chance points off of 14 offensive rebounds. In the 2nd half, the Eagles only had seven offensive rebounds, managing five 2nd-chance points.
I'd just like to add that the 3-point shot improved for the Panthers in the 2nd half. In the 1st half, they shot 4-17 (23.5%), but improved to 8-16 (50%) in the 2nd half. That's a 12-point swing. The difference between their 34 1st-half points and their 47 2nd-half points…13 points! Oh yeah, they also made one more freethrow in the 2nd half than in the first. Talk about the numbers adding up!
Next up, FIU travels to play a powerful SEC team in Arkansas. The game tips off at 8pm on December 1st. They're back home on December 13th to face North Florida at 7pm.
[envira-gallery id="14928″]
(Visited 137 times, 1 visits today)