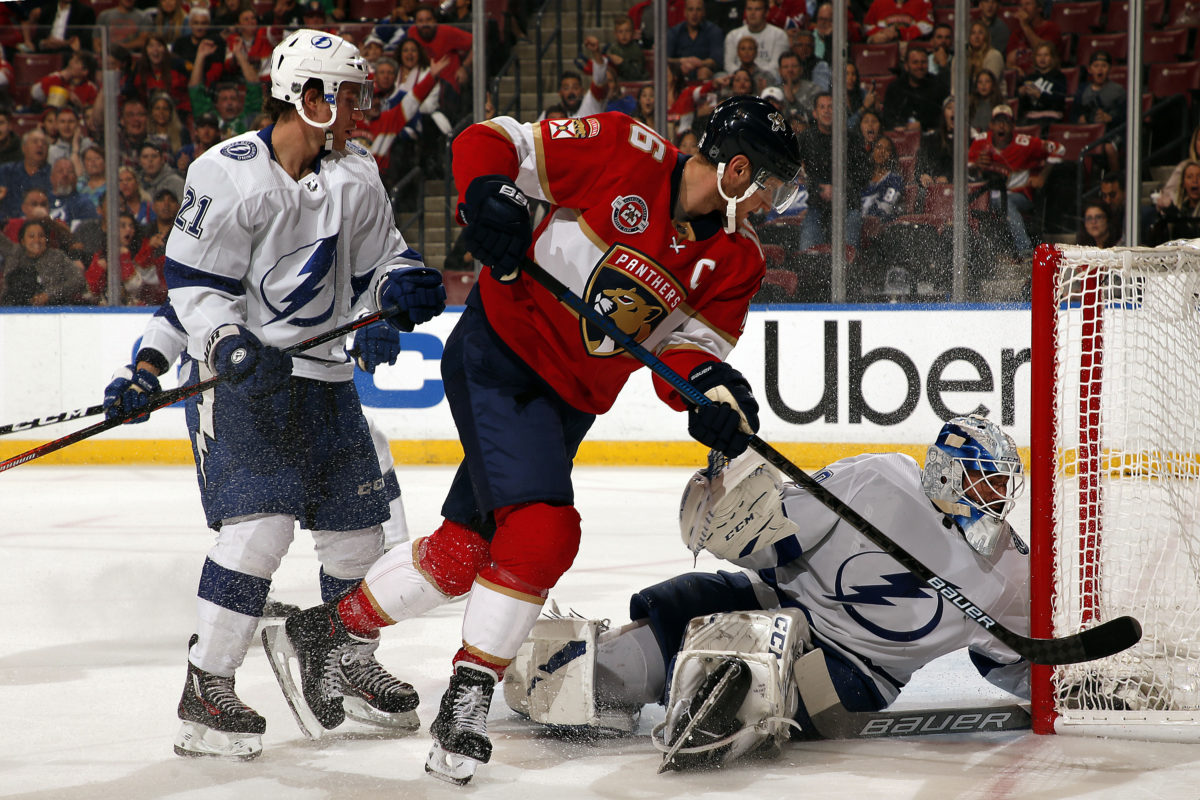 Sunrise, FL – After leading by as many as three goals, the Florida Panthers dropped another overtime heartbreaker, losing to the Tampa Bay Lightning 5-4 Saturday night.
Riding off of a thrilling 3-2 overtime win against Buffalo, the Panthers treated the fans to an action-packed evening in the Battle for Florida, worthy of a movie on Star Wars Night. But unlike yesterday, the "Red Rebels" didn't vanquish the Sith Force Lightning.
The team was hoping to build some momentum after their latest victory and for the first two periods at least, they seemed certainly on their way.
After a quiet ten minutes of the opening period, the Cats struck with back-to-back goals by Frank Vatrano and the red-hot Aleksander Barkov, putting the Cats up 2-0. But the Atlantic Division-leading Lightning made like the Empire and struck back (hard), reminding their southern cousins that they won't be put away so easily. This was ALL in less than a minute. Going into the first intermission the Cats had a grand total of 3 shots on goal, way to make em count!
the Jedi Master at work, once again. pic.twitter.com/O7wmZEAu7E

— Florida Panthers (@FlaPanthers) December 2, 2018
Early in the second period, the Panthers padded their lead with a goal from Jonathan Huberdeau. Taking advantage of the fast break, Huberdeau went mano-a-mano with Bolts goalie Louis Domingue, slipping one right past his pads at the bottom corner of the net.
The force was definitely with him.
"Help me, Huby. You're my only hope." pic.twitter.com/bgEBNqHbPf

— Florida Panthers (@FlaPanthers) December 1, 2018
Victor Hedman was called for delay of game, setting up a juicy 5-on-3 situation for 46 seconds. It was more than enough, as the Cats made Tampa Bay pay with Evgenii "Cat Daddy" Dadonov adding to the team's tally, tying him for most goals on the team so far with Mike Hoffman. The team was effectively in the driver's seat with a commanding 4-1 lead midway through the second period. It wasn't the beginning of the end but the end of the beginning. Anyone who thought tonight's edition of the in-state rivalry would be a one-sided affair was in for a shock.
The Lightning kept on fighting with Mathieu Joseph catching both the defense and more importantly, goalie James  Reimer unaware, converting the one-timer to Reimer's left and into the net from a distance. Then with a minute left in the period, the Lightning turned it into a one-goal game with a beautiful power-play shot from Nikita Kucherov, capping off an explosive four-goal period.
#NerfHerders get one back 😒
Some #Wookie in a Lightning jersey scored. #FlaPanthers still lead though 4-2#OneTerritory pic.twitter.com/N60Q8Xp3c5

— Lemon City Live (@LemonCityLive) December 2, 2018
The Bolts kept up the pressure.
During Florida's power play early in the final period, Reimer made a tremendous save after Lightning winger, Yanni Gourde intercepted a pass deep inside Panther territory, hanging on to the one-goal lead. The third period proved to be an immensely frustrating one for the home team. Plenty of opportunities were created, but none of them paid off, as goal number five remained painfully elusive, all while Florida's three-goal advantage finally evaporated.
Jared McCann almost slapped a goal of his own shortly thereafter, only to have the play broken up right in front of Domingue, sparring Tampa fans of a potential two-goal deficit.
Juho Lammikko almost struck gold with a wide open net but his shot sailed wide to the left. And these were only some of our chances.
With less than 10 minutes to go, Mike Hoffman, the team's scoring leader heading into the night, achieved a breakaway outracing his opponents, but he too was unable to bury it in the net as the goaltender deflected the shot.
With all these opportunities you'd almost think Tampa's time would come, it did. During a crowded play, Reimer cleared a shot with his pad, only for it to be accidentally kicked in by his own teammate, Dryden Hunt, on the rebound.
AI YAI YAI!
After 60 minutes of exciting hockey, the two adversaries went into OT. The refs called a questionable interference penalty on Vatrano, putting an extra skater on the ice for the Lightning. Brayden Point outmaneuvered Reimer, icing it for Tampa Bay and putting on the finishing touches of a tremendous comeback.
This man is no stranger to game-winning goals.

Make it three, including this in @EASPORTSNHL OT for @BraydenPoint19. pic.twitter.com/yt5QkVcvPi

— NHL (@NHL) December 2, 2018
"We just gotta forget about it, focus on the next one." Huberdeau said.
When asked about the penalty in overtime, he remarked that he didn't see it but admits its just part of the game, stressing that even when they're winning 4-1 they need to keep coming at them.
"It's a good team and especially we're in a back to back we couldn't let up on the gas and it can't happen."
Again we ask, what's more frustrating: Being unable to put away your opponent or being unable to close them out?
Stat of the Game
With Point's decisive goal, he now leads the NHL with nine game-winning scores since 2017-2018, ahead of Nathan MacKinnon.
Honoring Our Veterans
During tonight's game, the Florida Panthers honored Korean War Veteran Harry Kratochvil who joined the United States Army Airborne at the age of 17.
Looking Ahead
December 4th vs. Boston Bruins
December 6th vs. Colorado Avalanche
December 8th vs. New York Rangers
Photo credit | Eliot J Schechter
(Visited 202 times, 1 visits today)