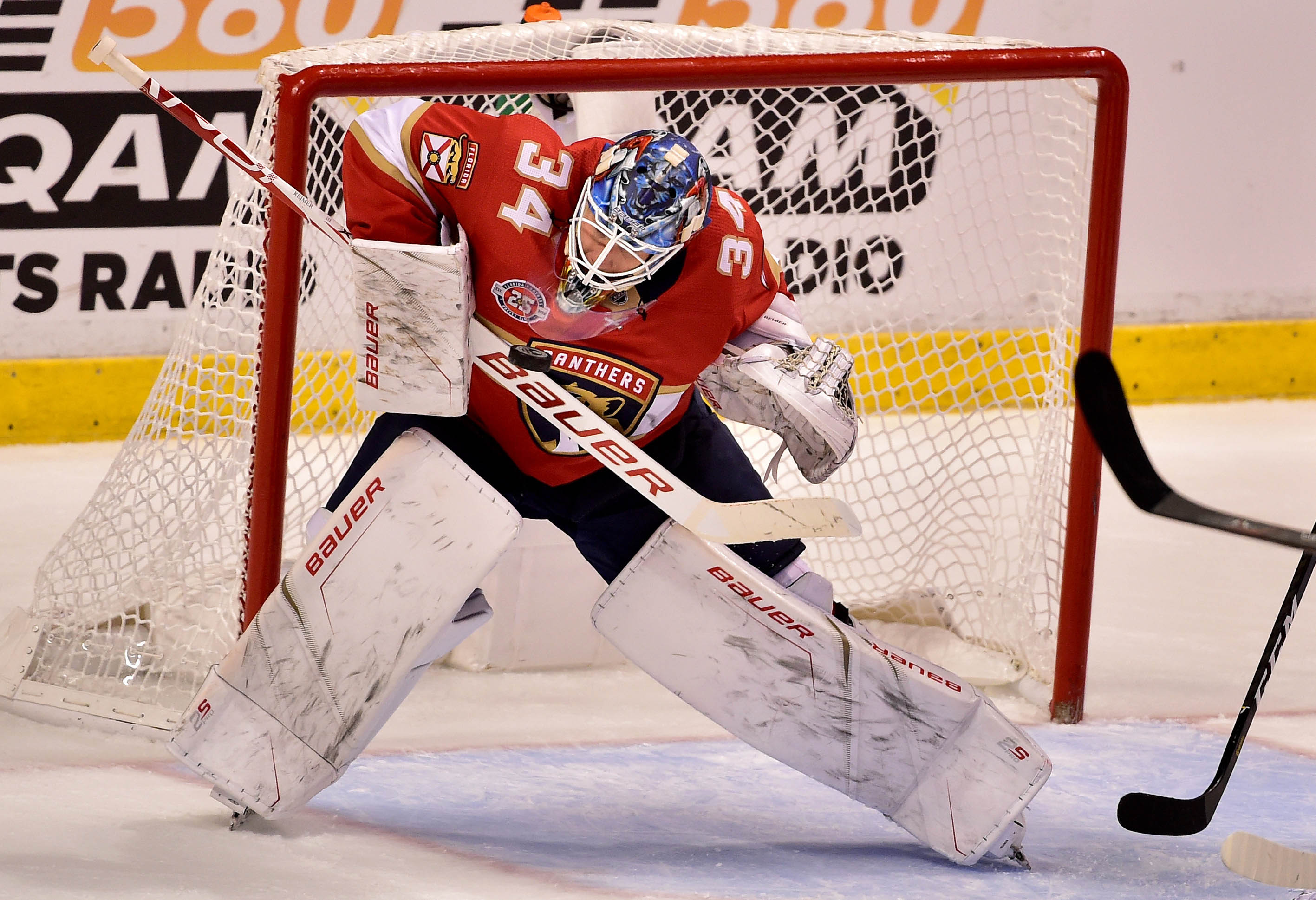 Sunrise, FL – Welcome back home, Florida Panthers fans! The Cats return home from their six-game road trip, that, unfortunately, saw Florida drop four games, including yesterday's loss at Carolina. Maybe they were still suffering from Thanksgiving dinner food coma, but Mike Hoffman's franchise-record point streak came to an end at 17 games, and goalie, Roberto Luongo had to leave the game with another lower body injury.
🚨How bout some #Sweeties?! @JonnyHuby11 feeds a #HubySnack to @Frank_Vatrano for his 7th goal of the season! @FlaPanthers lead @NHLBlackhawks 4-2 in the 2nd!#FlaPanthers #OneTerritory 😼 pic.twitter.com/H69mMkfMbm

— Lemon City Live (@LemonCityLive) November 25, 2018
Tonight, against the Chicago Blackhawks, the Cats open up an eight-game home stance. Just what the Doctor ordered! Chicago has eight wins, 10 losses, and five overtime losses. You can find them near the bottom of the central division standings. Keith Yandle leads the team in assists and Hoffman leads the Cats in goals scored, as he looks to start another point streak!
Mike would waste no time in starting a new point streak. In the 1st period, he received an assist from Yandle, and they both increased their team-leading respective stats. Florida would end the period with a 2-0 lead.
Now, what is it about the 2nd period that makes the Cats shoot themselves in the foot? Chicago scored less than one minute into the half, and then they tied it up five minutes later. However, Aaron Ekblad wasn't having it, and neither was Hoffman. The two linked up to take the lead back on Ekblad's 4th goal of the season. Three minutes later, Jonathan Huberdeau made good with the Huby Snacks, feeding Frank Vatrano for his 7th goal of the season. 4-2 Cats!
We're not even mad about this… pic.twitter.com/mq1BZPuEU8

— NHL (@NHL) November 25, 2018
Bad things happen in three's though… Midway through the 3rd period, Alexandre Fortin scored a shorthanded unassisted goal for Chicago off a Big Nick Bjugstad Bjugle Boy giveaway. "How dare we take back our two-goal lead after giving it away in the 2nd period?" That's a direct quote from an unnamed Florida Panther in my imagination as they once again let a two-goal lead slip away. With less than two minutes remaining, the Blackhawks pulled their goalie to add an extra man in the attack. Florida was blocking everything Chicago was throwing at them, until the final four seconds when Ekblad mistakenly gave the puck away, and Chicago scored with 0.8 seconds left on the clock. How infuriating… The Blackhawks would end up winning in overtime, stealing those two points from the Panthers. It's probably more accurate to say that Florida gave it away.
Hawks win it in OT. #CHIvsFLA pic.twitter.com/u6lAMRaf0d

— Florida Panthers (@FlaPanthers) November 25, 2018
The Panthers seem to be lacking that focus required to play an entire three periods. They beat themselves today. Chicago had eight giveaways. Meanwhile, the Cats had 18! It's amazing they even nearly pulled out a win with how sloppy they played throughout. Coach Bob Boughner said, "You gotta make sure that you're doing the right things with the puck, and playing the right way, especially with the lead…" He also said, "We'll figure it out. It wasn't for the lack of guys not competing and playing hard. I thought we had a ton of 'compete'. We came off a long road trip, 13 days. I was concerned about our energy. I thought we had great energy for the 1st 40 minutes. It looked like we died a little bit in the last 20. You can tell that there were some guys that were huffin' and puffin' and our legs weren't as good… That's even more important and we gotta do the right things with the puck."
Next up, the Panthers face the New Jersey Devils on Monday. It'll be their 2nd in an eight-game home stance.
The Florida Panthers coach, Bob Boughner after losing "at the death!" to the Chicago Blackhawks…

Posted by Lemon City Live on Saturday, November 24, 2018
📷 Credit: Steve Mitchell-USA TODAY Sports
(Visited 126 times, 1 visits today)