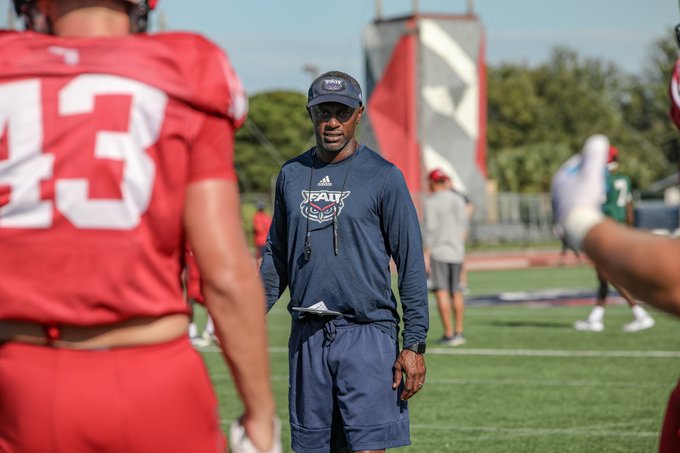 ---
After FAU suffered another road loss to the UAB Blazers last Saturday, the Owls enter the bye week 3-3 and 1-1 in conference play.
As their eyes are now set on the Charlotte 49ers, they have two weeks to get on track and back on the win column.
Bye week work.#WinningInParadise pic.twitter.com/QpAuZb0ezZ

— FAU Football (@FAUFootball) October 12, 2021
Where's the Offense
FAU head coach Willie Taggart, offensive coordinator Michael Johnson and running back Larry McCammon III spoke to the media Tuesday morning and discussed what is needed to get back to being an explosive offense. 
"We don't call it a bye week. It's a workweek for us. We are going out there and really focusing on fundamentals and techniques," Taggart said. "We looked back at our film and [the] things that we didn't do well, a lot of them come down to our fundamentals. We have to really focus on those things knowing that ultimately it's going to help us be better when it comes to executing plays."
For Johnson, he talks about the improvements that he wants to see from the offense during the bye week:
"I think everybody is engaged, freshman all the way up to seniors. I think their mentality, the way they're approaching the up and down first part of our season, is the right way…We are going to try to get better fundamentally at a few things," Johnson said. "We're going to do a couple of things against Charlotte's defense. We're going to take these first couple of days and we're going to work on fundamentals and some of the things we need to get better at as a group and work on those things."
However, a central part of their offense is starting quarterback N'Kosi Perry. His health could potentially be in question.
He was banged up in the game against UAB in the third quarter in which Taggart said it was an ankle issue, he clarified this morning that it is a foot injury.
One thing to note: #FAU QB N'Kosi Perry has a foot injury and will not practice today. https://t.co/A1PQld2RR1

— Zachary Weinberger (@ZachWeinberger) October 12, 2021
Taggart said that he won't be practicing Tuesday, but was out on the field with the quarterbacks in an almost coaching role as he wasn't participating in drills.
Perry is out on the field with the quarterbacks, but is not participating in drills. He's coaching the QBs and even talking to the receivers. Don't see anything on his foot. #FAU https://t.co/7ZrUSs6qee

— Zachary Weinberger (@ZachWeinberger) October 12, 2021
In the case he can't go, Nick Tronti will be the next man up, as we saw last week. With just over a quarter of action, he threw for 46 yards on 11 attempts. As the team's backup quarterback, coach Johnson feels comfortable with Tronti in that position:
"Nick does a good job in the roles he has. He's been around. He understands the offense. He can go in at any point and run our offense and we feel good about that," Johnson said. "It's good to have a guy that has his experience that can go in a game and not lose anything. It's been great having him."
Because of the bye week, Perry will have two weeks to get to 100% to be ready against the 49ers. He's looking to bounce back after an inconsistent day against UAB, throwing three interceptions, one that was a pick-six at the end of the first half. 
Speaking of "inconsistent," Taggart expresses how the team is just that and what he's looking out of the team offensively.
"We're playing yo-yo football, it's a little up and down. We have to stop playing yo-yo football. We have to be consistent. We've shown that we can run the ball. We just have to show that we can consistently run the ball. We've shown that we can throw the football. Until the last game, we were pretty good of taking care of the football. That last game was an outlier of what we've been able to do from an offensive standpoint," Taggart said. "Defensively, we've been able to do a good job with the pass game. Football teams need to be consistent. We've shown we can stop the run, stop the pass. We've shown we can run the football, throw the football. We got to be consistently doing it. That's what winning football teams do. They do it consistently week in and week out."
What to Change
The analogy of Taggart using a "yo-yo" to describe the offense's performance this season is an accurate statement. Take the last two games for example: Against FIU, the Owls put up over 700 total yards of offense compared to 239 against UAB. 
This especially relates to keeping the ball safe as they did against the Panthers where they turned it over zero times. Against UAB? Four turnovers resulted in 17 points for the Blazers. 
Another aspect that the Owls want to improve on during the bye week is their running game. As we've seen in the Owls past wins this season, when they run the ball effectively, it leads to success. When they can't get anything going? It usually leads to defeat.
In Birmingham, Alabama on Saturday, the Owls had 41 yards on the ground. Yeah, that's not good. 
Taggart talks about the importance of running the football:
"Running the football is so important. Look at the games that we had success, we ran the ball, and we stopped the run. The games we didn't, we didn't do those things," Taggart said. "We understand that we have to play better and if you watch the film, it's obvious, we can get better. We have to focus on doing those things. It's up to us to get it done. Simple as that."
Johnson adds to that but also goes into why executing in the run game creates success in the air attack.
"We don't want to be a team that has to throw the ball as much as we did the other day. We want to be able to run the ball and have that play-action game and our quick touches where we can get the ball out of our hands a little bit quicker than what we did the other day," Johnson said. "I thought we did a decent job on third down considering that we had so many third and longs. We did a good job in that area, but it puts you in a tough situation when you're not efficient on first down. That's where we have to get better."
The running back room does have a lot of talent including Larry McCammon III, who came back from injury against FIU. However, in the past two games, he's received six carries for 18 yards.
McCammon says the running back room is filled with playmakers and tells his teammates in his position to "not to be down on ourselves. When you get in, just make a play."
He talks about what the team's focus is during this off-week:
"After that loss [against UAB], we learned a lot from it. There were a lot of mistakes," McCammon said. "It's going to start at practice so we're going to get out there this week and just focus on us."
A key to a great offense is an offensive line, and facing UAB, they gave up eight sacks and four quarterback hits. With that, when the Owls attempted to run early, holes were rarely found.
Taggart talks about the offensive line and once again emphasizes the necessity of every aspect being consistent.
"We have to be consistent in what we're doing. We have to look from a schematic standpoint, are we doing things that allow our guys to be successful, or are we asking them to do things we're not good at?" Taggart said. I think all of that plays a part in it and that's the beauty of the bye week, figuring out are we doing what we need to be doing for those guys and, also are we being consistent with our execution up front?"
FAU will return to practice tomorrow morning where the defense will be the focus as defensive coordinator Mike Stoops and selected players from his unit.
Photo courtesy of FAU Athletics.
(Visited 37 times, 2 visits today)