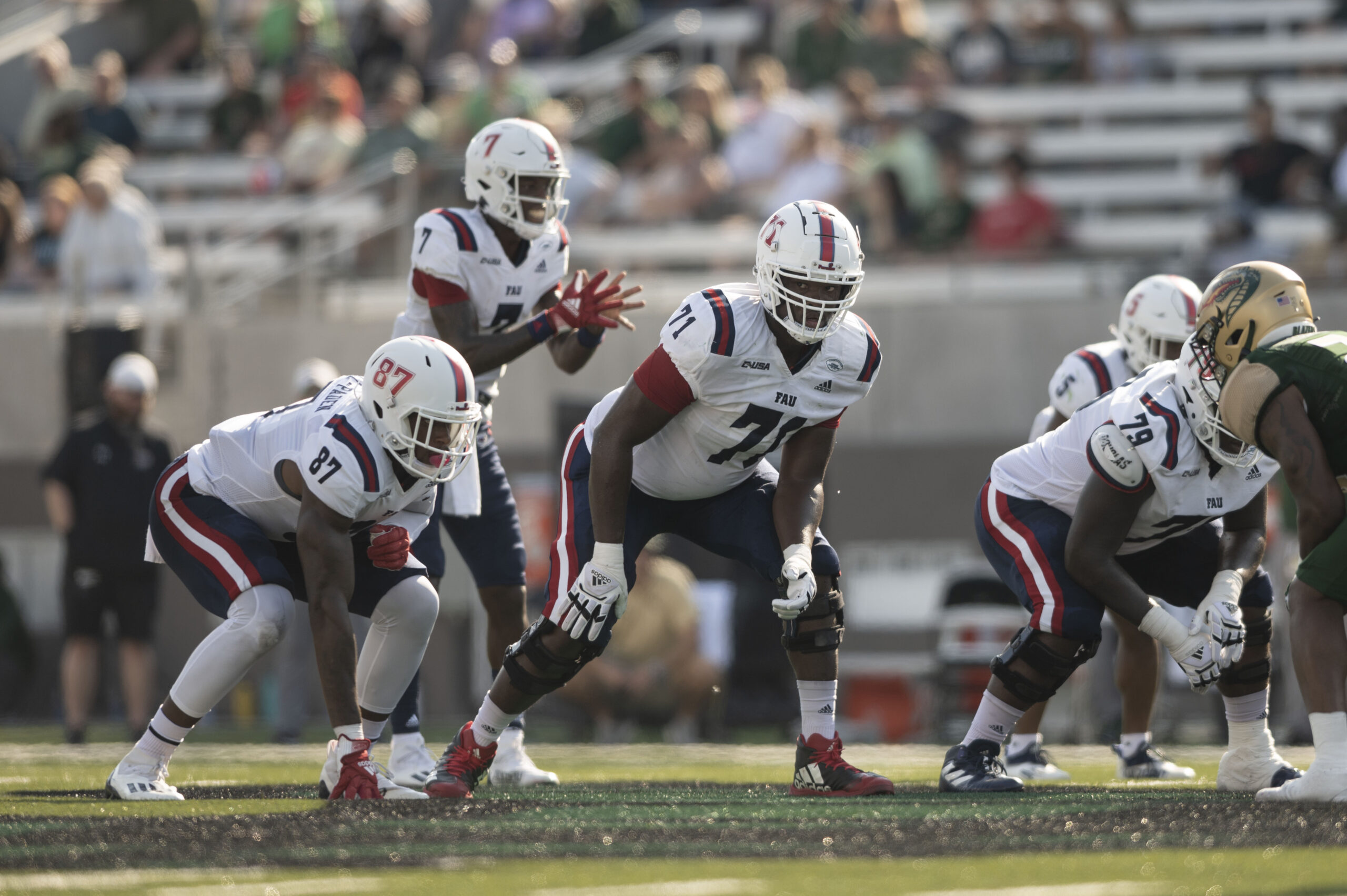 ---
The FAU Owls continue to be winless on the road as they lose to the UAB Blazers, 31-14.
This game is a prime example of to not judge the score without watching the game. At first glance, an ordinary person can say that the defense gave up 31 points, but that isn't 100% true. 
What we saw Saturday evening in Birmingham, Alabama was another case of the Owls being unable to get out of their own way.
Final from Birmingham. pic.twitter.com/c4AdTcumCE

— FAU Football (@FAUFootball) October 9, 2021
FAU Hagerty Family Head Coach Willie Taggart talks about the overall performance of the team in his post-game press conference:
"Another disappointing road loss for our football team. You go back to the first couple of plays of the game, and you start there. We came out and threw a pick on the first play, and we come back to the second play and we fumble the ball. You talk about going on the road and winning, you can't go on the road and win games like that. And even though we made those two mistakes early, we were still there … you think about us driving down and had a chance to go up before the half and then get the ball back and get the momentum on our side and it totally flipped. It's hard to win on the road when you play that sloppy."
Taggart repeats that if this team wants to reach the heights they think they can be, they have to win on the road. He calls this "another disappointing road loss for our football team." All started with the first two offensive plays he said. #FAU https://t.co/AsLAMOhg9T

— Zachary Weinberger (@ZachWeinberger) October 9, 2021
If we're going to play the blame game, the offense was sporadic to a fault that ultimately decided the game at the end of the first half due to one costly play.
With under a minute left in the second quarter on the enemy's nine-yard line, FAU quarterback N'Kosi Perry threw an interception in the endzone that UAB Safety Grayson Cash took 100 yards for six points. The nightmarish day wouldn't start or end on that play.
As the defense gave up a touchdown drive to the Blazers to start the game, the Owls' first offensive play was Perry's first pick of the night. Moreover, after the defense blocked the field goal attempt, possibly gaining some momentum, the Owls fumble the ball on the first play of the second drive, giving it back to UAB. 
Off the second turnover, the Blazers got great field position and capitalized it with a touchdown, gaining an early 14-0 lead. 
It wasn't all bad for FAU as their next drive ended with a methodical drive that capped off with Perry rushing for a touchdown, cutting the lead down to seven. After they got the ball back, they scored again on a pass to LaJohntay Wester to tie the game up. While UAB connected on a field goal to give them a three-point lead, the momentum still favored FAU.
We then get to the interception returned for a touchdown right before halftime and FAU never recovered from there. While they held FIU to zero points in the second half last week, they did the same on offense this week. 
It was cemented when, after the offense couldn't get anything going, and Perry's third interception of the game, backup Nick Tronti came in the game with under two minutes left in the third quarter. 
This was head-scratching from my standpoint. The game at that point hadn't escaped the Owls as they were down 17 points and despite the turnovers, Perry gives the team the best chance to get back in the game.
While this caused differing opinions on social media, Taggart gave his reason, and it's one that he had no choice making. 
Taggart said Perry's ankle was banged up due to the beating he received by UAB's pass rush and that the stitches he received last week opened back up. 
#FAU HC Willie Taggart says that pulling QB N'Kosi Perry was because he was banged up. Trouble with his knee because of the beating he took and his stitches on his throwing hand opened up. https://t.co/CUiX3WdR6D

— Zachary Weinberger (@ZachWeinberger) October 9, 2021
Perry did make some questionable calls with his decision-making, but FAU's offensive line played poorly. UAB sacked the quarterback eight times and four quarterback hurries. However, Perry was sporadic all night and wasn't consistent as Taggart wanted him to be. 
Coach Taggart talks about what went wrong with Perry against UAB and it might've started early.
"I thought those first couple plays by itself kind of spooked him in and got him out of whack, I thought he had a great week of practice, he did a great job in meetings, talking about what he's supposed to do when he's supposed to do it, I mean, he was actually he was better this week than the week before when it came to all that," Taggart said. "And I think as the game went on and he started to get hit and all he started looking at was the rush, and yeah when you start playing that way it's tough to play the quarterback position. So, again, not the performance that we wanted from him by no means. Those first two plays started that downward swing for us. N'Kosi [Perry] was beat up there at the end and we wanted to put Nick [Tronti] in and see if we can get going, but he was beat up in his hand and ankles."
For Perry, he was sporadic. Taggart says he thought the first two plays "spooked" him and got him "out of whack." Says he had a great week of practice and was better this past week than the prior week. But the first two plays the rush, and being hurt caught him off guard. #FAU https://t.co/UYW9uyjiBO

— Zachary Weinberger (@ZachWeinberger) October 9, 2021
When it came to the defense, they stopped the Blazers multiple times. That gave FAU's offense a chance to score. However, when the offense committed turnovers, the defense was gassed and put in a bad spot. Taggart repeated these points in the post-game presser. 
Linebacker Akileis Leroy led the team in tackles with seven and Zyon Gilbert was all over the field as he got a sack, six total tackles and even blocked a field goal. 
A key statistic was 17 of the 31 points that UAB scored were off of FAU turnovers. UAB is a good team, but they did not beat FAU in the total sense. 
With the Owls suffering this loss, they head into their bye week 3-3 and 1-1 in conference play. This could be a blessing in disguise for some teams, but for Taggart, he said "it sucks."
"Going into a bye week with a loss, it sucks," Taggart said. "But, we got to make sure we're working our tail off so we don't feel this way anymore and Charlotte is not gonna feel sorry for us. We haven't won on the road, we have to win on the road, everything is in front of us still and having a chance to play this team again, but we got to straighten some things out and finally win on the road and talking about it is not gonna do it, we got to go out there and get it done."
Overall, a point to agree with Taggart on is that this was "another disappointing loss." The offense continues with its self-inflicting wounds, couldn't get anything done on the ground (52 yards total) and Perry was inconsistent while getting exposed by the offensive line.
Perry was the leading rusher with 22 yards with Johnny Ford just behind with 20. 
This bye week will be vastly important and we could possibly see some changes within the depth chart, but at the moment, the approach is "wait and see."
After the bye, FAU will look for their first road win of the season as they face the Charlotte 49ers (4-2, 2-0 CUSA), who just beat FIU, on Thursday, Oct. 21. 
Photo courtesy of FAU Athletics. 
(Visited 55 times, 1 visits today)