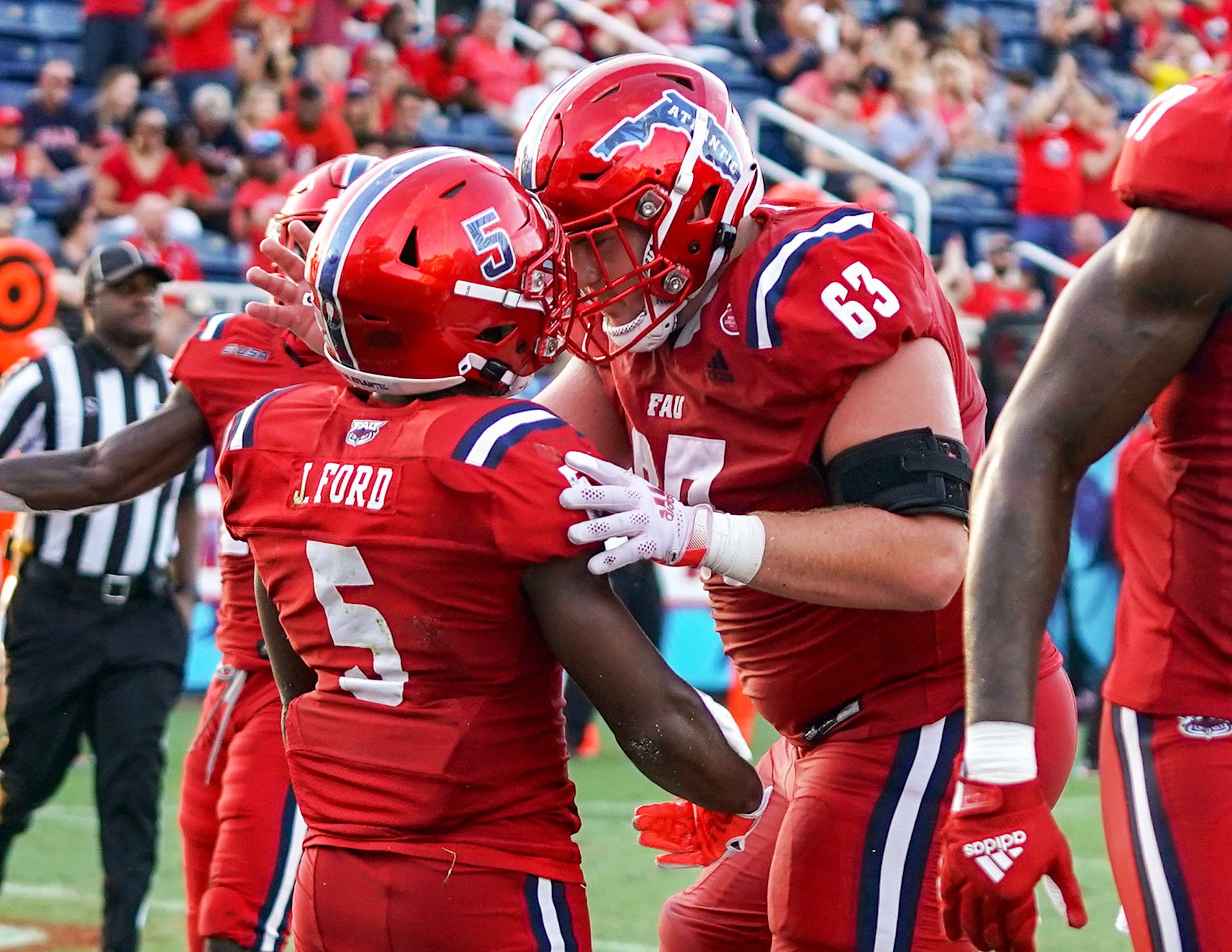 ---
After the FAU Owls secured its first conference win of the season over FIU in blowout fashion, their eyes are set on the reigning conference champions, the UAB Blazers. 
Blue and Green. Fight Night. The greatest football match in the history of the world: FAU head coach Willie Taggart versus UAB head coach Bill Clark; 2019 conference champ versus 2020 conference champ; Owl of Boca Raton versus Dragon of Birmingham!
Sorry to indulge with Lex Luthor's quote from 2016's Batman v. Superman: Dawn of Justice (underrated movie by the way), but this is a huge matchup for both teams. 
Both teams handled business in each of their first conference games, and as the Owls travel to Alabama to take on the Blazers, this is one of the toughest games on the conference schedule for them.
As always, we'll take a look at the offense and defense of the Owls, preview the game, and give final score predictions.
📍 Birmingham pic.twitter.com/dpbteJhfDu

— FAU Football (@FAUFootball) October 8, 2021
Offense
The Owls' offense desperately needed a performance like they had against FIU after an abysmal outing against Air Force. They did just that as they put up 704 yards of total offense compared to 219 against the Falcons.
FAU had a balanced offense last weekend led by the likes of quarterback N'Kosi Perry and running back Johnny Ford, who was involved in the run and the pass. Both look to continue their dynamite performances, but also the other offensive weapons like wide receivers LaJohntay Wester, Je'Quan Burton (coming off a big game), and tight end John Mitchell.
When it comes to UAB, one thing will be certain: It will be loud in Birmingham and the crowd will try anything they can to take away FAU's focus. On the road, FAU is still looking for its first win of the season, and head coach Willie Taggart cites that as a necessity if they want to be a championship team.
"Part of being a championship football team is winning the games that you're supposed to win and finding a way to win games that you're not supposed to win," Taggart said. "And going on the road, you got to win games. You just have to. We can't win on the road, we can't win a conference championship, so our guys understand that. The beauty of it is, we got an opportunity to do it this week."
Taggart expressed how this game is important because if they want to be a championship team, they have to play well on the road. #FAU still looking for their first road victory of the win. https://t.co/XqFK8e3gNl

— Zachary Weinberger (@ZachWeinberger) October 7, 2021
FAU desperately needs a solid performance from Perry if they want to win this football game, and Taggart stressed that. He said he wants to see consistency from Perry, especially on the road, and "if he wants to be the quarterback that he wants to be, we need him to be consistent week after week."
It's been a great season for the graduate student, but the team needs him to just be that against this conference foe.
What will help Perry against UAB is the running game trying to replicate their performance last week. The Owls had 296 rushing yards against FIU, with Ford leading the way with 16 carries for 102 yards. 
Offensive coordinator Michael Johnson stresses the importance of a balanced offense especially when facing a team like the Blazers:
"We want to have a balanced offense and making sure we can do both run and pass," Johnson said. "UAB is an aggressive defense and everything that we do starts with our run game. We want to get that going because that opens up a lot of other avenues for us."
Coach Johnson also gives his expectations for the game offensively and what his personal keys to the game are:
"We're just trying to score each and every opportunity we get [the ball]. We don't have a number that we're looking for, but we feel that if we control the time of the possession, then we're going to have a fresh defense, and when we have a fresh defense, we're going to play well," Johnson said. "If we can control the ball, regardless of how many points we score, I think we're going to be where we want to be at the end of the game."
While the Owls' offense found the vulnerabilities against FIU, UAB is much more stout. They've allowed 23.8 points per game, 130.6 rushing yards allowed per game, and 239.4 passing yards per game. Besides their blowout loss to No.2 Georgia, they've stopped big games from the opposing offense.
Johnson talks about facing the Blazers' defense:
"The focus this week is us. We know we're playing UAB. We know who they are. We know they are the 2020 Conference USA champions, but we are worried about us. [And] making sure that we're playing the right way and making sure that we're executing the way we want to. We feel that when we play the way we're capable of playing, we're hard to play against. That's where our focus is this week. We want to make sure we respect our opponent, make sure we give them their just due, but also really focus on how we're playing and making sure that we're executing our offense to the best of our abilities."
As Taggart, Johnson, and players have been saying for weeks, starting fast on offense will set the momentum for the rest of the game. While they didn't do it against Air Force, they did against FIU. Doing that against this defense will be key.
Defense
It was a tale of two halves for FAU's defense last week as they gave up 21 points in the first, but zero in the second. What hurt the Owls last week was the big plays that FIU connected on, one being a 68-yard touchdown pass.
Looking to UAB, their quarterback situation hasn't been set since week one like FAU has. To start the season, Tyler Johnston III was getting most of the reps until head coach Bill Clark went with Dylan Hopkins. Now that Johnston suffered an injury and will be out indefinitely, the Owls focus on Hopkins.
Hopkins looks to bounce back after the loss to the Liberty Flames, throwing for only 152 yards and an interception. For FAU, they obviously want to see more of that. 
The Blazers running attack seems to be a committee, but can also be very effective. They've averaged 162.6 rushing yards per game behind backs like Jermaine Brown Jr. and DeWayne McBride. While it used to be a concern that FAU's rushing defense was lacking, they shut down the run last week, stopping one of the conference's best running backs in FIU's D'vonte Price to under 40 yards. 
Defense's doing work.

Leading the league in:

▶️ Passing yards allowed
▶️ Red zone defense
▶️ Passing efficiency defense pic.twitter.com/rTCePMd3PY

— FAU Football (@FAUFootball) October 6, 2021
Defensive coordinator Mike Stoops talks about facing the UAB offense:
"UAB presents a little different challenge. They run the ball very effectively, they're going to make you defend all of your gaps inside. Big zone team, zone concepts. It's going to be critical as you play these guys to put them in some uncomfortable situations. That's what's going to be critical. Defending the shot plays. Any team that runs the ball effectively are always going to have the capabilities to isolate the corner or safety in coverage and hit the ball down the field and that's what was our Achilles' heel the other night [FIU], giving up those big plays. We played 63 plays and gave up the same amount of yards on four plays. Those are things that can't happen, in the course of a game. We have to make people work to move the field. That's going to be a big challenge for our run defense this week."
Stoops also talks about how he prepares his defense against a team like the Blazers and what they've been doing to find success this season.
"(UAB) leads with the run and then they're going to take their play-action shot plays like everybody does. That's the way football is played. Everybody starts crowding the line of scrimmage then you're going to play-action and try to put the ball over your head. Our guys got to understand what their DNA is and how (UAB) tries to attack you in certain formations and understand that. That's what you do all week. You prepare the team the best you can and show them as many looks as you can, and they have a variety of formations, movements, shifts to create indecision in your minds and we just have to be prepared for all of these different looks and be able to fit our defense to these particular looks."
FAU will be at full strength this week on the defensive side of the ball, especially in the front seven. Inside linebacker Antarrius Moultrie missed last weekend's game as he was suspended for "disciplinary reasons," but is back with the team and ready to go according to Taggart. 
#FAU HC Willie Taggart said that ILB Antarrius Moultrie, who missed last Saturday due to suspension, "is back with the team and ready to go" against #UAB.

— Zachary Weinberger (@ZachWeinberger) October 7, 2021
Decarius Hawthorne and Chris Jones, who have been banged up, are healthy along with Jaylen Joyner, team leader in sacks, who was banged up against FIU. 
Joyner says that he's feeling good and talks about the preparation for UAB.
"Coach [Stoops] is really focused on a lot of their runs this week," Joyner said. "I know D-Line wise we're focusing on how the O-Line moves so when we get in the game, we can key in and do our assignment so we can stop the run and get to the quarterback."
As the trend has been for FAU's defense so far this season: Stop the run and make the quarterback honest. They've proven they can do that at home, but not on the road. They want to change that.
Catch us tomorrow on @Stadium or locally on @CWWestPalm 📺 https://t.co/UJhrsJP3pF

— FAU Football (@FAUFootball) October 8, 2021
Prediction
I can't stress enough how important of a game this is for the Owls. Not only will it give them their first road win of the season, but they want to show how much of a threat they are to the rest of the conference.
Getting a win against UAB would make them one of the favorites to win the conference championship. But as coach Taggart said, to be a championship-winning team, they need to show they can execute consistently on both sides of the ball. 
On offense, they're going to need to have that balanced offense they've been emphasizing and the defense has to not get exposed by the big plays.
UAB quarterback Hopkins hasn't had a big throwing game yet, so forcing him to throw and preventing them to have a potent offense will be key.
At the end of it, this will be a close game from quarter one to four and it will be a dogfight. I don't see a high-scoring game here.
I've honestly been back and forth with this game as UAB has shown to be a tough team, but FAU's offense is much better, and believe at the end of the day, it will prevail.
FAU fans should prepare for this one, it'll be a nail-biter. 
Final Score Predictions: FAU 27 – UAB 21
Photo | Kathy Hitchcock
(Visited 55 times, 1 visits today)