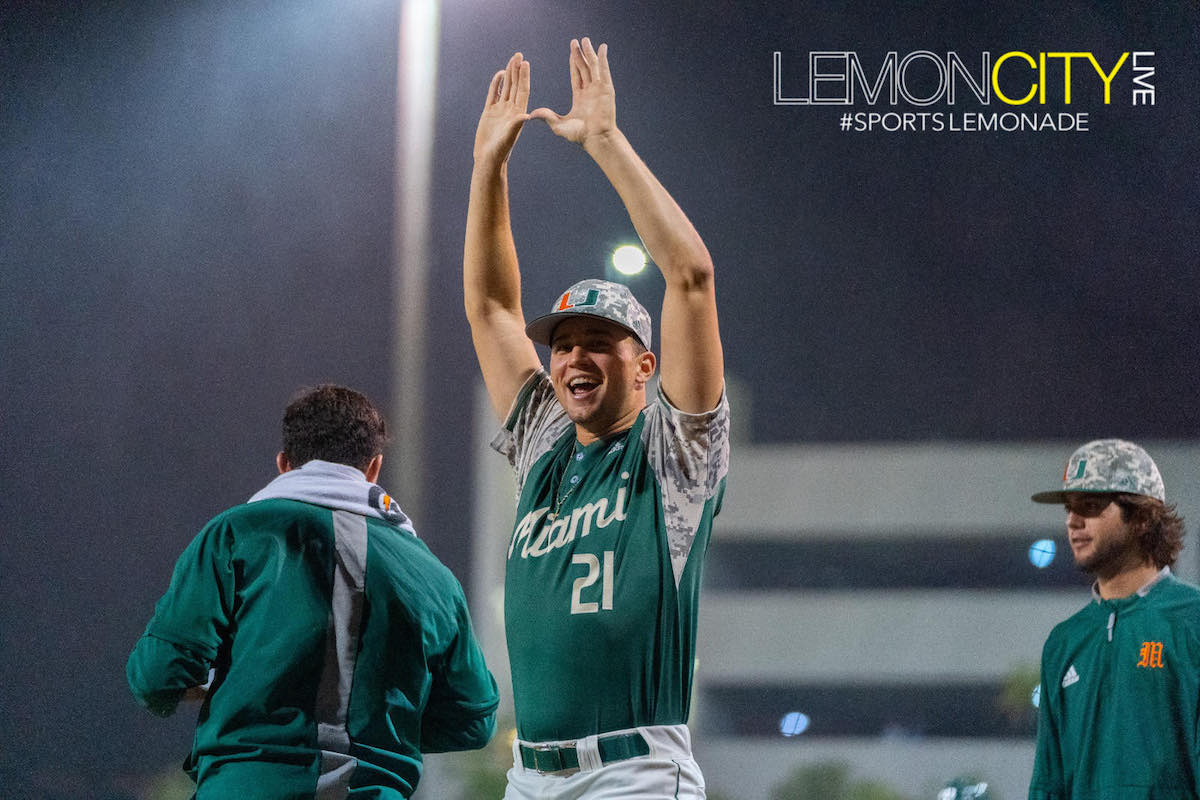 ---
Miami, FL – The Miami Hurricanes kept on owning and kept on rolling, outscoring the Rutgers Scarlet Knights 13-6 Sunday afternoon to complete the Opening Weekend sweep at The Light. Slade Cecconi dominated from the mound, keeping the visitors hitless through five frames as the offense remained red hot.
Southpaw starter Tevin Murray struggled from the get-go, walking Jordan Lala (Caught stealing) before giving up a double to Tony Jenkins. Rightfielder Josh Rodriguez put effort into it but couldn't quite make the catch. Adrian Del Castillo laced a single through the hole at first, giving UM the early lead. The Scarlet Knights had a little bit of a scare after Raymond Gil popped to center-left where Mike Nyisztor and Richie Schiekofer dove into each other. Both players quickly got up and play resumed as Gil hung out at second.
Alex Toral drew a walk to load the bases followed by another from Gabe Rivera to make it 2-0. They were definitely trying to avoid giving him a great pitch to smack over the fence. Murray kept the damage to a minimum retiring Anthony Vilar and JP Gates.
Put another run on the board for the Canes, as Gabe Rivera walks with the bases loaded. 2-0 Miami

— Canes Baseball (@CanesBaseball) February 16, 2020
His troubles didn't end there.
In the second inning, Murray gave up his fourth walk of the game to Jared Thomas, eventually finding himself in another jam with the bases juiced. He was yanked in favor of Parker Scott who threw a wild pitch for another Canes run. Things got worse when Gil hit a sharp grounder past the glove of second baseman Kevin Welsh, extending Miami's lead to five.
The scoring continued in the third. Gates hit an RBI single to left and Tyler Paige nailed down a great sac bunt to pad the lead. Fresh off a four-homer barrage in game two, the Canes made sure to get deep into Rutgers bullpen, quickly putting the game out of reach.
Can't Touch This
Cecconi's no-hit bid and shutout came to an end in the sixth after surrendering back-to-back singles and a walk. He finished the inning strong with his eighth strikeout of the outing. The bullpen took over from there.
Miami remained unphased, responding with three more. Vilar slapped a two-run double to right-center, only to score another himself on a wild pitch.
Three more innings to go. pic.twitter.com/9AD03wAvxN

— Canes Baseball (@CanesBaseball) February 16, 2020
Earlier in the day, the two squads resumed last night's game after it was suspended in the bottom of the seventh due to inclement weather. The Hurricanes won 8-2. UM went on a power surge, Del Castillo smashed two home runs and Rivera hit a grand slam just before the rains paused the series as part of a five-run inning. On the continuation Sunday, Gates hit a solo shot of his own. Chris McMahon, meanwhile, kept the opposing team contained, tossing six frames giving up just two earned runs on five hits, fanning nine.
Rutgers showed life in the eighth, launching two dingers from Peter Serruto and Chris Brito in a five-run spark cutting the deficit in half. However, Brito outran his own teammate, robbing them of a run in a strange twist. It proved futile anyways.
It's the second consecutive year UM swept the Scarlet Knights. With the exception of 2014 (Maine), Rutgers has been Miami's first opponent to start the season since 2009.
Great weekend in the 3️⃣0️⃣5️⃣ pic.twitter.com/MNxfwYOQmy

— Canes Baseball (@CanesBaseball) February 16, 2020
With the win, the Canes now look closer towards next weekend for their first real test of 2020 in a marquee matchup against the visiting Florida Gators. But first, they have a mid-week game versus Kent State.
Gus Bus Award
Cecconi didn't get the shutout but his first start of the season was still a great one. Final stat line: 6 IP, 2 H, 1 ER, 1 BB, 8 Ks
You're Killing Me Smalls
The bullpen coughed up some runs late. Alex Ruiz faced four batters and surrendered four runs (Three earned) including a walk, a balk, and a round-tripper.
Game Notes
UM outscored Rutgers 23-9
The Hurricanes finished game 3 with 13 runs on 12 hits and one error
The Scarlet Knights scored six runs on six hits, committing three errors in the series finale
Anthony Vilar: 2-for-5, 2 R, 3 RBIs, 1 2B, 1 SB
Tony Jenkins: 2-for-3, 2 R, 1 2b, 1 BB
Photo Credit | Danis Sosa
(Visited 139 times, 1 visits today)