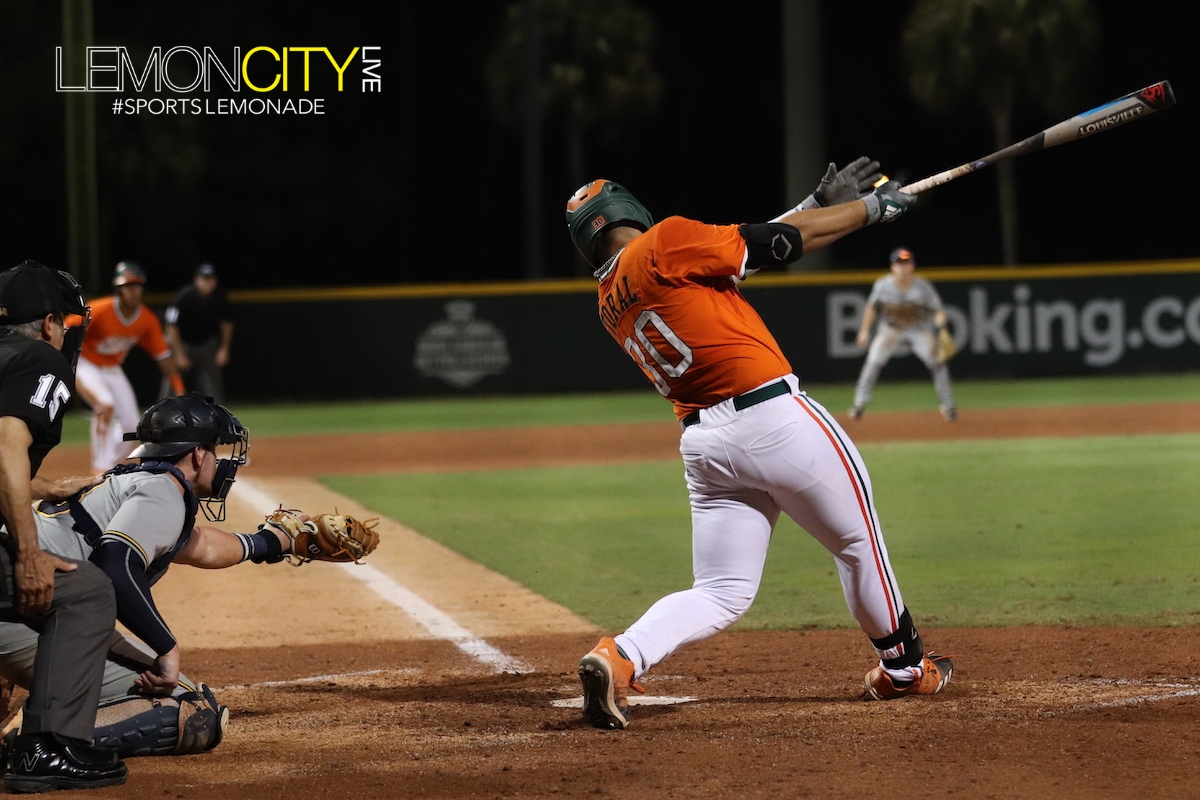 ---
Coral Gables, FL – The No. 1 Miami Hurricanes wasted no time flexing that new ranking on Wednesday night, as they crushed Kent State to the tune of 12-0. The Canes are off to a hot start this season. They swept Rutgers this past weekend and outscored them 23-9 in the series. Add tonights 12 runs (35-9) to the tally and you have an offense that's clicking at just the right time with the No. 2 ranked Florida Gators coming to town for a weekend series.
#SeAcabo The #1 ranked #CanesBaseball ⚾️ keep their winning ways going by clobbering Kent State 12-0. @CanesBaseball now shift their focus to the big weekend series vs. the #2 ranked @GatorsBB
Stick with us all weekend. #SportsLemonade
See you Friday! 🙌 pic.twitter.com/b1U5EBKsLT

— Lemon City Live (@LemonCityLive) February 20, 2020
It was great to see the Canes come out swinging early and not allowing themselves to fall victim to the dreaded "trap game" before the big weekend series. Alex Toral got the Canes on the board in the first inning, with his first dinger of the season. A three-run shot that put the Canes ahead and they would never look back.
"That was great to finally get that one off my chest," said Toral, who had 24 home runs a year ago. "It's always good when you hit one out, but that first one us means a little more."
It wasn't just the bats that showed up tonight. The defense committed no errors and the pitching dominated the Golden Flashes all night, allowing only four hits on the evening.
"I just told the guys I thought that was about as complete game as I can recall," Miami head coach Gino DeMare said. "Last year, we were 9-3 in midweek games but we blew some leads. We got ahead early and we let teams get back in the game, and it was good to see us get up and kind of close it out and finish the game. I thought it was just a complete game. We pitched well. We played good defense, no errors again, which I think that's happened a few times so far in the four games, which is good. And we swung the bat well. So, all in all, very happy. Good to get that game behind us now and focus on this weekend."
The No. 1 Miami Hurricanes are back in action this weekend, hosting No. 2 Florida Gators in a three-game series beginning Friday at 7 p.m. Game 2 is set for 7 p.m. on Saturday, while Sunday's series finale is scheduled for a 1 p.m. start.
Game Notes
Tony Jenkins also hit a three-run homer and drove in four runs.
Tony Jenkins makes it 8-0 with a moonshot over the scoreboard in deep left center.
⬇️3️⃣#CanesBaseball #Paliza 👋 pic.twitter.com/PqBawJJp07

— Lemon City Live (@LemonCityLive) February 20, 2020
Miami used seven pitchers.
Freshman Alex McFarlane earned his first career win.
Friday's game vs. the Gators will be a blackout at the stadium so be sure to dress accordingly.
Black out The Light on Friday night!

Come decked out in your favorite black Canes gear! pic.twitter.com/tmoxvwHOv3

— Canes Baseball (@CanesBaseball) February 20, 2020
Photo Credit | Al Palcio
(Visited 123 times, 1 visits today)