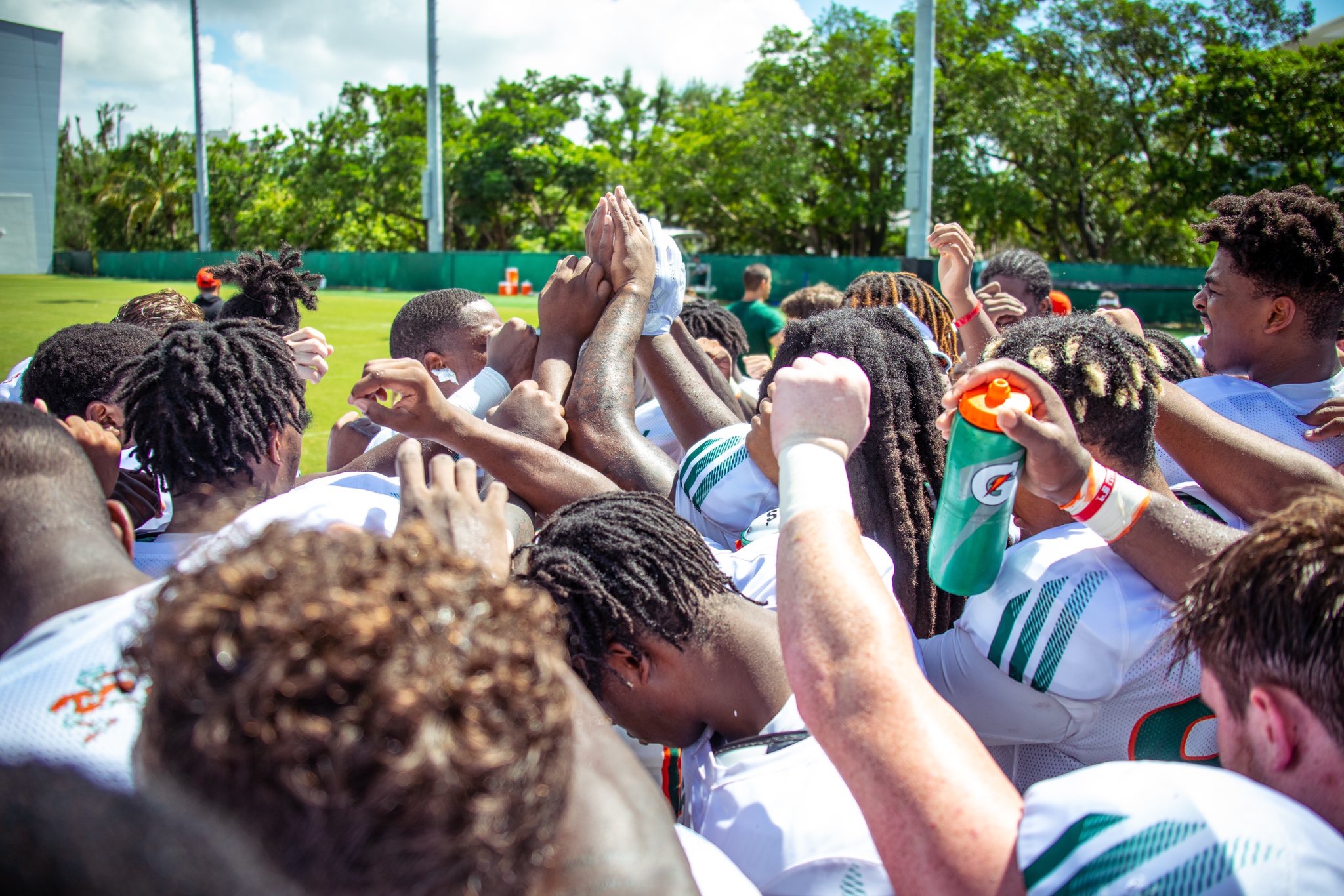 ---
Coral Gables – On Friday evening Lemon City Live was invited to attend one of the University of Miami Football Fall Camp practices. This is the first time I've ever attended such an event and I must say it was quite the experience. While we weren't allowed to see the entire practice, I did come away with some impressions with the team, getting to know some of the players. Once we were situated, the media was taken through a side of Cobb Stadium which is a stone throw away from Mark Light Field and from there went onto the Greentree Practice Fields to see the boys in action.
There were dozens of onlookers, observing the players go through their various drills that ranged from varied pass plays involving cutting across the field to tackling, which sometimes included a fellow teammate, others times a football bag. There was even a drone flying up above, filming the entire action down below.
Afterward, we're able to speak with four of the players, all of them special teams, and Special teams coordinator and strikers coach Jonathan Patke. Here are the impressions I got with a little bit of information on each.
Now this is a workhorse. As a true freshman, Baxa's mistakes were few and far in between making nine of 12 field goal attempts. When it came to P.A.Ts he was 45-for-46. Heading into the upcoming season he'll be looking to hit the mark on both consistency and accuracy. When asked about pressure kicks, his only one last year was his very first. It was a 38-yarder against LSU. Studious of his own film, his longest kick in practice has been 55 yards, though apparently, he could go as far as 70. Real Madrid called, they want a word with him.
The most interesting man you would never want to run into in a dark alley. This guy is pretty darn intimidating looking. Acquired during National Signing Day back in February, Hedley is certainly a potential fan-favorite hailing from the land down under in Mandurah, Australia. Spending about two years in San Francisco, he finds Miami a unique city with bipolar weather. I wonder if he has enough room for another tattoo, possibly one of the U? He also has a 16-month-old son that he Facetimes with every night. Can only imagine how homesick he gets since he's traveled halfway across the world to play for the Hurricanes. His first game for City College of San Francisco was also his first real game playing American style football, days prior he learned the rules via Madden. Madden? Really?
"Occasionally I get people coming up because they recognize my tattoos, I don't think they recognize my face but they see my tattoos and put one and two together."
The competition definitely goes beyond the gridiron as James and Hedley are some of the guys that are pretty inked up. One could argue the long snapper had the edge in cool tattoos, that is until the Aussie showed up. James has emphasized that if there's one thing the group has going for them its maturity. Each of the returning guys has another year of experience under their belt which will serve them well, or so the hope goes.
Serving as the team's primary holder the last two years, the redshirt senior is also one of the punters being utilized on special teams. When asked about his time at camp, Spicer has been enjoying every second of it saying it's the most fun he's had. Ideally, he embraces the competition as a way for teammates to push one another to improve. Spicer even spoke highly of fellow punter Louis Hedley. No doubt music to the ears of coach Patke and Head Coach Manny Diaz. Initially, he had trouble understanding Hedley, leading to some growing pains and understandable annoyance but it looks like the two share a bond, as does the rest of the team.
"I understand him. At first, I didn't, and there were some times where he [Hedley] would definitely get annoyed with me and he would have to say it over again especially like in the hot tub when it's echoing."
Jonathan Patke (Special Teams)
The special teams coordinator is definitely pleased with the progress the youngsters are making. Through the spring and summer, Patke has seen the guys growing closer, mentioning their athleticism and their highly competitive spirit. Everything is a competition, bringing the best out of themselves. For his punters, anything over four or four and a half seconds in hang time would be good. Five would be great. Despite liking what he's seeing, he would feel more comfortable seeing the progress in a real game. In fact, one of the goals is to get the boys comfortable in key situations that they will only get one shot unlike a standard drive in a football game. He's also rolling with about a dozen guys taking punt and kick returns looking for four or five solid returners.
"I don't know if it's ever comfortable to watch punt, it's such a high-stress snap of football because it's one shot, you get one shot to complete it."
Final Thoughts
There's an air of optimism within the program that's reflected in the players, coaches and even fans. However, the kids just started practicing with their pads on and have yet to go full contact. There's still remains a lot to be done. For Special Teams, they ranked dead last in the conference when it came to punting, an area Coach Manny Diaz hopes to see a definite improvement on. They hit rock bottom last year in that category, the only way is up.
Elsewhere, the quarterback situation remains murky with the competition being reportedly fierce with redshirt sophomore N'Kosi Perry, redshirt freshman Jarren Williams and redshirt sophomore Tate Martell jockeying to be the team's number one. My money's on Tate Martell, but I'd be good with Jarren Williams too. What about Perry? Not my preferred choice since I see more upside from the other two but who knows, maybe the kid has a spectacular season and proves all his doubters wrong. But way before convincing me or the fans who he has to convince first, and this goes for all of them, is Coach Diaz.
Photo Credit | Canes Football Twitter
(Visited 54 times, 1 visits today)