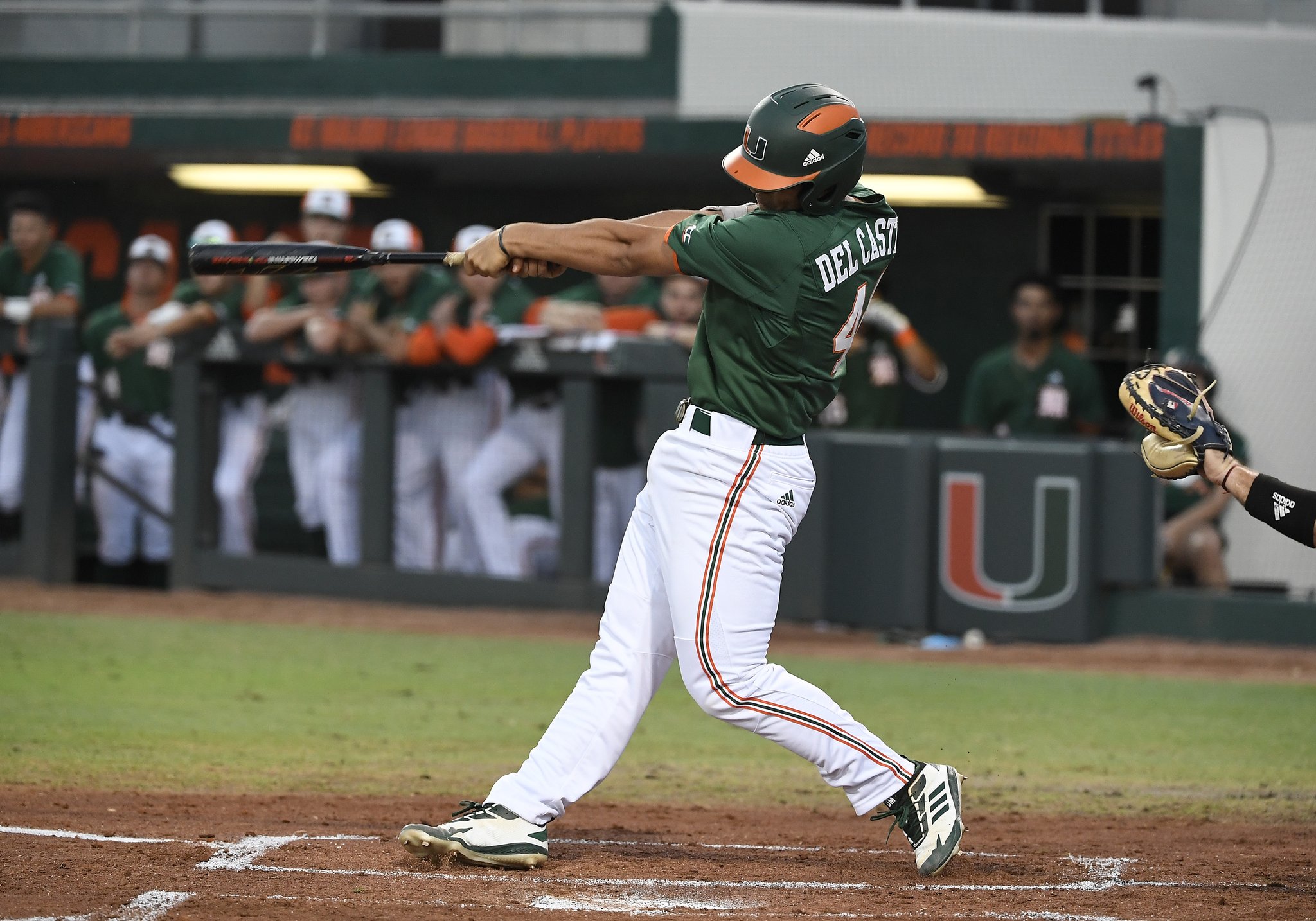 Miami, FL – Despite a furious late-game rally from the Miami Hurricanes, the UCF Knights hung on for dear life, winning 8-7 Wednesday night in a thriller at Mark Light Field. UM trailed by as many as seven runs until a clutch home run from pinch hitter Isaac Quinones began an incredible comeback that fell just short.
Albert Maury Jr (1-0, 6.52) made his first career start for Miami.
Here are today's lineups between @CanesBaseball and @UCF_Baseball! First pitch: 7:00 PM. Albert Maury Jr. (1-0, 6.52 ERA) will start for Miami, he will be opposed by Grant Schuermann Grant (5-5, 3.98 ERA)

Last midweek game for Hurricanes. pic.twitter.com/sJ6WaRAcKP

— Gabriel Garcia (@Gabewritesports) May 8, 2019
Maury was strong off the mound, freezing leadoff man Ray Alejo and striking out Tyler Osik to bring the Hurricanes to the plate. Adrian Del Castillo then lifted one to right center for the solo blast, it was the freshman's seventh home run of the season and the team 60th. Miami has been dangerous in the opening inning, scoring 41 runs this year.
Maury Jr. lasted three frames, giving way to fellow righty Mark Mixon. Maury fanned two giving up just as many hits, tossing 40 pitches on the night. He was on a count.
Miami had a chance to tack on more runs in the fourth with JP Gates and Del Castillo in scoring position but Michael Amditis popped out to end the inning. This would come back to haunt them.
Despite the strong start, UM's advantage disappeared.
The top of the fifth saw trouble come Miami's way, a lot of it. Chandler Robertson lasered a stand up double down the third base line to start off the inning. Brandon Hernandez laid down a bunt towards Mixon, however, the pitcher fell back after scooping up the ball. Hernandez reached first on the error. Ben McCabe struck out trying to lay down his own bunt (Foul ball) but Mixon got into more trouble, beaning George Anthony to load the bases. Alejo made Mixon pay with a two-run double, giving the Knights their first lead of the night.
After the sac fly from Matthew Mika, Mixon was replaced by JP Gates.
Things got really out of hand.
Gates threw a wild pitch, driving in another run followed by a walk to Dallas Beaver to put a man on. Osik got a hold of one, sending it deep to left just beyond Gabe Rivera's reach to put UCF firmly in the driver's seat, 6-1. Some quick thinking from the catcher Amditis in the aftermath of another wild pitch, ended the inning when he picked off the runner at first.
Jeremy Cook was called in to keep it a five-run game. The Knights would score two more runs to put Miami in a big hole.
Then in the eighth, the Canes hit back-to-back home runs from both Raymond Gil and JP Gates to make it 8-5 in a big inning of their own.
JP Gates hits the next pitch from Westberg for a solo homer and Miami is within three, 8-5! pic.twitter.com/fElGcEeS15

— Canes Baseball (@CanesBaseball) May 9, 2019
The final inning brought even more excitement for the home crowd as Isaac Quinones, pinch-hitting for Willy Escala, was absolutely CLUTCH, belting a two-run blast to bring Miami to within one run. However, the Knights emerged victorious after Raymond Gil went down swinging with the tying run 90 feet away and the winning score at second, escaping by the skin of their teeth.
Game Notes
The Hurricanes lead the all-time series 22-8 and have won six of the last 11 meetings against the UCF Knights.
Adrian Del Castillo has reached base in 44 of 49 games. The freshman began his career with a 15-game hitting streak.
Del Castillo's 15 multi-RBI games ties for most by a Hurricane Freshman since Zack Collins in 2014.
UCF finished the evening scoring eight runs on nine hits with one error. They stranded four.
UM walked away with seven runs on 10 hits and two errors. Six were left on base.
Gus Bus Award
Isaac Quinones wins this with one of the most clutch hits of the season.
You're Killing Me Smalls
Tonight's outing by JP Gates was pretty ugly. He only faced four batters and gave up a home run, an extra-base hit and even beaned one for good measure. Yikes!
Photo Credit | Canes Twitter
(Visited 41 times, 1 visits today)