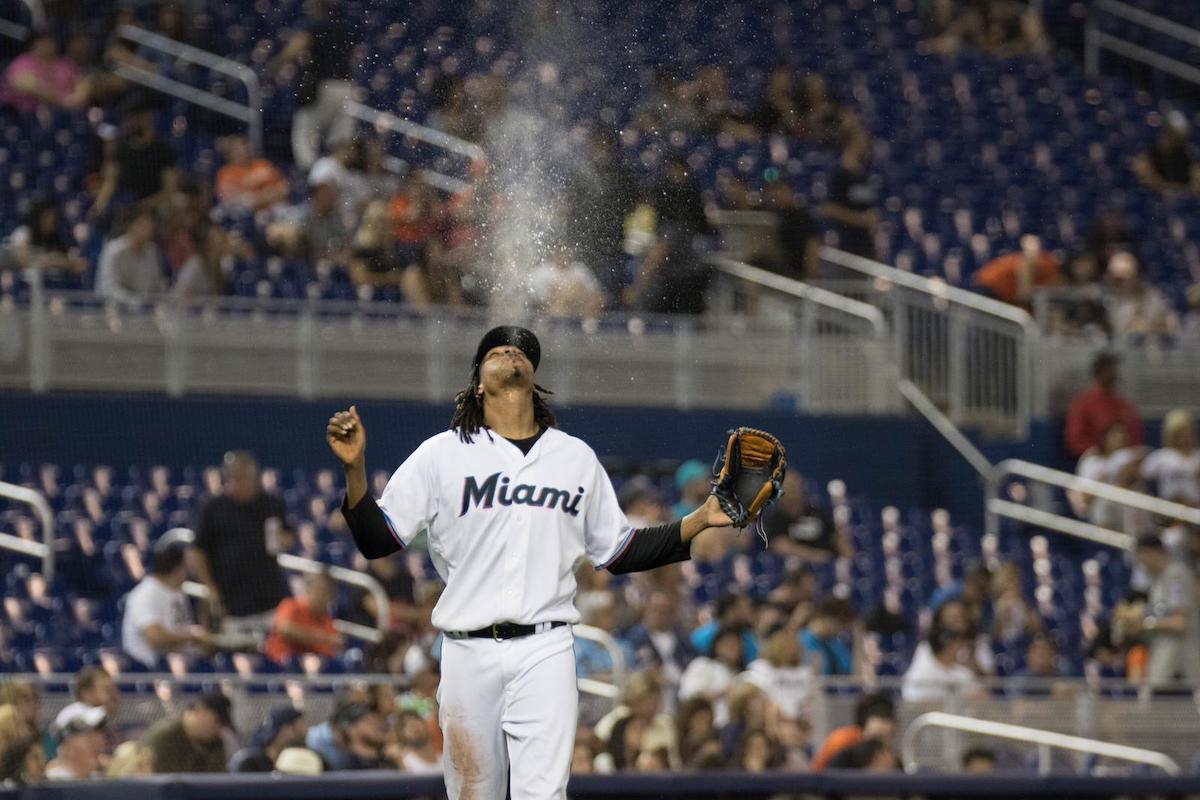 Miami, FL – The Miami Marlins were shutout for the league-leading ninth time Wednesday night, dropping round two of the Citrus Series 1-0 to the Tampa Bay Rays. Jose Ureña tossed another quality start but the offense went 0-for-10 with runners in scoring position, stranding 11 runners on the night.
It has now been 24 innings since the team last scored a run.
The Marlins are allergic to runs.

— Will Manso (@WillManso) May 16, 2019
Tampa Bay scored the lone run in the second. After getting Kevin Kiermaier to fly out to Curtis Granderson in left field, Willy Adames drew a walk to get a runner on. Rookie Anthony Bemboom got his first ever career hit in the form of an RBI double, scoring Adames all the way from first to put the team up. Someone get that baseball, he might want to keep it as a memento.
In spite of the problems at the plate, at least coach Don Mattingly has one less worry when it comes to his number one.
Ureña has been pitching well as of late. When he opened the season, the righty gave up at least four runs in each of his first three starts. The team's ace posted an 0-3 record with an ugly 9.22 ERA in that span. Since then? Ureña has been a completely different hurler, going 1-2 with a 3.00 ERA in his last five outings. In four of those starts, he's allowed two earned runs or fewer. Ureña had entered the game with a scoreless innings streak of 10 frames against the Tampa Bay Rays. He extended it to 11 before giving up the run to Bemboom, the lone blemish in an otherwise outstanding outing. Ureña lasted six frames, scattering six hits and striking out two. Despite this, the starter just didn't get any run support.
The heat in South Florida hits different. #JuntosMiami pic.twitter.com/HtBgBhNcXK

— Miami Marlins (@Marlins) May 16, 2019
The team had its chances.
Miami had a great opportunity in the fifth after Adam Kolarek retired the first two hitters. Tampa Bay then made a pitching change, sending in Emilio Pagan to face Brian Anderson. Anderson drew a walk to keep the inning alive. Neil Walker laced a sharp line drive to right field, moving Anderson all the way to third. The offensive effort fizzled out when Starlin Castro grounded out to end the inning.
Worse, in the following frame, Miami once again had runners in scoring position, this time at second and third after Garret Cooper drew a walk and Jorge Alfaro managed a double to put the Marlins in an excellent position to not only tie the game but take the lead. Jon Berti and pinch-hitter Martin Prado struck out looking while Rosell Herrera popped out, summing up Miami's offensive woes in a nutshell.
And this is with the Marlins catching some breaks that have kept this a close game.
In the sixth inning Willy Adames hit a single that was knocked down by Berti, however, Yandy Diaz ran a bit too far around third and got picked off trying to make it back. In the seventh Tampa Bay tried a double steal but the Marlins weren't fooled as Alfaro scorched it to Castro, who pulled a return to sender, gunning down Austin Meadows at the plate.
Alfaro hit a double in the eighth with two gone, looking to cook up a comeback. Rays reliever Chaz Roe balked to move up the runner but the team's dry spell continued after Berti popped out. Tampa Bay used a total of seven pitchers in tonight's game, the most used in a shutout so far in the Majors. It was one shy of the Ray's record of eight used to pull off the feat.
Miguel Rojas left during the game with back spasms, he is considered day-to-day. Jon Berti was brought in to play shortstop in the fifth inning.
With the loss, Miami drops to 10-31. They have Thursday off before hosting the New York Mets this weekend.
The Marlins are 2-4 in interleague play.
The Marlins have no triples and haven't received an IBB. They're the 1st team to go 30+ games into a season w/o either. The 2015 Blue Jays went the most games (50) into a season w/o an IBB. The '82 Giants went the most (41) w/o a triple, confirmed by @EliasSports #quirkjians

— Tim Kurkjian (@Kurkjian_ESPN) May 15, 2019
In Case You Missed It
Miami lost the first game to Tampa Bay Tuesday night by a score of 4-0 despite another solid start by Caleb Smith. He only lasted 5 1/3 innings but the kid made em count, fanning eight hitters and allowing just two runs on four hits. He walked a pair.
Game Notes
Both teams finished with seven hits but one walked away with the win. Not only did Tampa Bay win the two-game midweek set but did it blanking the Marlins twice in a row. Ouch.
Adam Conley was on fire, coming in during the seventh he faced four batters, striking out three of them.
Jorge Alfaro went 2-for-4 with both hits being doubles.
Neil Walker extended his hitting streak to nine games with a single in the fifth, tying Miguel Rojas for the longest hitting streak by a Marlin so far this season.
Photo Credit | Chris Perez
[envira-gallery id="17167″]
(Visited 85 times, 1 visits today)