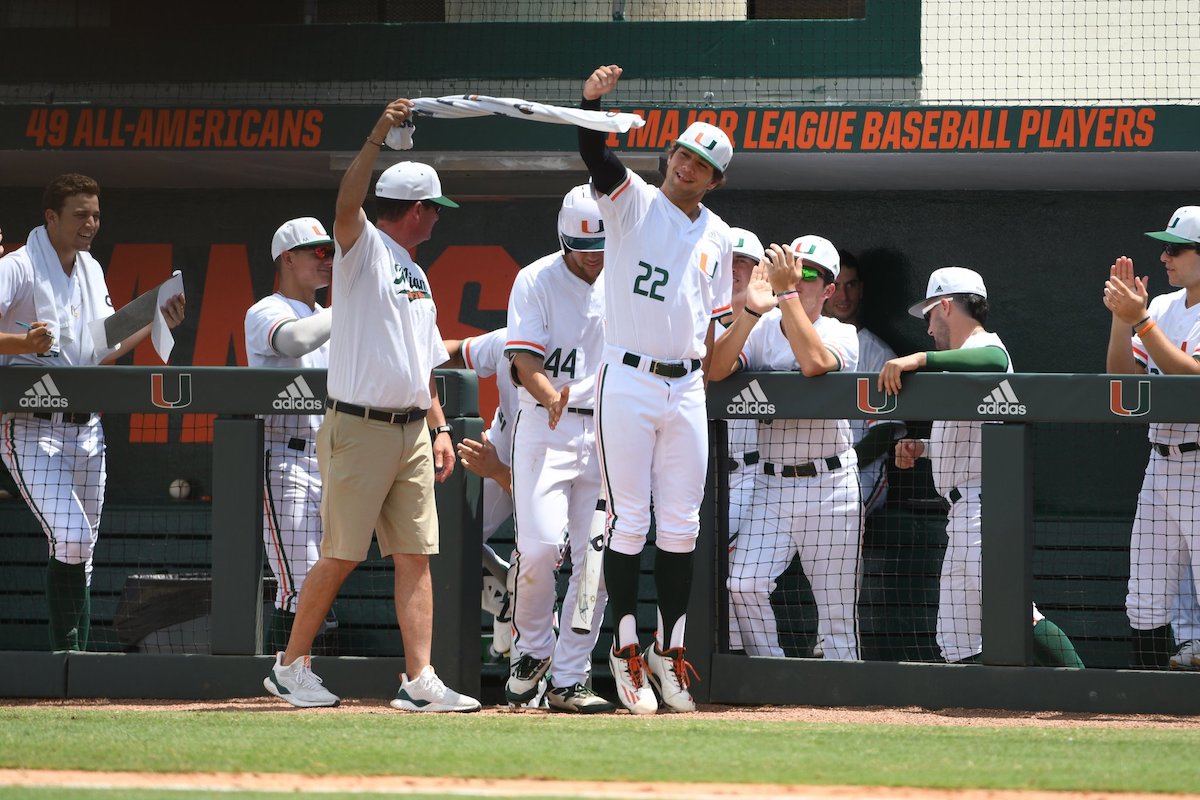 Miami, FL – The Miami Hurricanes swept Bethune-Cookman right off the diamond, crushing the Wildcats 13-5 Sunday afternoon at The Light. It's their second consecutive weekend series sweep and the fifth of the year. Tyler Keysor (5-0, 4.28 ERA) kept opposing hitters on the backfoot, getting plenty of run support to collect his sixth win of the season.
Fifth 🧹🧹🧹 this season! pic.twitter.com/lTJIlHo3db

— Canes Baseball (@CanesBaseball) May 5, 2019
The Wildcats scored their first run without making a single hit. On the opening play of the game, third baseman Raymond Gil committed an error on the throw to teammate Alex Toral at first, allowing leadoff man Clarence Carter to get on base. Keysor tried to amend the issue with multiple pickoff attempts, the latest resulting in another error, this time by Toral. Carter raced all the way to third, eventually scoring on the sacrifice fly by Nate Sterijevski out in right. Errors have been an issue for the team all season long, this weekend proved no different. The Hurricanes committed nine errors. They have over 60 errors this season. Gil has the second most errors on the squad with 14, three of them committed in today's game.
Bethune-Cookman barely had any time to enjoy their lead as Miami quickly responded with two doubles from Jordan Lala and Anthony Vilar, knotting it up. After Gil struck out,  JP Gates sac flied to center to score Vilar. With two gone, Michael Amditis hit a hard grounder through the pitcher, guiding it up the middle, scoring Adrian Del Castillo. The hits kept on coming as Toral nearly blasted one over the center field wall, Amditis legged it all the way to home to cap off a four-run first by the Hurricanes.
With a full count and Lala prowling on base pads, Vilar ripped a double to right in the second frame that bounced over Over Torres' glove, allowing the freshman to race over to third. Lala was already in the dugout enjoying a cold one. After walking Del Castillo to put runners at the corners, Isaak Gutierrez's (2-3, 3.57 ERA) day was over. The senior, Jordan Pinto, went in for Bethune-Cookman but it made no difference. Gates, who's been having a productive weekend, ripped the game wide open with a three-run blast to left putting the Canes up 8-1. The brooms were already coming to life.
It's finals week at Miami and @AlexT_20 have a dissertation on how to go BING BANG PA LA CALLE! pic.twitter.com/La7ekRKCtH

— Canes Baseball (@CanesBaseball) May 5, 2019
It was all Miami today.
Dominance at the plate went hand in hand with dominance from the mound. Keysor pulled out another quality outing, lasting six innings giving up two runs (None of them earned) on four hits. He matched his career high with seven strikeouts. He did find himself in a bases-loaded, one out jam in the fourth inning but it wasn't his doing.  Another error by Gil, coupled with Vilar being unable to glove a hard hit to turn a double play, set the stage for the situational pickle. Keysor emerged relatively unscathed getting both Silas Grinstead and Zach Spivey to fly out to left, although the former drove in an unearned run in the sacrifice play.
The win elevates UM to 34-14. Bethune-Cookman falls to 16-35. Miami will host UCF in their final midweek game on Wednesday, where the Canes are 10-2 this season.
Game Notes
Miami continues its dominance of Bethune-Cookman, leading the overall series 40-6. Miami now has a seven-game winning streak against the Wildcats. They have won 12 of their last 13 meetings between the teams.
JP Gates had a terrific weekend series, going 7-for-12 with seven RBIs and a home run.
UM ended the day scoring 13 runs on 12 hits, committing four errors.
Bethune-Cookman finished scoring five runs on seven hits with one error.
UM outscored their opponents 34-15 this weekend.
Michael Amditis went 2-for-3 with two RBIs.
Anthony Vilar went 2-for-4 with two RBIs and a double.
Jordan Lala drew three walks and swiped two bases. He has 22 steals on the year.
Gus Bus Award
Tyler Keysor grabs this one. A superb start as part of an awesome year he is having.
Keysor and @CanesBaseball cruising with the top open and the brooms out. 11-2 Miami heading to 🔽6TH.

— Gabriel Garcia (@Gabewritesports) May 5, 2019
You're Killing Me Smalls
Raymond Gil. He had his moments but gotta improve the defense man.
Photo Credit | Canes Twitter
(Visited 72 times, 1 visits today)