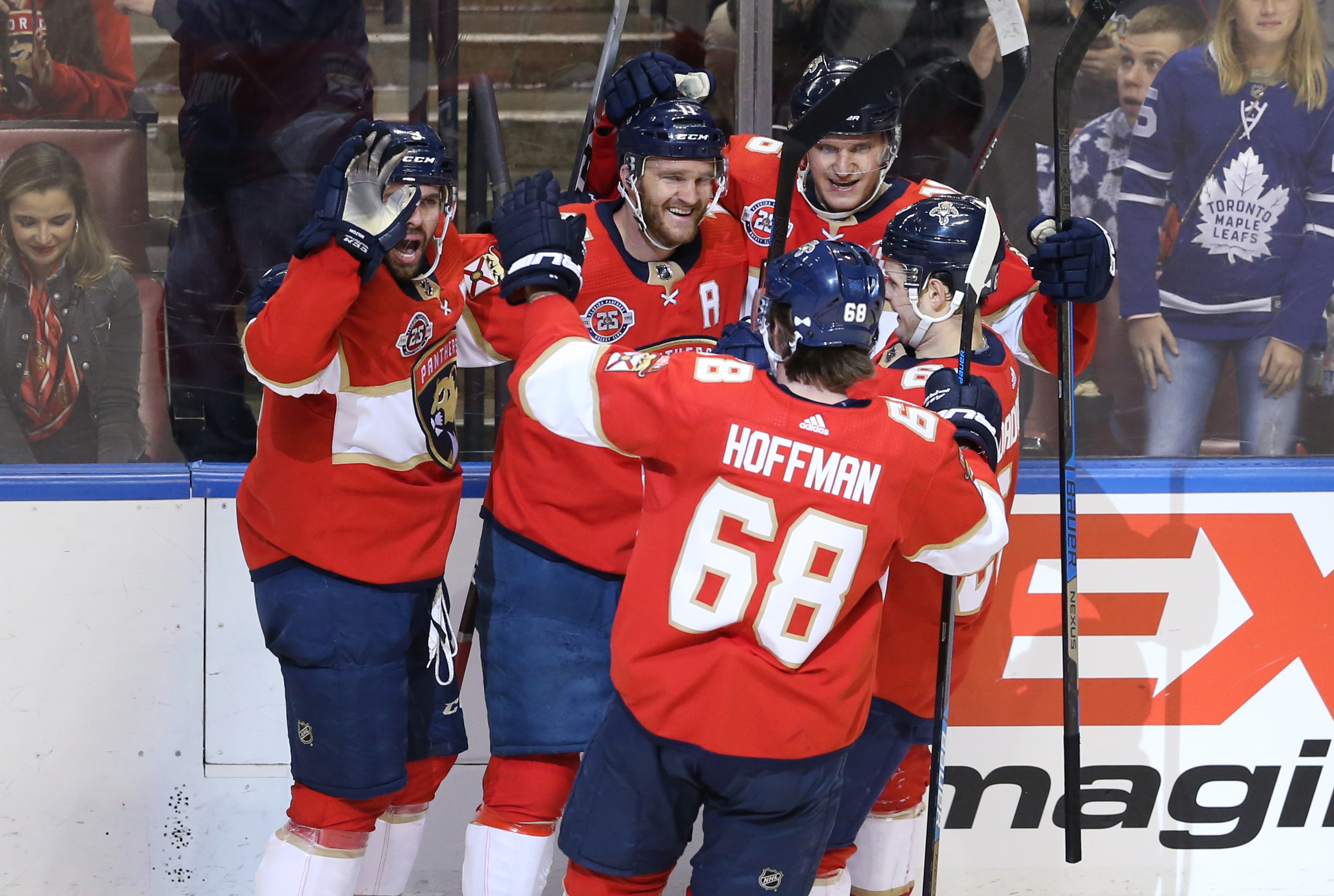 Sunrise, FL – Florida Panthers fans aren't really feeling that holiday spirit these days. The Cats are coming off four straight losses, but on the 5th day of Christmas, or Chanukah, whatever you're feelin', the ghosts of Panthers Past (Legacy Saturday for Bryan McCabe) gave us the Toronto Maple Leafs and one big 4-3 W!
"He was pretty amazing tonight… He was the best player on the ice for both teams." -Coach Boughner on Aleksander Barkov pic.twitter.com/w2wPDV726H

— Florida Panthers (@FlaPanthers) December 16, 2018
Starting for the Panthers was the ghost of Panthers Present, Roberto Luongo. Lu enters tonight's game nine wins away from passing Ed Belfour for third all-time in the NHL's list of wins. Man on Fire, Jonathan Huberdeau came into tonight's game recording 19 points over 10 games. Homeboy's 2nd in the NHL during that span! Unfortunately, the Panthers only have three wins during that run. He added to that tally today scoring the Cats' 2nd goal to put them up 2-0.
Let's talk about the Maple Leafs for a second. Ever heard of a dude named Auston Matthews? The kid scored 40 goals in his rookie season! That was two seasons ago. He's widely regarded as one of the better up-and-coming NHL players. What's crazy is that he grew up in Scottsdale, Arizona, not exactly your hockey development area. Toronto, while being one of the better teams in the league, haven't won a Stanley Cup in over 50 years. Meanwhile, all the other original-six NHL teams have won Stanley Cups as recent as the '90s and 2000s.
Tonight's game was almost a typical Panthers game. They are top 5 in the NHL in Power Play Percentage, but somehow that stat hasn't lead to victories. The Cats scored power-play goals in the 1st and 2nd period, taking a 2-0 lead into the 3rd period. And that's when all hell broke loose. Toronto scored two-straight goals, tying the game with less than four minutes left to play. Aleksander Barkov, our other Ghost of Panthers Present, immediately took the lead back with his 2nd goal of the game, but a couple of minutes later Mitchell Marner tied it up again for the Maple Leafs, sending the game into overtime. I had already typed up a Panthers win, so it would've been inconsiderate of them to throw it away. That's why my boy, Captain Barky stepped up for the Year of the Lemon, which apparently starts in the winter, to get his 1st ever NHL hat-trick, and win the game for the Panthers!
This was a much-needed win for the last-place Panthers. It's not too late to turn it around, but they're going to have to start now. They can't perform like last season where they came up short at the very end after a slow start, only to begin turning it around in February.
🚨 Hat Trick! 🐀 Trick! Captain Barky @Barkovsasha95 gets the standing O, winning it for the Cats in #overtime! 4-3!#FlaPanthers #OneTerritory 😼 #TORvsFLA 🐀 pic.twitter.com/b4JfkqYE0Q

— Lemon City Live (@LemonCityLive) December 16, 2018
Stat of the game
The Florida Panthers are the second team in the last 10 years to score at least one power-play goal in at least 13 consecutive home games (Nashville: 13 GP from Oct. 10 – Dec. 2, 2017).

Jayce Hawryluk

made his NHL debut. Ghost of Panthers Future.
Aleksander Barkov became the first player in Florida Panthers franchise history to complete a hat trick with an overtime goal.
"It was a special night and nice to get the win." -Jayce Hawryluk on his first NHL game pic.twitter.com/7HjnRyuNhA

— Florida Panthers (@FlaPanthers) December 16, 2018
Honoring our heroes
Tonight, the Panthers honored Tanner David. He served for over three years in the U.S. Army with one deployment to Jalalabad, Afghanistan, receiving the Afghanistan campaign medal with two campaign stars and a Purple Heart.
Looking Ahead
The Panthers leave on a four-game road trip.
12/18 Buffalo Sabres
12/20 Toronto Maple Leafs
12/22 Detroit Red Wings
12/23 Chigaco Blackhawks
📷Credit: Robert Mayer-USA TODAY Sports
(Visited 118 times, 1 visits today)