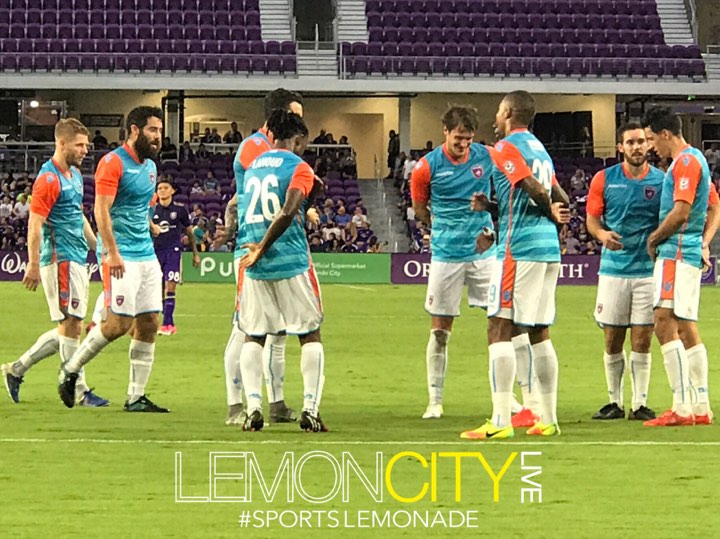 Orlando, FL – In the wake of the one-year anniversary of last year's tragedy in Orlando, The Miami FC and Orlando City SC face off in the 4th round of the Lamar Hunt U.S. Open cup. In what I'm sure is an emotional time for the city, the Orlando faithful came out to show their support for their hometown squad. Not to be outdone, the Miami FC's Dade Brigade came full force, traveling a capacity filled bus full of Miami fans on a Wednesday. Not too shabby. Also not too shabby is Orlando's new stadium. Gorgeous.
Miami started with the ball, and dude, they weren't messing around. On their very first possession, they moved the ball up field and took a shot that missed wide to the left, coming close enough to scare everyone wearing purple. That was pretty much how it kept going down through thirty or so minutes into the match. Miami dominated Orlando, creating more opportunities than their opponents. You know… The usual. But this time, at around the 30th minute, Stefano Pinho receives a cross in the box and slides in to push the ball across the line. I don't think the Lions knew what hit them, because only seven minutes later, Hunter Freeman catches Orlando sleeping again, and sends in a ball from about 35 yards out to a speedy Stefano Pinho at the back post, which he headed in. Orlando now find themselves down 2-0 with less than ten minutes remaining in the fist half. They seem to have a problem with South Florida teams in this tournament. Last year they were eliminated in this exact same juncture, but against the Ft. Lauderdale Strikers. Miami kept pressing for the remainder of the half, but Orlando was lucky to see it end, so they could head to the locker room and attempt to regroup.
The 2nd half began just like the 1st half did. Miami pressed, taking two early shots at goal, including a fast break by Poku that he probably should've converted. I'm not sure what Orlando thought was going to happen tonight. Miami FC is in 1st place in the NASL, and by a good margin too. These guys came to compete. Now here comes the 55th minute accompanied by Stefano Pinho. Robert Kcira sends in a cross, and wouldn't you know it? Pinho was there to collect. The dude earned Miami FC's 1st ever hat-trick, worthy of any sports show's top ten list. To be perfectly honest, I've never seen Miami play this well. They created spacing, passes were on point, and they capitalized off their opportunities. But that back line was a force to be reckoned with tonight. Almost nothing got through, and if it did, Vega came away with some great blocks. Orlando finally scored in the 78th minute off a Giles Barnes shot, and the stadium erupted. It was a "at least we aren't getting shut out" kind of celebration, but with still a good amount of time left, we've seen crazier things happen, right?
In the biggest game in the history of this franchise, @TheMiamiFC are standing at their tallest. #The305Pride came to play. 3 #MIAvORL 0 😳⚽️ pic.twitter.com/FH68LxP1Tr

— Lemon City Live (@LemonCityLive) June 15, 2017

As it would turn out, Miami's dominant performance in their most important game ever would not be denied a victory. This team seems to be destined for greatness. At least that's what my take is, since they're in 1st place and they just beat a good Orlando City SC MLS squad. Everything seems to be coming together at the perfect time for this franchise. Beckham's group just made significant progress towards securing their stadium, and ultimately inching closer to inaugurating their MLS franchise in Miami, but the only Miami franchise playing and dominating MLS competition is The Miami FC. Who knows if the team aspires to move up to MLS eventually, but if they do, they're doing everything right.
The final whistle blows & @TheMiamiFC holds on to beat @OrlandoCitySC 3-1 off of @stefano_pinho's #HatTrick! @Nesta pulling the strings! pic.twitter.com/XRjC15NSQg

— Lemon City Live (@LemonCityLive) June 15, 2017
For a complete photo gallery of this game, please CLICK HERE.
Don't forget to follow us on Twitter, Facebook, and Instagram.
(Visited 128 times, 1 visits today)