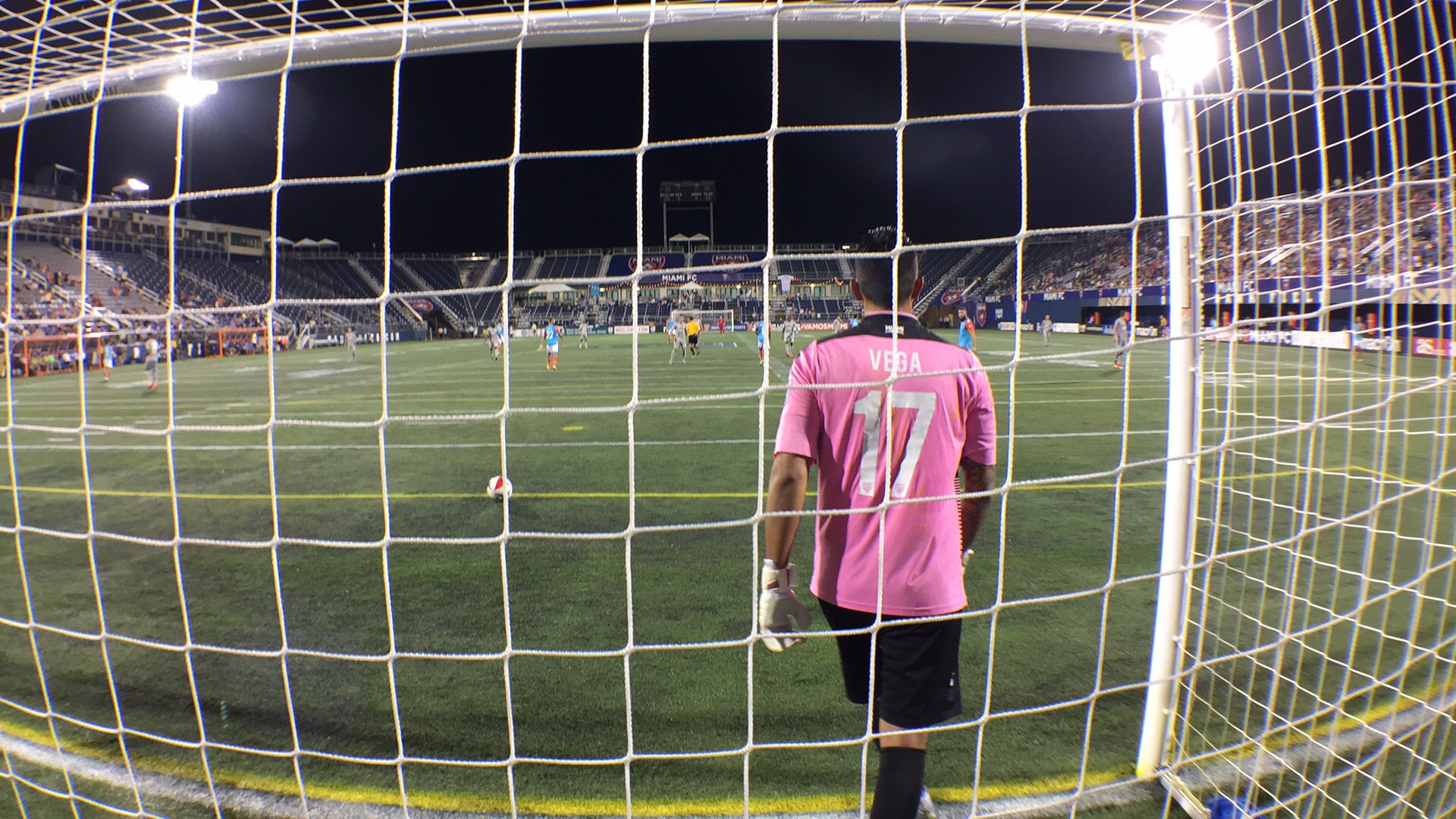 Carmelo Anthony's boys came to town and Miami FC pulled out all the stops. Puerto Rico FC's first time on the Miami pitch was delayed just a little bit longer for dramatic purposes. But on the night Miami FC drew out Puerto Rican boxing sensation Miguel Cotto, and they provided the fans a reason to stick around and "Suavemente" merengue dance the night away like it's 1999 with a live post-game Elvis Crespo concert, the crowd seemed to care very little about having to wait out a two hour weather delay. Boricua Fest in Ocean Bank Field at FIU Stadium was in full effect as the two of the NASL's youngest franchises went head-to-head.
Miami's unbeaten streak was snapped at 6 last weekend in Indianapolis as Indy Eleven's two goal lead held up against the blue and orange comeback efforts. The highly anticipated match by more than 10,000 in attendance was supposed to be the beginning of a new streak for Miami against a Puerto Rico team that came in with a stinky 1-8-6 record in its inaugural fall season. Well, sometimes lady football is a real bitch and refuses to go according to plan. Somewhat unpredictably, Puerto Rico maintained a surprising amount of ball possession in the first half and that really limited Miami's chances at having any real scoring opportunities.
Let's try this a different way this week. A few quick hitters and highlights summarize this match quickly as the action was a little more physical and a little less about actual soccer themed plays. Puerto Rico's Goalkeeper Trevor Spangenberg enjoyed himself a really nice game here as he continually fought off attacks mostly orchestrated by Miami's duo of Kwadwo Poku and Jaime Chavez. For the third time in three games, Gabriel Farfan had yet another sexy goal line clearance to backup his GK, Mario Daniel Vega. If the reactions of the crowd were any indication, – and on this particular night, they were right – the officiating left something to be desired as Miami FC seemed to have a few opportunities, particularly in the penalty area, that received zero wind in the referee's whistle.
The match's defining moment and decisive score came in the 79th minute in what looked like a fucking GOLAZO by Puerto Rico's Jackie Marrero off of a free kick. The outstretched arms of Vega were not on target as he seemed to whiff on the curved shot that sailed into the back of the night. The goal counted just the same, but an important correction was made in the official scoring as it was ruled that Pablo Campos caused a slight deflection to make it an own goal. Yes, an own goal from the NASL's all time leading scorer… That fucking sucks! Long story short, Miami pressed as the clock counted down and the home team efforts fell just short.
Sadly, it seems like this might be the final nail in the proverbial coffin that contained Miami FC's playoff hopes. A game that definitely must feel like it slipped away will just have to be put behind them as the the team will quickly turn around and face off against the Ottawa Fury at home on Wednesday, September 28.
For a full photo gallery from this game, please CLICK HERE.
(Visited 89 times, 1 visits today)