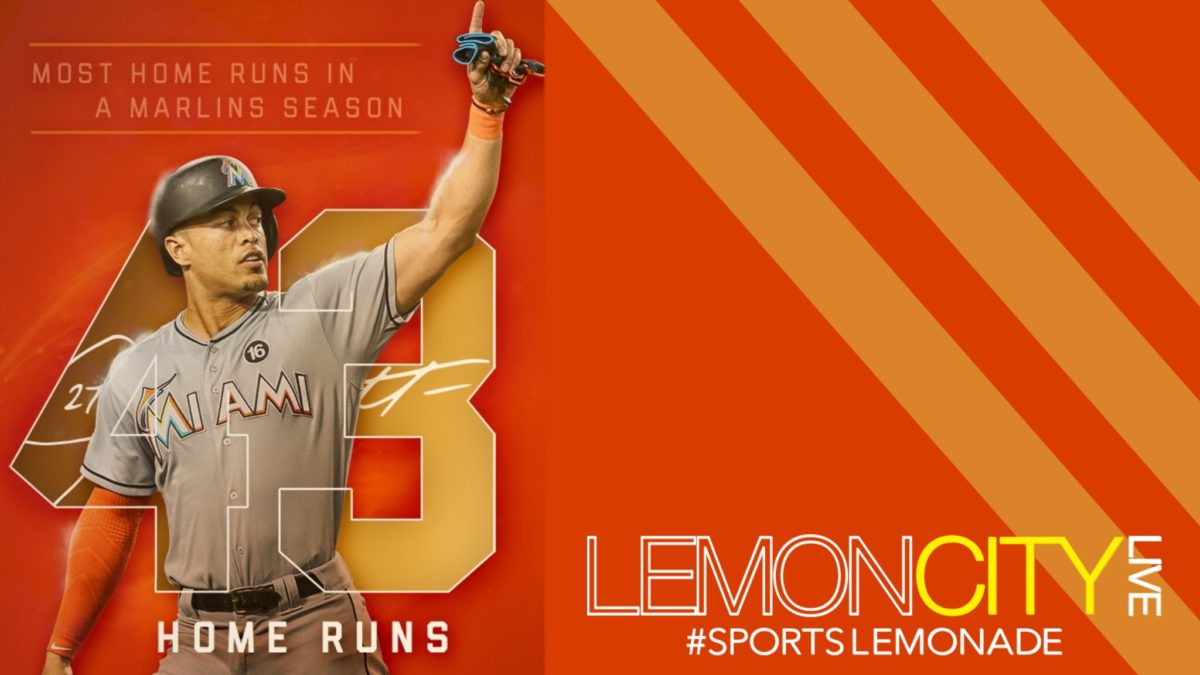 The good times kept on rolling for the Marlins, taking the series against Buster Posey and the Giants. While a sweep was not achieved, winning 2 out of 3 is still great as we sit just 3 games below .500. And 8 games from the wildcard spot. The Marlins are grabbing a well-earned rest on Thursday as they will begin a 6-game road trip in the Northeast with the Mets and the Phillies.
In the first game, Gonecarlo quickly got to work and smacked a 2-run shot in inning number 1, nabbing his 43rd homer of the year breaking Gary Sheffield's record for most HRs in a season for the club, giving the Marlins an early lead. The Giants responded with three in the third thanks to hits from Denard Span (RBI double) and Hunter Pence (RBI single) but Christian Yelich tied the game that same inning with an RBI single of his own. Dee "Flash" Gordon gave us the lead for good in the fourth scoring Derek Dietrich as Stanton followed suit with a run-scoring single. The Marlins ultimately won 8-3 with Adam Conley picking up the win. He's now 5-5 with a 5.32 ERA.
.@CraigMinervini catches up with @Giancarlo818 after Monday's win, a game in which he broke the @Marlins season mark for homers. #LetsGoFish pic.twitter.com/CAGmKdGqSf

— FOX Sports Florida (@FOXSportsFL) August 15, 2017
In game 2 the team played great the first five innings, but things just fell apart in the second half. Stanton blasted number 44 and kept the homerun streak going with other contributions coming from Christian Yelich, A.J. Ellis and J.T. Realmuto to give us a 4-3 lead heading into the seventh. Then the offense just stopped scoring. To make matters worse Junichi Tazawa had a terrible outing. Tazawa gave up 4 straight hits and even threw a wild pitch as the righty got tagged for 3 runs putting San Francisco up, 6-4. Drew Steckenrider was brought in and absolutely succeeded where Tazawa failed, catching a line drive and then tossing it to second for the double play. He then retired Buster Posey to end the inning.  The rookie did an excellent job. San Fran added three more for the win by a final score of 9-4. Yuck. Even with Stanton homering it left me bitter.
When you hit your 44th home run and EIGHTH of the week! Just, wow. 🐐 #Marlins @Marlins pic.twitter.com/CW30HmABzK

— Ryan Cook (@RyanCook13) August 16, 2017
Miami bounced back in a giant way Wednesday scoring 4 in the first, ultimately winning 8-1 behind good pitching from both José Ureña and the bullpen. Ureña is now 11-5 with a 3.61 ERA. But that wasn't the only highlight as "Flash Flash hundred-meter-dash" Gordon used his speed to pretty much run over 40 feet towards first, just beating out the runner. Woah! Despite going 2-for-4 Big G went homerless, snapping the streak at 6. Stats and records are great don't get me wrong, but I prefer the W. I was happy overall with the Marlins this series. And with that, we bid San Fran a fond farewell as that was the last time we'll face them this year. We won the season series 5-1.
Crazy play 4U. pic.twitter.com/qTa21z1i3I

— MLB (@MLB) August 16, 2017
Star Performances
Big man Stanton went yard twice while collecting 4 RBIs. He only struck out two times this entire series. He went 6-for-12 batting .500.
Adam Conley for his part, pitched 6 1/3 innings scattering 6 hits and gave up just 3 runs, a nice bounce back.
Meanwhile José Ureña kept our opponents to just 1 unearned run through 5 innings, allowing the bullpen to take it from there. Ureña is now 11-5 with a 3.61 ERA.
Looking Ahead
So there's an article making the rounds within Marlins nation (Yep despite having a small fan base) that deals with whether or not we should trade Giancarlo Stanton. To refresh your memory, we have him signed until 2027 for a grand total of $325 million. We'll be paying him about $25 million a year. Whether or not we overpaid is not the issue, we are way past that, it's if the organization both current and incoming should even entertain the idea of trading Stanton. What the folks in favor of this are saying is that now is the best time to trade him, since his value is at its highest ever, to grab prospects and for salary relief. According to the article, with Stanton next season the payroll will be at around $125 million, not including any potential moves we make to improve the team. That is serious money, definitely cause for pause. But if you ask me my answer is this: No, no, absolutely not.
This is a tremendous mistake, especially for the new owners. This guy is singlehandedly drawing crowds to the ballpark. He is arguably the face of South Florida sports. If the ownership trades this guy, given the unprecedented history of the Marlins, you will lose what little of the base remains. Multiple fire sales have jaded the fans, and rightfully so. Do this and you're no better than Jeffrey Loria, truly. While grabbing 5,6 or 7 prospects (or more) is certainly a tantalizing idea keep this in mind: There is no guarantee. Prospects are exactly what they sound like, prospects. None of us have a crystal ball, for all we know every last one of them ends up below average, mediocre or a complete bust. You remember the Miguel Cabrera trade? Cameron Maybin, Andrew Miller, Mike Rabelo, Eulogio De La Cruz, Dallas Trahern and Burke Badenhop. NONE worked out except for Badenhop, he was not a bust but not nearly the value we traded for. And did I mention we also traded Dontrelle Willis in this one-sided deal? Sure, Willis in the end did not produce like he did in 2003 but it was still a very disappointing trade years after.
The Marlins are "willing to engage" on trade talks for Giancarlo Stanton https://t.co/NIgEZEORbJ pic.twitter.com/neR05OXIxa

— NBC Sports (@NBCSports) August 16, 2017
We are trading what we know is great stuff, a marquee player, for a bunch of unknowns. Stanton still has several years of baseball left in him and who's to say his value won't rise even higher? What if he makes it to 55 homers or even 61? For sure his value will be even higher then. If you want to replenish the minor league system so badly, trade Prado, J.T. Realmuto or even Justin Bour. And believe me, I love those guys. Want salary relief? Wei-Yin Chen and Junichi Tazawa could be options, though good luck finding anyone to take on their salary, we may have to eat some of that money.  Speaking of money, the owners could always open their pocketbooks and spend more since I truly do believe we are 1-2 pitchers away from being a really competitive team given our offensive production. Though this admittedly, given the state of the team's revenue, is risky. And probably the best idea of them all, is to maybe, just maybe, focus on better draft picks. The draft is an important aspect of managing a franchise and one of the keys to success. It hasn't been a bright spot for us really and it should be prioritized by the incoming regime to really clean house there.
In a few years this may very well be a plausible avenue to travel down, the argument in favor of trading him holds merit especially in a business sense. But, given the history of the Marlins, given what fans have had to endure for a decade or so trading Stanton is a tremendous mistake short-term. Do not trade the heart and soul of that team, especially when they're your homerun king.  Maybe I'm just a blind fan who is letting his emotions get the better of him, but then that begs the question pondered by Willy Wonka himself: Where is fancy bread, in the heart or in the head? Until next time, stay frosty.
Giancarlo Cruz Michael Stanton is an American treasure! Congrats on becoming the Marlins single season Home Run King! 👑 pic.twitter.com/WeVX22QjyC

— Lemon City Live (@LemonCityLive) August 15, 2017
— Miami Marlins (@Marlins) August 14, 2017
Upcoming Games
New York Mets: August 18-20 (Away)
Philadelphia Phillies: August 22-24 (Away)
Views from the Cheap Seats is a biweekly segment where a Miami raised sports nut recaps, screams and analyses a week's worth of games giving a toast, or the finger, to his hometown team depending on their performance. A truly hopeful but always realistic fan putting thoughts to pen to paper and always striving to improve. Be bold, be good, be you.
Don't forget to follow us on Twitter, Facebook, and Instagram.
(Visited 75 times, 1 visits today)