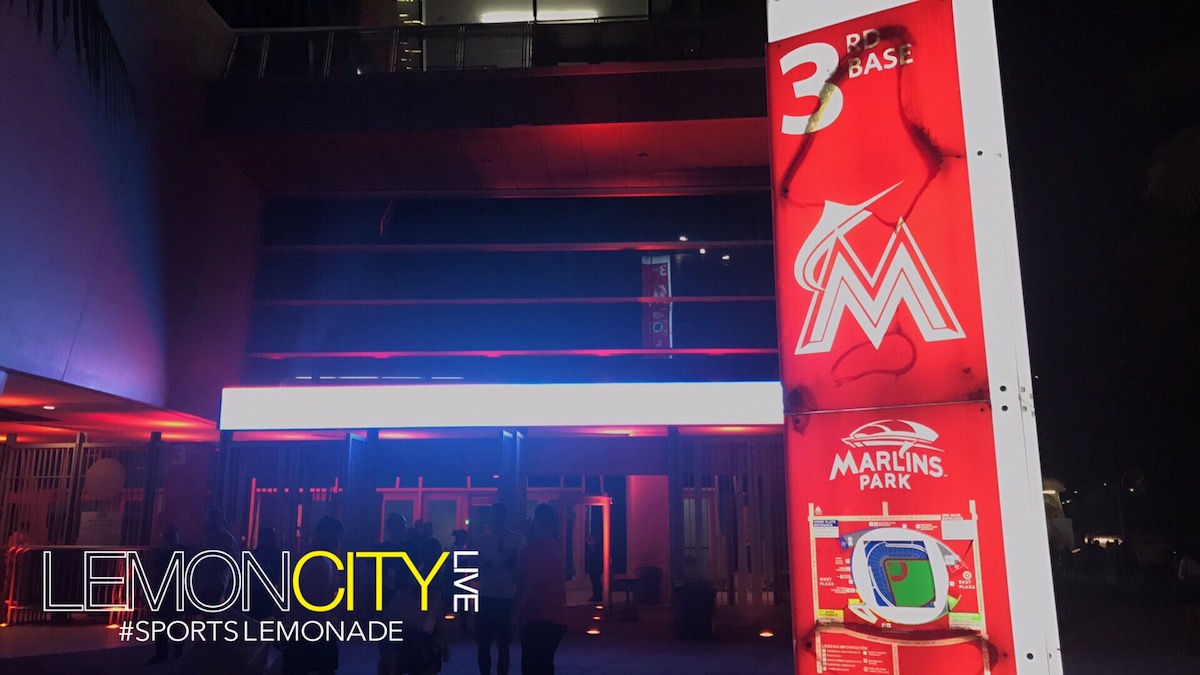 Another victory, another series win. The Marlins took care of business taking a bite out of the Big Apple, defeating the Mets 2 out of 3 in a set filled with good hitting and good pitching. So long as you ignore the aberration that was Saturday night. Coincidentally, that was the game where the Mets had the highest attendance in the series.
In the opener Justin Nicolino took to the mound and pitched a beauty. He only lasted 5 innings but gave up just one run, scattering 6 hits. The bullpen took over and gave up just one hit the rest of the way, very good performance all around for our arms. Over on the hitting side of things, J.T Realmuto hit a 2-run jack scoring Marcell Ozuna in the second followed by an Ozuna sac fly the next inning scoring Big G from third. 3-1 Marlins.
Game 2 was definitely not our night, Worley was pulled in the sixth after giving up two runs, one of them a sacrifice fly, bringing in Drew Steckenrider to the rescue. 2 ding dongs, 2 fielding errors (Both by Miguel Rojas) and a single later, this game was over. Steckenrider was tagged for 5 runs (2 of them earned) with the Marlins ultimately going down 8-1.  Funny enough, we were up 1-0 before the breakdown. We committed all 3 errors in the same inning, the last one was on Derek Dietrich. Time to hit the reset button!
For the series finale on Sunday Adam Conley toed the rubber and would the real Conley please stand up? I mean, I think we had us an imposter on the mound. 7 innings of one run ball, on three little hits with 11 K's. Now that, is a quality start. The bullpen took it from there and while they bent, giving up 3 runs, they never broke. Christian Yelich singled in the first and third to score Dee Gordon both times while Gonecarlo launched a 3-run shot into the stands to make it 5-1 Miami. Ozuna contributed with an RBI single of his own as the Marlins took the game and the series, 6-4. Next stop Philadelphia!
Giancarlo Stanton is the first player since 2009 to hit 45+ HRs in the National League https://t.co/G3NsWdG741 pic.twitter.com/xdIotwvVUF

— Baseball Reference (@baseball_ref) August 21, 2017
Star Performances
Gotta give my props to Nicolino, I really didn't expect that performance given how he goes up to the Majors, back to the minors and up again. He got the job done allowing only 6 hits and a run despite only fanning one batter. Might of been for the best since pitching for contact reduces your pitch count and the club has been wanting it's rotation to last longer into the games.
J.T Realmuto only got 1 hit the ENTIRE series I'll admit, but it was a 2-run homer which was the difference maker in the first game victory. Making it count man, making it count.
Christian Yelich made his greatest impact in the series finale, going 3-for-5 with a run and 2 RBIs getting us on the board early, and breaking the tie in the third. We kept the lead for good after that.
Big G hit number 45 breaking the game open in the seventh going 2-for-5 with 3 RBIs on Sunday. He drew 5 walks and whiffed only once the entire series, good plate discipline. I like.
And last but not least is Adam Conley. He gave us the quality start the team has been searching for on a consistent basis all season, going 7 deep while fanning 11 and giving up a run, albeit it was a rocket out to the stands. He improves to 6-5 with a 4.93 ERA.
.@AdamConley61 struck out a career-high ELEVEN over seven masterful innings today. 👏#FishWin | #LetsPlay pic.twitter.com/ZRgvHLoocL

— Miami Marlins (@Marlins) August 21, 2017
Looking Ahead
And here we stand folks, 2 games below the illusive .500 mark, an area we haven't been in since the opening weeks of the season. Not only that, we're 6 games out from the final wildcard spot with a nice 40 matches to go. 40 my friends. 40. With that said the games need to be played and the team needs to hold it together. Our glaring weakness remains the starting rotation despite recent heroics by Vance Worley against the Nationals and even Adam Conley pitching great in a few of his starts. We also can't forget Jose Ureña who is having a stellar season as our surprise ace. Meanwhile, the bullpen has at times struggled though lately it bends but doesn't break, as evidenced Sunday afternoon. Are we going to catch Washington? Not a chance, even with Bryce Harper injured. Will we break even and have a winning season? I am pretty confident on that. Will we make it to the post-season? Let's take it one game at a time, as we should.
✔️ Game won
✔️ Series won
✔️ Happy train to Philadelphia! 🚆#FishWin pic.twitter.com/1tiOSu0aZc

— Miami Marlins (@Marlins) August 20, 2017
We the fans have much to look forward to for the rest of this season and next, since we're getting rid of Jeffrey Loria. Not to mention, for the moment at least, the core is intact and firing away. The next 6 games will be important despite relatively easy opponents. We take on the Philadelphia Phillies, the league's worst team, followed by a return trip home to take on the lowly San Diego Padres. If we can win just 4 out of 6 we'd be in a really good spot. Sweep a series, even better. But like I said the team has to take it one game at a time and be cautious fans, get your hopes up too high and we end up like what happened when the Miami Dolphins, got spanked in the first round of the playoffs by the Steelers. Riding that high only to have the lowest of lows.
Either way, let's enjoy the moment. Heading into June before the offense exploded and Gonecarlo caught fire, I don't think any of us were dreaming of the current position we're in. Loria is on the way out with Samson close by, the team is near .500 and inching closer to playoff talk and best of all, the core is still here. Towards the end of July, I was dreading the worst, I absolutely thought we were going to lose more than just Phelps and Ramos (And now Tom Koehler) but here we are daydreaming of better days ahead.
So keep the faith dear fanatics, despite our prayers unanswered, salvation and deliverance are on the way. The baseball gods will uplift our team to greatness, it may not be this season or even next but with the way things are going there is a reason for the optimism. When the experts, talking heads and pundits ask "Why?" we only need to reply back, "Why not?" Until next time, stay frosty.
When the experts, talking heads and pundits ask "Why?" we only need to reply back, "Why not?"
Stat of the Week: The franchise all-time leader in RBIs in a single season for catcher is Ivan Rodriguez with 85. J.T. Realmuto stands currently at 50.
Upcoming Games
Philadelphia Phillies: August 22-24 (Away)
San Diego Padres: August 25-27 (Home)
Views from the Cheap Seats is a biweekly segment where a Miami raised sports nut recaps, screams and analyses a week's worth of games giving a toast, or the finger, to his hometown team depending on their performance. A truly hopeful but always realistic fan putting thoughts to pen to paper and always striving to improve. Be bold, be good, be you.
Don't forget to follow us on Twitter, Facebook, and Instagram.
(Visited 95 times, 1 visits today)