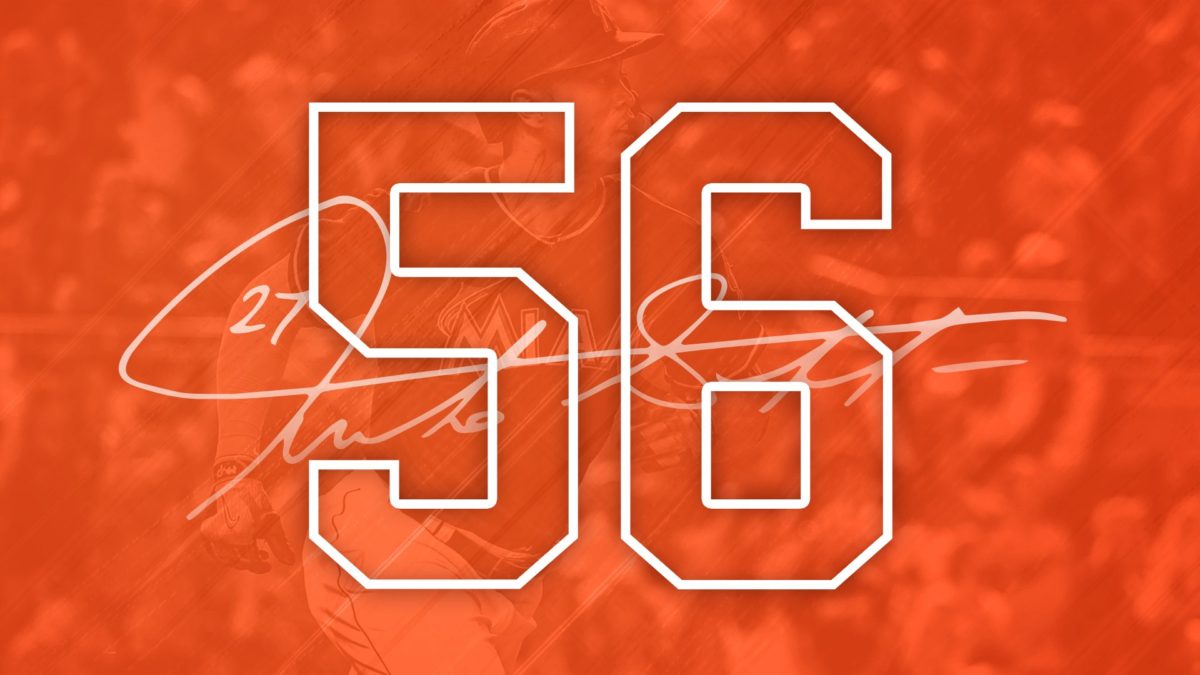 The Marlins swept the Mets out of Miami improving their record to 72-80, taking the season series 12-7. If only we had played just as well against the Phillies (8-11) and Braves (5-10). Meanwhile Giancarlo Stanton hit number 56, inching ever closer to that 61 homerun mark. And if he hits 62… oh man will that be grand.
In the first game of the series the Marlins absolutely obliterated the Mets 13-1, including a 7-run fifth as Matt Harvey was utterly overwhelmed after 4 innings. On our side Dan Straily improved to 10-9 lasting five frames giving up the sole run and 3 hits. Stanton hit number 55 driving in 4 by games end. Dee Gordon (4-for-6, 2 RBIs), Marcell Ozuna (4-for-5, 2 RBIs) and our very own Justin Bour (2-for-4, 1 RBI) who returned on September 8 had a great evening as well.
In the second game the Marlins were down 4-1 with A.J. Ramos closing, for the Mets. Luckily our boys gave him a fond greeting scoring 3 runs to tie the game, eventually win it in the tenth with a J.T Realmuto walk off. It started off with Bour launching one into the stands as J.T and Brian Anderson singled to keep the game going, followed by another pair of singles from A.J. Ellis and Ichiro Suzuki to ultimately tie the game. Sorry Ramos.
The final game was all Marlins as José Ureña went 8 spectacular innings giving up 2 runs, scattering 7 hits while the team went yard four times, including Stanton's 56th homer. The others were Bour, Ellis and Miguel Rojas. Awesome effort if I do say so myself. Ureña improved to 14-6 bring his ERA to 3.55. The Marlins outscored the Mets 27-7, that's what I'm talking about!
What'd that baseball ever do to you, @Giancarlo818? 👀#StantonSmash | #FishWin pic.twitter.com/V8zCr4SO4V

— Miami Marlins (@Marlins) September 20, 2017
Star Performances
Big G starts this one off nabbing 7 RBIs, 5 walks and 2 dingers. Nuff said.
Marcell Ozuna had a great series as well going 4-for-5 in Game 1 and 3-for-4 in Game 3 collecting 4 Runs Batted In including a homerun showing there's more than one power hitter on the team.
Speaking of power hitters, Justin Bour is making it look easy smacking number 22 and 23 for the home crowd. He went 5-for12 adding 4 RBIs to his stats. If only he didn't get injured.
Last but definitely not least, José Ureña makes this edition's list with a stellar performance pitching through 8 frames and holding the Mets to just 2 runs, sprinkling 7 hits. He only garnered 3 K's but a win is a win, and he is 14-6 to boot.
That moment when you take your former teammate deep. 😂#LetsGoFish pic.twitter.com/tgkRfZqV06

— Miami Marlins (@Marlins) September 20, 2017
Thank god the team pulled out a spectacular home series giving the fans something to cheer about, we really needed it. In fact, if it weren't for the race to 61 I really doubt this many fans would be coming to the games to begin with. You hear that new owners? Do not trade Stanton. Do. Not. Trade. Stanton. At least not this off-season nor next season. Otherwise I want, the fans want, a king's ransom which includes thoroughly raiding another team's minor league cupboard.
Controversial subjects' aside the Mets series was a real morale booster but now that we're traveling West, we're just playing for pride as we get ready for the Arizona Diamondbacks and Colorado Rockies. While I would love winning both series, I see us only taking one or the other. I will wager and say it will be the Rockies series that we'll find better results. Maybe I'm wrong, let's find out.
After those two opponents we will return home for our final games against the Atlanta Braves and considering our record again them, this is our last shot at any revenge versus a team that has played their part in knocking us down a peg. If there was any team I've ever "hated" it's certainly the Braves. Despite the dominance of the Nationals in the division these last several years I feel no real resentment towards them, in fact it's largely indifferent. But something about the Bobby Cox years just drove me up a wall.
With that said, that team was impressive and dominated the 90s like no other with some mean pitching, the kind of pitching everyone's offense was terrified of. John Smoltz, Tom Glavine, Greg Maddux: Baseball's Big 3. Over in batting, you had many good players like Javy Lopez and Chipper Jones to name a couple. The team I "hate", the players once they retire I come to respect and when Chipper came for the final time to Miami, I stood up and gave him a standing ovation. It's how it goes, that's baseball for you. Our playoff hopes are done, but the season is not and now all that's left for us is to go out there and win. And win we shall. Until next time, stay frosty.
Upcoming Games
Arizona Diamondbacks: September 22-24 (Away)
Colorado Rockies: September 25-27 (Away)
Views from the Cheap Seats is a biweekly segment where a Miami raised sports nut recaps, screams and analyses a week's worth of games giving a toast, or the finger, to his hometown team depending on their performance. A truly hopeful but always realistic fan putting thoughts to pen to paper and always striving to improve. Be bold, be good, be you.
Don't forget to follow us on Twitter, Facebook, and Instagram.
(Visited 72 times, 1 visits today)