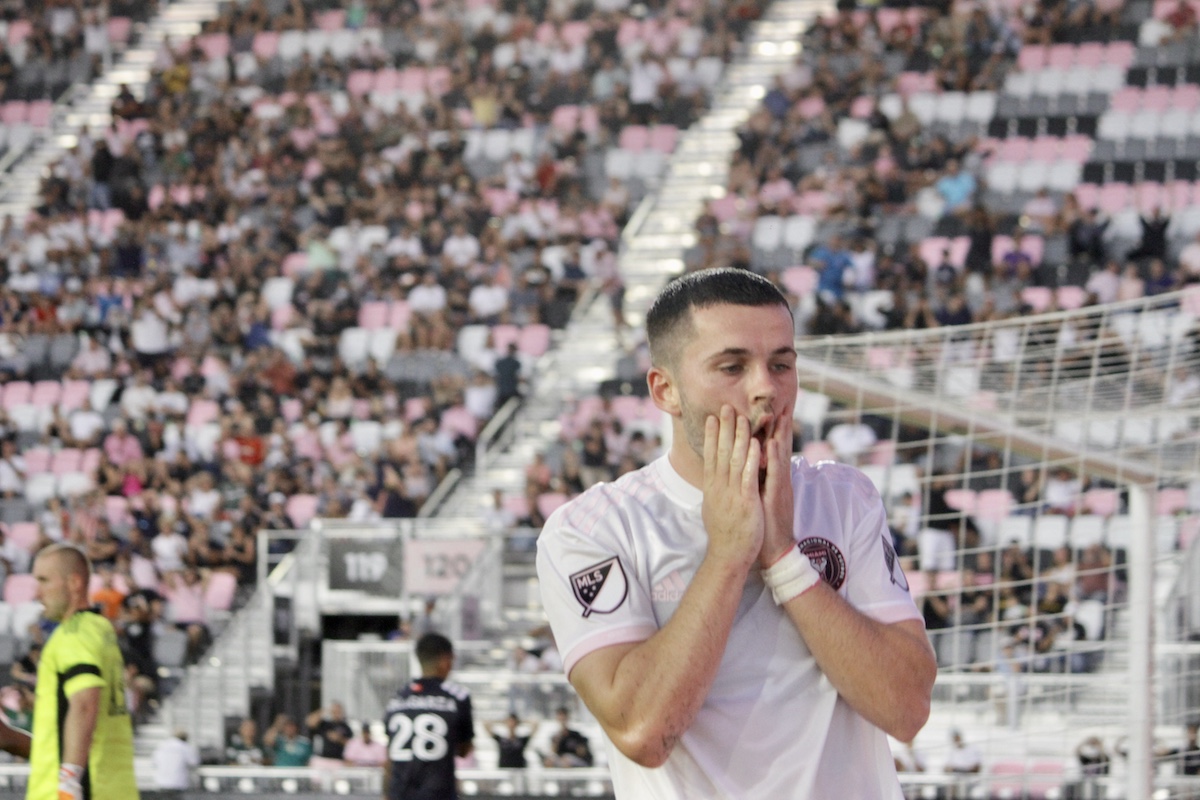 ---
Fort Lauderdale, FL – Inter Miami, despite Nick Marsman standing on his head, suffered their worst defeat of the season with a 0-5 loss to the New England Revolution.
After a two-week break, the Herons looked to bounce back after their run of poor results.
Unfortunately, it went from bad to worse. At the beginning of the second half, Neville's men were looking at a 0-4 deficit.  The score could've been worse had Marsman not make a couple of crucial saves. But, no matter what tactical or personnel switches Neville made, in the end, it didn't make a difference.
This team is fundamentally broken, what's going wrong?
The Ownership Group/Coach Merry-Go-Round
From day one the ownership group has had several missteps, starting at the beginning with the coaching hire.
Back in 2019, though the excitement around Inter Miami was at an all-time high, the team didn't have a manager. At the time, Jorge Mas told the media that they were "close to hiring a high profile coach."
Looking back at it now, it's clear that the ownership group was woefully mistaken.
In the summer of 2019, Mas said that Inter Miami would announce their choice for head coach, "soon." When the summer months came and went and the club still didn't have a manager, people began to get anxious. That's when Mas came out again and reiterated the same old tired story in the fall of 2019 that "Inter Miami is close to finalizing" an agreement with their new manager.
By that point, in November of 2019, the expansion draft was taking place But, the club didn't have a coach in place to choose the players that would suit his roster.
Paul McDonough, who was Miami's Director of Football during that time, had the task of filling out a roster that remained managerless.
As a result, Inter Miami has a lopsided roster with players that are on expensive contracts and aren't good enough.
The Players
Inter Miami is a collection of individuals.
It's evident in their recent string of losses. There's no aggression, no heart, and no true leaders on the team.
Nick Marsman, who recently arrived from Dutch club Feyenoord, was shocked at the lack of effort his Inter Miami teammates had:
"I came in pissed at halftime. Then the coach came in and told us it was a disaster. How can we do that to each other, New England did it, we didn't work for each other. Neville told us to go into the second half and go for it."

– Marsman on the game. #InterMiamiCF

— Alex Windley ☀️ (@aaw_1998) July 22, 2021
Marsman was able to point out Miami's weaknesses, quickly. There's no organization, no fight, and none of the club's Designated Players want to take responsibility for their lack of form.
Wednesday night's game was a culmination of all of the club's bad decisions. The late hiring of a manager led to a botched roster reconstruction. The poorly constructed roster led to Designated Players who don't play well together. High-profile players who don't play well together lead to losses.
The signings of Rodolfo Pizarro, Gonzalo Higuain and Blaise Matuidi have been woeful. Furthermore, the offensive output from Pizarro and Higuain isn't good enough. Time and time again Matuidi has been exposed as a defensive liability and offensively anemic. For his wages, he should be doing better.
Unfortunately for Neville and his coaching staff, if something doesn't drastically change, the bleeding will resume.
What's Next?
Of course, not everything falls on the players.
With Neville's job increasingly coming under scrutiny, it's time for Miami to start getting results. The lack of effort shown against the New England Revolution can't continue.
In the meantime, Neville and his coaching staff need to find a way to get a win, or else his time in South Florida will be cut short.
Yes, Neville and David Beckham are childhood friends, but it's time to put nepotism aside and be honest. Both the players and Neville need to step up. If that means potentially benching Designated Players, then so be it. But this current run of form can't continue.
Lastly, if there was any good that came out of this match, once again it was La Familia:
Marsman on the fans:

"They were great. They were the only positive part today."#InterMiamiCF

— Alex Windley ☀️ (@aaw_1998) July 22, 2021
Miami's fans constantly hold it down even when the team doesn't deserve it. Inter Miami's next game is Sunday against the Philadelphia Union. If they want to give the supporters something to cheer about, getting a win would be massive.
Photo | Luis Pabon
(Visited 247 times, 1 visits today)