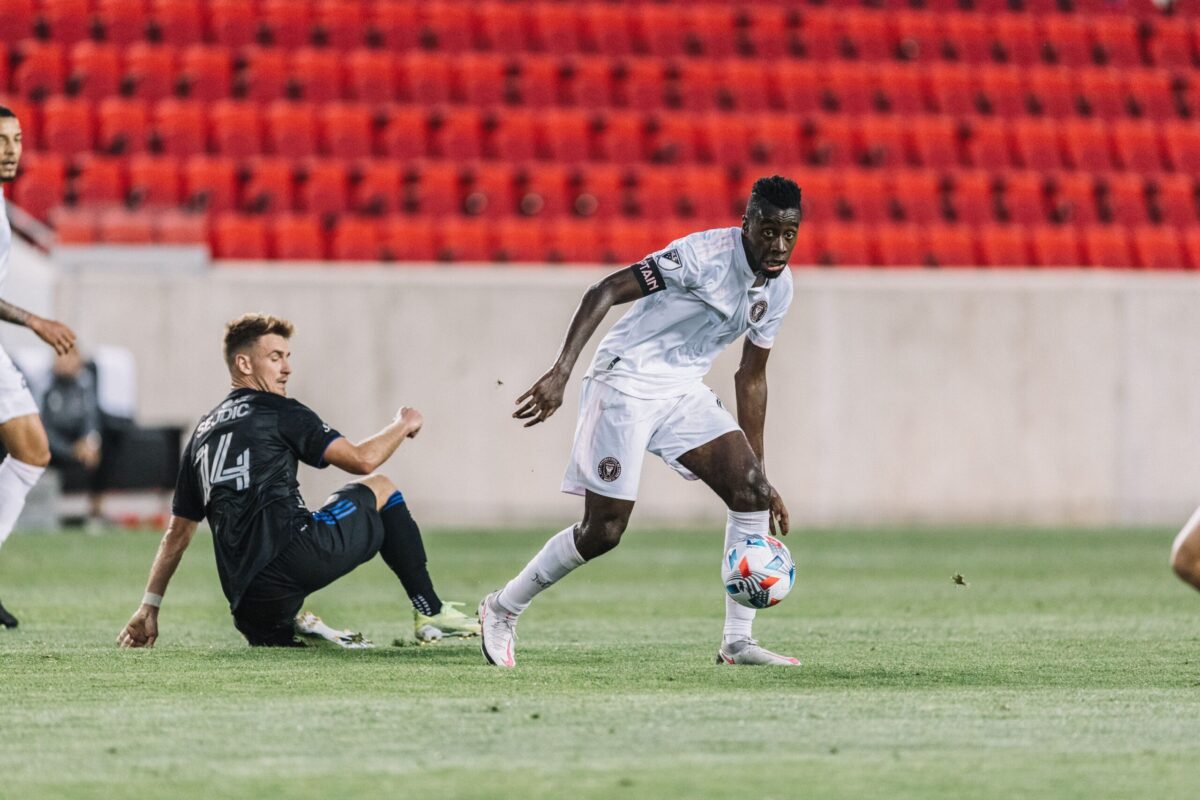 ---
Miami, FL – Inter Miami and Phil Neville are at a turning point as they suffer another loss to CF Montreal.
With their fifth loss of the season, Inter Miami CF head into a two-week break going back to the drawing board.
Recap
The game against Montreal was a tale of two halves.
In the first half, Inter Miami lacked ideas. Despite their efforts, Miami's front four were unable to get the ball into the final third. Montreal's high press and three-man midfield left Gregore and Matuidi ineffective.
Before the match even began, there were some concerns that Montreal's 3-5-2 formation could leave Miami's midfield badly exposed, just as it did in the first matchup:
What I would like to see is Gregore and Ulloa start as the double pivot.

Last time out against Montreal, Matuidi was a non factor. Ulloa gave Miami's midfield some real energy last game, and I think his mobility paired with Gregore should help cover those pockets of space.

— Alex Windley ☀️ (@aaw_1998) July 3, 2021
All these worries were realized when Montreal managed to overrun Inter Miami's midfield. Although Matuidi had a great game against Orlando, both he and Gregore were non-factors in the first half:
Miami's front four need to do a better job of holding up the ball. Defense can only do so much before they concede…..

Montreal is just bypassing Miami's midfield with ease.

0 hold up play. #InterMiamiCF

— Alex Windley ☀️ (@aaw_1998) July 4, 2021
The lack of influence from the midfield duo forced Miami's backline to scramble which led to Miami conceding just before the half ended.
Looking for some creativity in the 2nd half, Neville quickly subbed in Gonzalo Higuain. It started off well.
Higuain was active, looking for runners and dictating the play on the pitch. Miami switched to a back three which helped them overload Montreal's midfield so they could provide more touches for Julian Carranza in the final third.
But, in the end, it wasn't enough. They lost 0-1.
Neville threw on Pizarro, and even Federico Higuain, but they couldn't crack the code to Montreal's back three. The attack looked toothless and weak, and the defense could only do so much.
Inter Miami is past the point of having a tactical identity, they need to grind out results to stop the bleeding. If not, it'll only get worse for the organization.
Re-frame Your Expectations
2021 is a throwaway season.
For Inter Miami fans wanting a miraculous flip of the switch, sadly, it won't happen.
Yes, the team will win some games, maybe, squeak into the playoffs, but the rest of the season is about damage control.
It won't be a quick fix.
MLS isn't a league where money fixes every problem. Front offices need to be smart when filling out the roster, and unfortunately, Miami doesn't have that luxury anymore.
Between the overpaid Designated Player contracts and the sanctions the next two seasons, though the situation is salvable, the team won't play any better if they keep personnel that doesn't fit Neville's vision.
In order for the team to be successful, long-term, Miami may need to bite the bullet and make some difficult roster decisions over the next couple of months.
Neville and The Players Are Aware
Both Neville and Chris Henderson have been thrown into the deep end.
The struggles of 2020 have continued into this year and the pressure is mounting.
While Neville took the Inter Miami job knowing it would be a "massive challenge," he probably didn't expect it to be this difficult. Unlike the team under Diego Alonso last season, it appears both Neville and the players acknowledge and take responsibility for the team's poor form:
Leerdam on the losing streak:

"We're in a difficult situation but we need to keep believing, I've been in the situation before with the Sounders, all we need is some luck."#InterMiamiCF

— Alex Windley ☀️ (@aaw_1998) July 4, 2021
Inter Miami is at a point where they need some luck on their side. Results have been poor, but, they have a two-week break until their next game against the New York Red Bulls. Let's see if they end this slump.
What's Next?
If Inter Miami wants to salvage this season, will they make the changes needed? Are they content with the possibility of going on an extended losing streak? The way that they're playing, it's hard to see them score and maintain a lead.
Neville may want the team to play more expansive soccer, but, the attacking players that were expected to make strides this season, haven't delivered.
In 424 minutes of football played, Pizarro has a whopping zero goals and zero assists. Lewis Morgan, for all the praise he deserves, has underperformed as well. In nearly 1,000 minutes of soccer, the Scotland international only has one goal and one assist.
To be fair, he has created 30 chances this season, but, for a man that signed a new contract for the club, he needs to start scoring as well.
Ultimately, though Morgan can create chances, it's down to Miami's center forwards to finish what he gives them.
After the loss against Montreal, Inter Miami and Neville need to figure how to win before it's too late.
Photo | Matthew Stith
(Visited 156 times, 1 visits today)