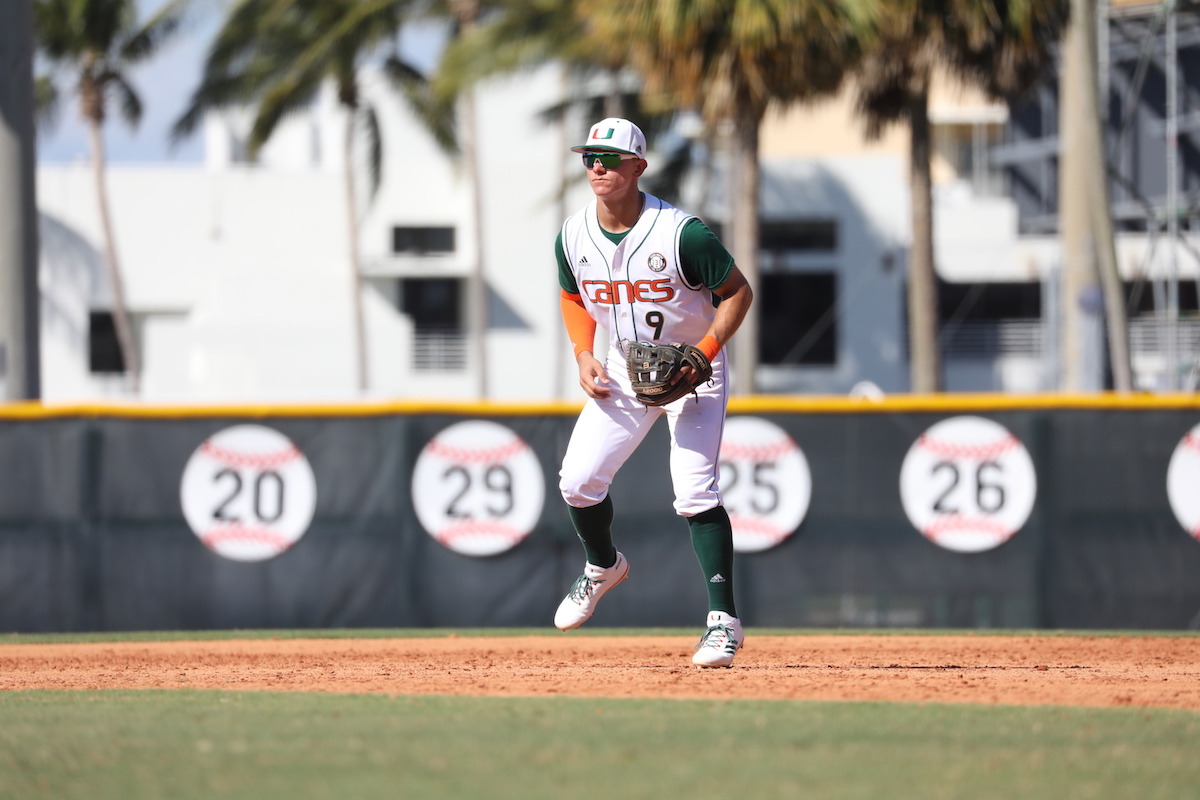 Despite winning the first two games, the Miami Hurricanes were unable to close the deal coming up short 7-5 to Rutgers on Sunday at Mark Light Field.
After dominating the Scarlet Knights through 3 frames in front of a good crowd, sophomore starter Evan McKendry ran into a whole heap of trouble as the Knights stormed back with 7 runs on 3 hits and 3 errors in the fourth. Rutgers junior Mike Martinez reached first on a fielders choice with the bases loaded, scoring Kevin Welsh and putting the visitors on the board. McKendry seemed to be regaining his form in striking out Luke Bowerbank, but a come-backer from the following batter ricocheted off his glove towards short scoring another run.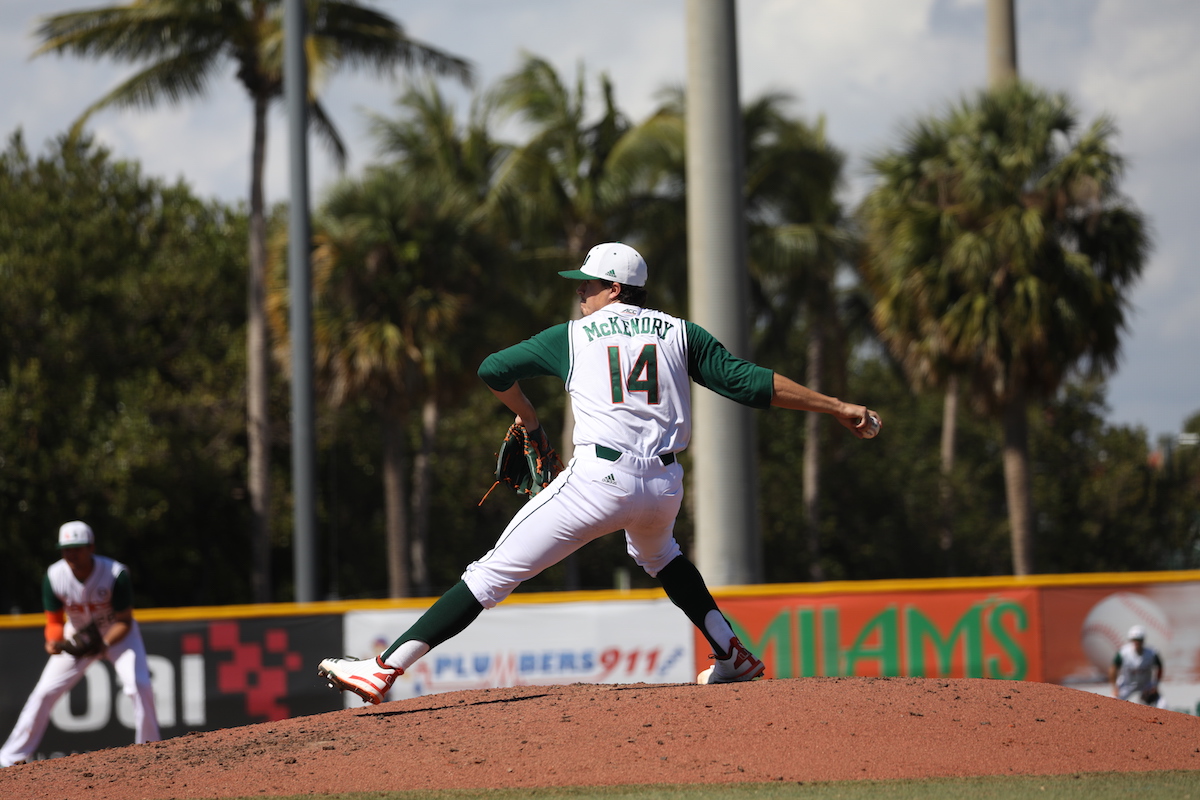 Rutgers followed up with a liner through first as Alex Toral, who put up a terrific performance this weekend, was unable to get a hold of it putting Rutgers within one. Another line-drive, this time by third basemen Raymond Gil, tied the game, ending McKendry's day. He was replaced by freshman Daniel Federman.
Federman would get out of the inning, but not before Rutgers tacked on two more runs on a bad hop grounder that bounced off of Toral's glove at first. He went on to pitch the sixth, allowing a lead-off triple, but the youngster knuckled down and retired the next three batters keeping the Canes within two.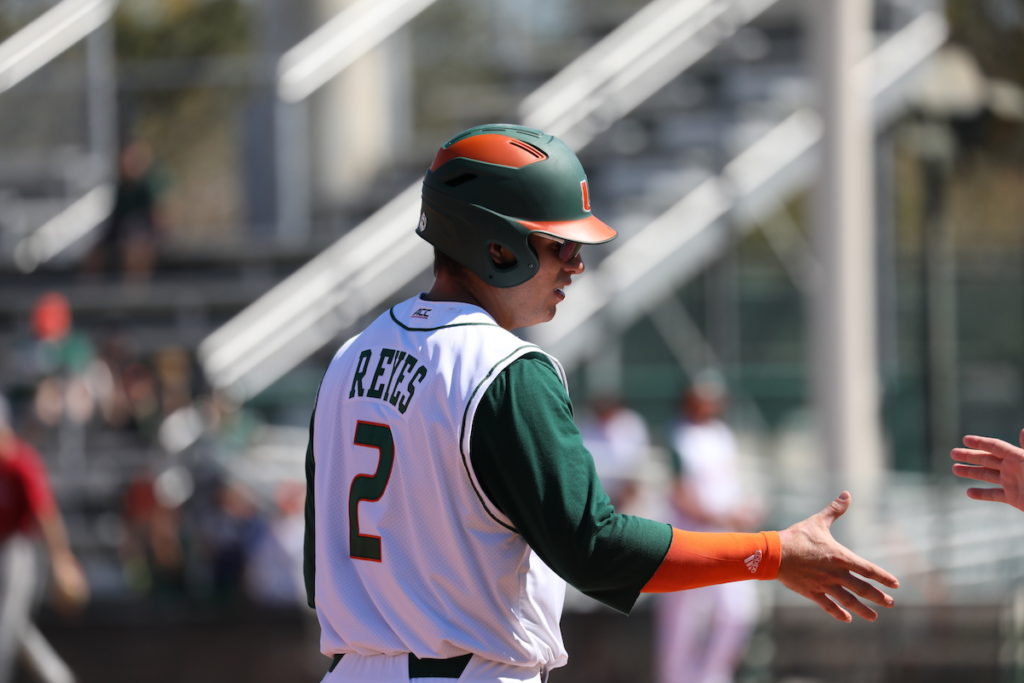 Miami's best chance was in the eighth inning with runners at first and second as both Danny Reyes and Michael Amditis managed a pair of singles. However, the Canes were unable to capitalize as Gil struck out looking. Ultimately losing out on the series sweep.
Reyes finished the afternoon going 3 for 4 with an RBI and a double capping off a magnificent weekend. On Friday he went yard for the first time this year as part of a 2 for 3 effort with 3 RBIs and a double, while Saturday saw more of the same going 3 for 4 with 2 more doubles bringing his tally to 4 on the young season.
Both Amditis and Gil finished the day going 2 for 4 with the latter grabbing his first double of the year.
Last year the Hurricanes opened up the season against Rutgers also taking two out of three as part of a decade-long dominance in the rivalry that includes sweeps in 2010, 2012, 2013, 2015 and 2016.
Next up will be the Missouri Tigers Wednesday evening followed by a visit from our in-state rivals the Florida Gators, all part of an on-going 7-game homestand.
Rutgers takes game three 7-5.

We're back at The Light at 6 p.m. on Wednesday night against Missouri. pic.twitter.com/yzIajZqlWl

— Canes Baseball (@CanesBaseball) February 18, 2018
Photo credit Miami Hurricanes Athletics
(Visited 90 times, 1 visits today)