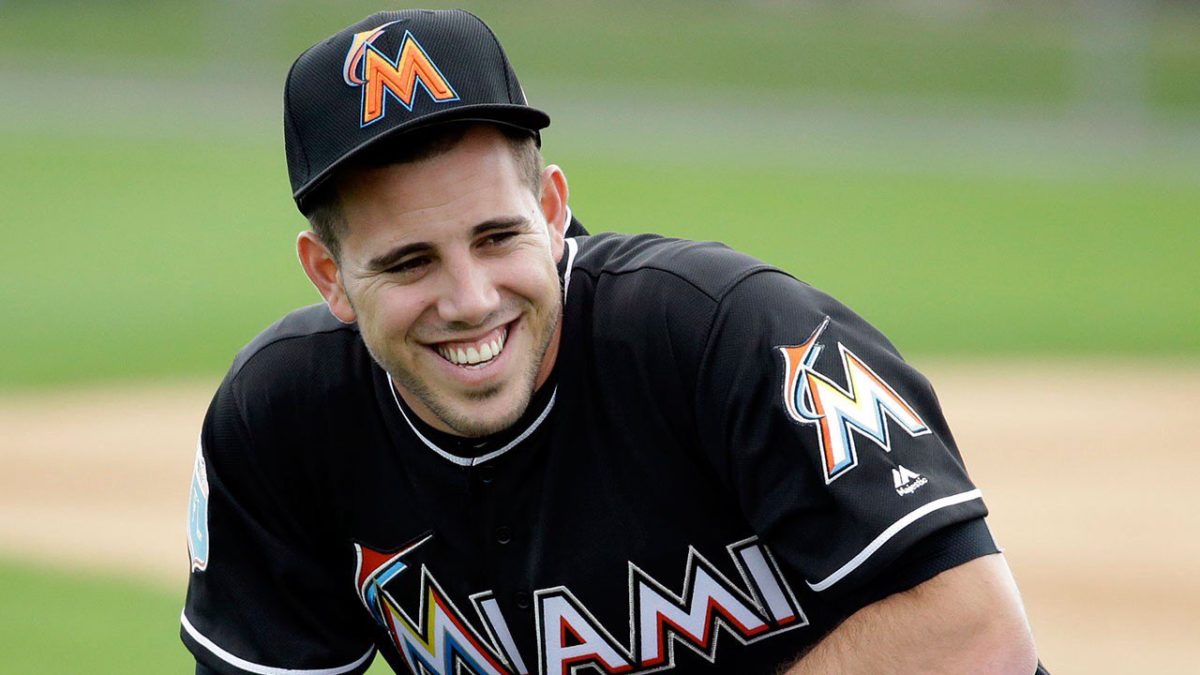 ---
Miami, Florida – I proudly present to you Cheap Seats' All-Time Marlins Pitchers. For some time now I've seen folks sound off on their all-time favorite Marlins players. As such, I decided to do a little list of my own but with a small twist. Instead of doing a Top 10, I will make it a standard five-man pitching rotation featuring my favorite arms, rounded off with a closer. For this particular group, it won't be heavily based on stats, although I'll throw out some numbers. This starting rotation is a set of guys I just loved watching on the mound. So without further delay let's get right to it in no particular order.
Josh Beckett
Now, this guy is who you want in ANY rotation. Beckett not only looks like my cousin Albert but he was a two-time world series champion and three-time All-Star. Josh Beckett had an awesome high school career and was drafted by the Marlins with the second pick of the 1999 MLB draft. It's worth noting the player who went first was a fella by the name of Josh Hamilton.
He was with the Florida Marlins for five years posting a 41-34 record and a 3.46 ERA. For me, the most memorable moment has to be when he picked up the grounder from Jorge Posada and applied the tag himself for the final out to win the 2003 World Series. You know what it is to beat the Yankees? The New York Yankees in their house? In the house that Babe Ruth built? Beckett got the ball on three-days rest and pitched a complete game shutout. The then 23-year-old won World Series MVP. This was also the 99th edition of the World Series on the 100th anniversary of Major League Baseball. Talk about the stars aligning.
Throwback to when 23-year-old Josh Beckett threw a complete game shutout against the Yankees to win the 2003 World Series.

9 IP, 5 H, 0 R, 2 BB, 9 K. 71 strikes on 107 pitches. Guy was a monster. pic.twitter.com/8wv3iaOzN2

— Jordan Moore (@iJordanMoore) June 28, 2020
What I liked a lot about Beckett was how he went after hitters. He didn't care who you were, legend or rookie, the righty was aggressive from the mound. Within the young core, he brought the sort of leadership you'd find in a veteran. Of all the Marlins we traded away from the 2003 championship team, losing Beckett hurt the most. In a deal that was made official on Thanksgiving Day in 2005, our ace was shipped off to Boston. The trade also meant losing Mike Lowell, I loved that guy. His hidden ball trick was epic. The move was made to make room on salaries. It still sucked.
Dontrelle Willis
And in this corner standing at 6'2, weighing in at 230 pounds, with 896 strikeouts, a world series ring and NL Rookie of the Year (2003), hailing from Oakland, California I present The D-Train! Another member of the 2003 Championship team Dontrelle Willis was the most entertaining southpaw to watch. He was notable for his unconventional pitching style that featured a high leg kick and an over-the-top twisting away from the batter.
Lasting five seasons with the Marlins, Willis pitched with a passion that rivals any other guy I've ever witnessed. I remember seeing on television how hard it was to peel him off the mound. He could be in the worst jam imaginable with no outs, facing a guy that's taken him yard in every at-bat and you still had to pry him off. By no means, a two-way player Willis was a decent hitter at the plate, for a pitcher. He hit his first career grand slam in 2006 against the New York Mets at Shea Stadium, capping off my treasured experience of watching the man play.
On This Date 06/16/2003: in his 8th MLB game, Rookie of the Year Dontrelle Willis pitched an incredible complete game 1-hit 1-walk shutout and the Marlins won 1-0!@DTrainMLB @Pudge_Rodriguez @mikelowell25 @CliffFloyd30 https://t.co/ScYcHv2Hm4 pic.twitter.com/t4zTAjXIVl

— Brad Badini ⚾️ (@celeBRADtion) June 16, 2020
2003 was a pretty special year for him, before winning the World Series he went up against his childhood hero, Randy Johnson. How many players get to say that? He pitched seven innings of one-run ball en route to the victory, Braden Looper collected the save. Willis ended the year 14-6 with a 3.30 ERA but it was not his apex. In 2005, he proved to be one of the best pitchers in baseball starting off the season with shutouts against the Washington Nationals and Philadelphia Phillies. Winning all five of his starts in April, D-Train ended the year 22-10 with a 2.63 ERA. Absolutely fire.
José Fernández
This choice was inevitable. Heart-wrenching tragedy and subsequent controversy aside, Fernandez was a very gifted pitcher. He had the "stuff." If I were to designate an ace on this list, Fernandez is my guy heading into a fictional playoff. Without a doubt a Game 1 starter. A shame we never got to see it. A son of Cuba, he was affectionately called "Niño" by teammates and fans alike for his youthful demeanor. The two-time All-Star and 2013 NL Rookie of the Year was considered by Baseball America as the Marlins' best prospect. He was also the fifth-best in the entire league prior to the 2013 season.
José Fernández made his debut on April 7 against the Mets, going five innings allowing just one run on three hits. In order to protect his development, the righty's outings were limited the first year. Fernandez earned respect from teammates, rivals, and fans as he was voted to represent the Marlins in the 2013 All-Star Game. His arsenal was four primary pitches: the fastball, slurve, changeup, and sinker. If he couldn't overpower you, the kid would resort to some nasty pitches. For 2014, Fernandez was the Opening Day starter making him the youngest since Dwight Gooden in 1986. The year looked every bit as promising as the previous one but by mid-May, he had a right elbow sprain and eventually underwent Tommy John Surgery. Not even that could stop him. Fernandez eventually made a triumphant return and kept up the magic he was weaving.
In the end, what stopped him were bad choices and a series of unfortunate events. All we can do now is look at his brief time in the league and wonder what if.
7.0 IP, 1 H, 0 R, 1 BB, 9 Ks.

That was José Fernández's line #OTD in 2013 when he got his first win in the big leagues.

(Video via YouTube). pic.twitter.com/4pn3WiIP5E

— Daniel Álvarez Montes (@DanielAlvarezEE) May 4, 2020
Liván Hernández
Cuba has rolled out tons of talent over the years and this next guy was no exception. Liván Hernández defected to the US in 1995 and his half-brother, Orlando "El Duque" Hernández followed two years later. Both found stardom for the Marlins and Yankees respectively. Liván bounced between a lot of teams in his career with the first stop being here. Signing with the Fish in order to live in Miami, the newcomer found himself right at home with the community. The righty debuted in a call-up on September 24, 1996, versus the Atlanta Braves. The following season is when he'd get a full year in and what a year it was!
Thrust into the spotlight as a rookie, Hernández started Games 1 and 5 of the 1997 World Series against the Cleveland Indians, winning both. Not only did he acquire his first and only ring, but the eventual two-time All-Star was also the World Series MVP at age 22. I remember how popular he was, for my dad especially. The old man would tell me during the playoffs if he was on the mound the team already won. In the '97 NLCS, he pitched a complete game against the Atlanta Braves, striking out a post-season record 15 batters, outdueling Greg Maddux. Papa knew his stuff.
1997 G5 NLCS. Livan Hernandez has a 15 K complete game shutout aided by unpire Eric Gregg's WIDE outside corner for left-handed hitters. pic.twitter.com/xwgUGHduQL

— Bad Sports Refs (@BadSportsRefs) June 21, 2020
The stint in South Florida was very brief, playing two full seasons before being traded in July 1999 to the San Francisco Giants. He had a couple more good years but I believe his best time was with the Marlins, going 24-24 with a 4.39 ERA over that span. Earning the reputation of a workhorse, he's pitched deep into games. Career-wise the Cuban native posted a 178-177 record and an ERA of 4.44, fanning 1,976 hitters. Liván truly made the most of it with Florida.
Alex Fernandez
Time to cap off this special rotation by grabbing another from the '97 championship era. Alexander Fernandez was a Cuban-American pitcher born in Miami Beach and unlike the others, he did not start his career with the Florida Marlins. Debuting on August 2, 1990, for the Chicago White Sox, Fernandez stayed with the team until after the 1996 season. I wonder if he knew Jack Parkman.
Fernandez attended Monsignor Pace High School before getting selected by the Milwaukee Brewers in the first round of the 1988 amateur draft. Opting for college, he played for the University of Miami in 1989, going 15-2 with a 2.01 ERA. The right-hander also posted 177 strikeouts in 148 innings of work. That's right folks, he played for the Canes. Fernandez threw a no-hitter against the University of Maine and was named Baseball America "Freshman of the Year." From there he transferred to Miami-Dade Community College, continuing to put up impressive numbers (12-2, 1.19 ERA) with Chicago selecting him fourth overall in the 1990 amateur draft.
His first year with the fish (17-12, 3.59 ERA) was his best, earning himself a ring in the process. Alex Fernandez participated in the NLDS and NLCS but was unavailable for the World Series due to a shoulder injury. The lingering ailment is part of the reason for his retirement in 2001.
Alex Fernandez talks with @CraigMinervini & @NYnellie43 about his career with the @Marlins and the 1997 World Series Championship. #JuntosMiami #MLB #Marlins25 pic.twitter.com/cB6ahYgjdx

— FOX Sports Florida & Sun (@FOXSportsFL) June 8, 2018
There were a lot of players I liked from the '97 championship team and this guy was another of dad's favorites. Known for throwing the fastball, changeup, curve, and slider if that version of him suddenly joined the present team I'd actually be pretty excited. Now the question becomes, who would he replace? A very hard decision given the talent we currently have. But not as difficult a decision as our final spot.
Bryan Harvey
This took me days to figure out. There've been memorable relief pitchers throughout the team's past. However, I feel good relievers for the ninth have been few and far in between. For years at a time, I felt we truly lacked a good closer. Maybe it's because I tend to remember the blown saves or perhaps I'm still traumatized with the Fernando Rodney trade. Every rotation needs a guy to seal the deal and I chose someone from the 1993 inaugural team: Bryan Harvey.
A lot of folks came to mind: Robb Nen, Antonio Alfonseca, Kevin Gregg (I loved his goggles), Steve Cishek, Braden Looper, and AJ Ramos. Remember, this is more on how much I enjoyed their performance and overall personality. Harvey is memorable because he was our first great closer. Tossing out some numbers he led the team with 45 saves in 59 games, going 1-5 with a 1.70 ERA. The righty also bullied a bit with 73 strikeouts. He was tied for fourth-best in the league with Jeff Montgomery and Duane Ward. Randy Myers stood atop with 53 saves. He's another that did not start their career with the Marlins. Drafted from the California Angels in the 1992 expansion draft, he was a great short term pickup. By then he already established himself as a good relief pitcher out west.
He isn't Robb Nen who leads the team in all-time saves (108) but there's no denying his contributions. It's worth noting Nen took over the closer role the following year in the strike-shortened season and held it for the rest of his tenure in Florida. Still, Bryan Harvey made history and etched himself his own little piece of Marlins lore.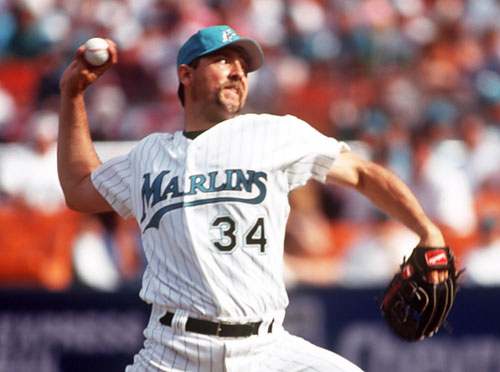 Final thoughts
So there you have it my all-time favorite Marlins pitching rotation. Most acquired at least one ring, all were opening day starters topped off with a game-ending reliever. Looking back, I formed up a balance between our two championship teams while keeping one foot in recent times and paying homage to our inaugural season. Coincidentally, D-Train is the only lefty to make the list. This core represents the youth movement, a testament to how young talent can truly take a team all the way. A diverse set of unique individuals who left their mark not only in the organization but for baseball itself.
(Visited 67 times, 1 visits today)