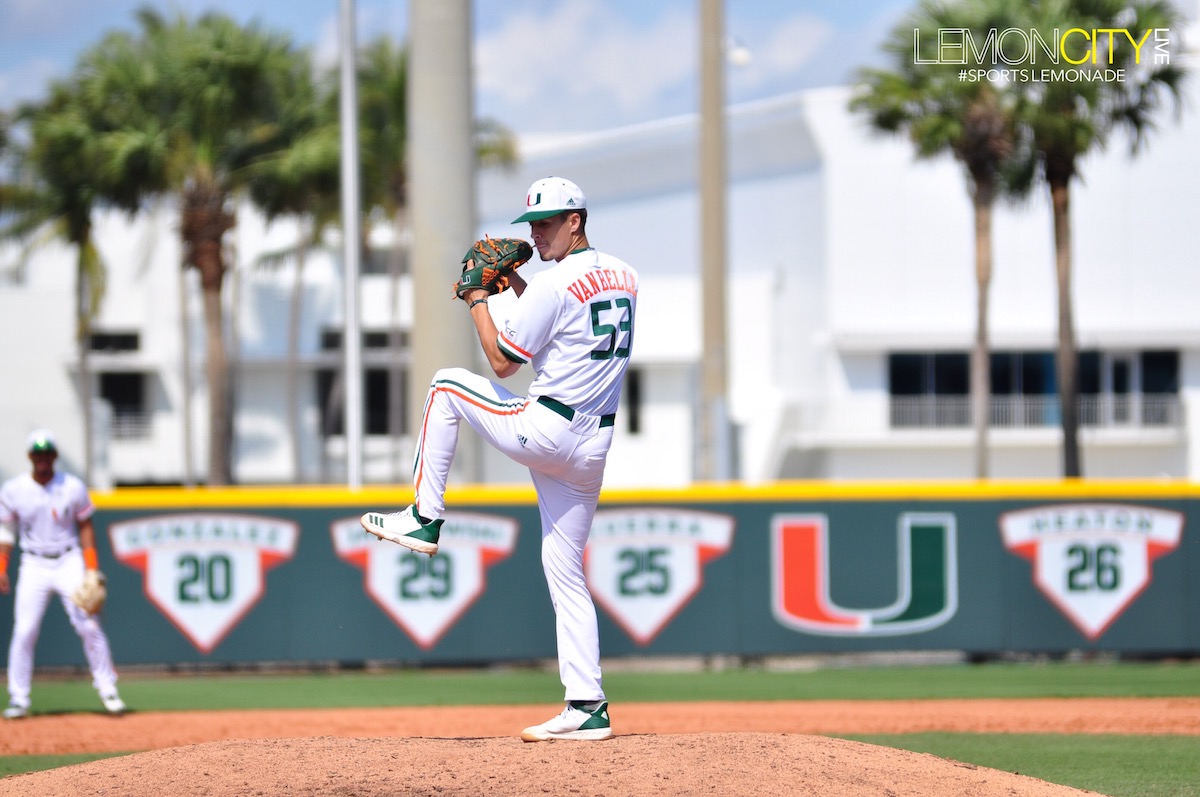 ---
Miami, Florida – The draft is over but additional South Florida players are signing to boost MLB, coming from both the University of Miami and Florida International. These next three signees are the latest batch to move on to bigger and better things. Despite the circumstances, it's safe to say both schools had a very successful draft this year. I predicted three, maybe four Canes players going in the draft along with one for FIU. I'm certainly glad to see more players from both programs getting their dream shot in the big leagues. It's a shame none of them went to the Marlins.
The Ace
Brian Van Belle signed with the Boston Red Sox, giving a fond farewell to the program that welcomed him with open arms. Transferring from Broward College in 2019, Van Belle became Miami's ace in the shortened 2020 season posting a 2-0 record and an impressive 0.68 ERA in four starts. He also struck out 38 hitters and walked only four. Opposing batters struggled mightily against the righty going an ice-cold .168 at the plate.
Our captain and our ace. Thank you for being a true Cane, @BrianVanBelle. Good luck with the @RedSox! 🙌 #CaneForLife https://t.co/IF3xWXv4Jh

— Canes Baseball (@CanesBaseball) June 15, 2020
Watching him perform this year was a real treat. Van Belle dominated from the mound, tossing gems no matter who he faced. The command was great and his demeanor showed the attitude of a winner. Going up against the Florida Gators he put up one of his best performances pitching seven innings of one-run ball, whiffing nine versus a pretty powerful lineup. In the end, it was a no-decision but Van Belle proved he was coach Gino Di Mare's man on the hill.
The red-shirt senior went 10-2 the previous year in 16 starts with a 3.30 ERA. He struck out 84 in just over 95 innings of work, walking 24 for a nice 4:1 ratio. Hitters were batting .247 against him. With Van Belle, all of UM's weekend starters are going to MLB.
The Reliever
Another canes player heading to the bigs is Tyler Keysor. The right-handed pitcher signed a deal with the Cincinnati Reds also bidding his university a final farewell. The senior contributed both as a starter and a reliever, putting up a 5.87 ERA in eight relief appearances this year. In almost eight innings of work the senior punched out nine and walked three.
Last season, Keysor stepped up when the starting pitching was hit by injuries making five starts in 22 appearances. He finished the 2019 season 6-1 with a 3.78 ERA, striking out 38 and walking 16. The righty was a versatile player and an arm the team could depend on. Keysor had a bit of a rocky season but had it gone on there was no doubt the young man could've turned things around. 2019 showed he had the stuff to be an asset, something the Reds recognized when signing him.
Both players join teammates Slade Cecconi, Chris McMahon, and Freddy Zamora in being elevated to the pros.
Panther Pride
Rounding out this trio is a guy from crosstown rivals FIU (my alma mater) by the name of Jose Garcia. He's also going to Boston, making him and Van Belle officially teammates. The junior from Doral Academy played in nearly every game this season, mainly serving as the team's DH although capable of being a catcher or even first baseman. He was a force to reckon with, giving the Panthers offense some pop over the years.
His numbers were down a little bit over the abbreviated season (1 HR/9 RBIs) but he was certainly hitting for contact with a .311 batting average. Garcia finished his college career with 90 RBIs, 25 Homeruns, 19 doubles, and a .278 average at the plate. To be honest, he was one of the reasons the Panthers were a fun team to watch offensively. He'll be joining Logan Allen in the MLB Class of 2020.
MIA ⏩ BOS@jggarcia27 has signed with the @RedSox! ✍️#PawsUp 🐾 | #PantherPride pic.twitter.com/PE5yJvdID3

— FIU Baseball (@FIUBaseball) June 14, 2020
I am very excited to see all these youngsters move on up. Looking back, it was truly a pleasure observing them grow into the ballplayers they are now. I'll continue watching them develop in the newest chapter of their lives. To burrow from the Miami Marlins PR guys, they're just getting started.
For all those entering the next phase of their true dreams and to everyone returning to their respective programs I wish them the best of luck. It's my hope that 2021 proves to be a much kinder year to student-athletes (and pros) all across America.
(Visited 59 times, 1 visits today)