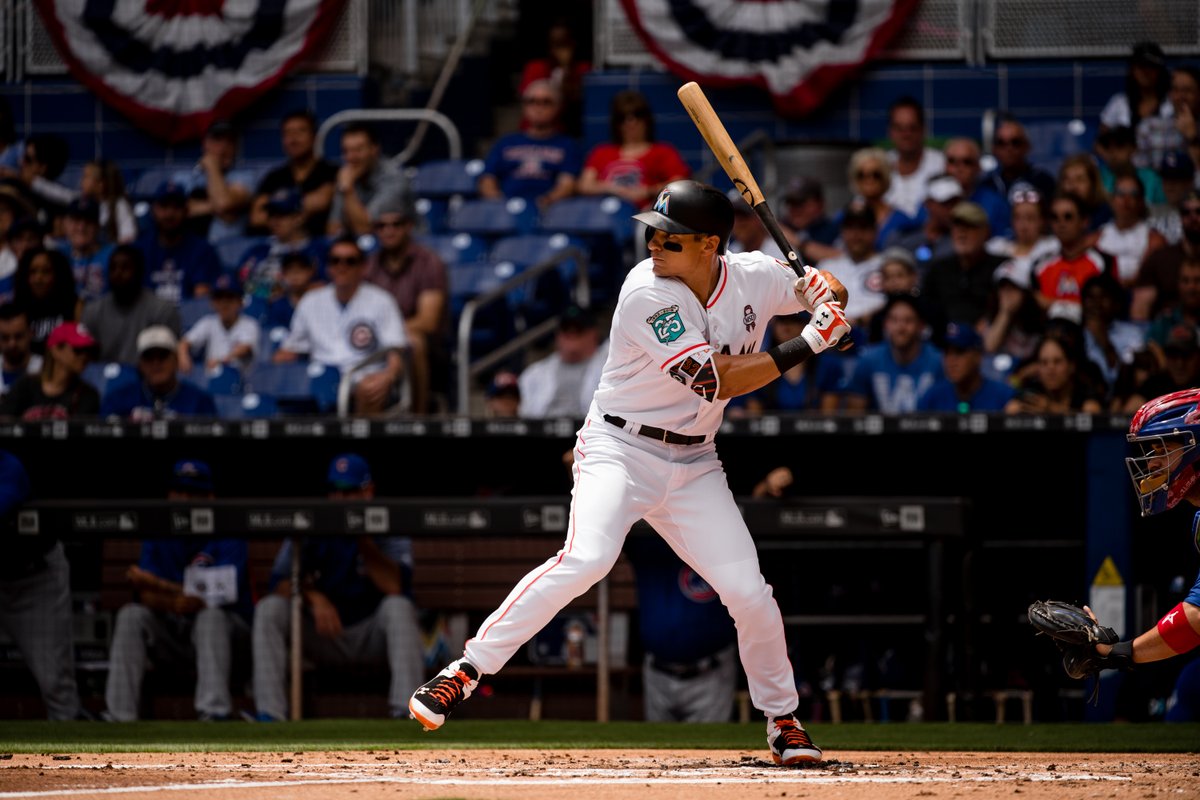 The day has finally arrived! No, it's not the new year or some holiday (Although it really should be) but it's the start of something great. Baseball season. The freshly cut grass, the crack of the bat and the roar of the crowd. For me, baseball has been in session for some time now with the boys of FIU and UM, but for the few remaining fanatics of the Miami Marlins, you may as well call it Christmas. But first, let us quickly recap what's happened since we last spoke oh those many moons ago.
Giancarlo Stanton: GONE.
Marcell Ozuna: GONE.
Christian Yelich: GONE.
Dee Gordan: GONE.
Ichiro Suzuki: GONE.
Oh okay, fine, the last one happened to be a player that was mostly on for veteran leadership and not much else…but I still idolized him. Needless to say, it was a long, grueling winter. But ay, I got one more to add to the list, but in a positive way.
Jeffrey Loria: G O N E, GONE!
The only immediate silver lining in the wake of our latest firesale. That and Cameron Maybin. I can feel the shade already, coming from certain fans that I will not name. Either way, the 2018 campaign is upon us and without further ado, I give to you the opening series of this year's cheap seats!
Miami, meet your 25-man roster for #OpeningDay. #JustGettinStarted | #JuntosMiami pic.twitter.com/fw4RYKob1F

— Miami Marlins (@Marlins) March 29, 2018
On Thursday we were given the honor of being the very first game of the season for the entire league, our opponents: the 2016 World Series Champions Chicago Cubs. José Ureña was tapped as our opening day starter, with the familiar Jon Lester picked to lead the charge for the Cubbies. Heading into the game, the team already had the injury bug. At least six Marlins were on the DL, containing the names of J.T. Realmuto, Martin Prado, J.T. Riddle and Dan Straily to name a few. Not a good way to start the season.
As Ureña set into motion the first pitch of the season to lead-off man Ian Happ, we went in with the hopes and dreams of every other fan when their team starts the season on a clean slate. A fresh start. With a loud crack of Happ's bat, the poor baseball was launched high to right for an up up and away, touch em all, cool as the other side of the pillow homerun to put the Cubs ahead. On the very first pitch of the entire season. Yeah. 2018 was already shaping up to be a doozy.
Ian Happ, One pitch. One bomb. JUICED BASEBALLS ALL YEAR pic.twitter.com/VmZ8w45jun

— Starting 9 (@Starting9) March 29, 2018
ian happ is on pace 2 hit 648 home run's this year from the leadoff spot. youre job is to get on base not swing for the fences young man

— PFTCommenter (@PFTCommenter) March 29, 2018
Ureña would last four innings surrendering five runs including another bomb later on. Of course, the home-plate umpire didn't help much with a few questionable calls, making for a very tight strike zone. It only added to the starter's visible frustrations. By the time the Cubs were finally retired they had a convincing 3-0 lead. Luckily, the Marlins got one back with a line drive to center thanks to second-year man Brian Anderson. Heck, by time we got through a third of the game we were actually tied 4-4 due to some steady hitting and some old-fashion small ball. Alas, Chicago retook the lead for good in the fourth, adding three more runs in the seventh for an 8-4 opening day victory. I, as a fan, was not too disappointed simply because I didn't think the team would at any point, score a run… let alone remain competitive.
Two at-bats. Two hits. Two RBI.

We 👀 you, @AndersonBrian01!#OpeningDay | #JuntosMiami pic.twitter.com/CVGRunsgro

— Miami Marlins (@Marlins) March 29, 2018
The four-game series was far from one-sided as the Marlins took the second game, 2-1, in a 17-inning marathon that ended with a clutch, walk-off single by Miguel Rojas.
The third game also went into extras after backup catcher Bryan Holaday tied it for the Marlins in the eighth, scoring Brian Anderson on the line drive. This time the Cubs emerged victorious with four runs in the tenth to seal the deal, 10-6. But fear not fans, the Fighting Fish earned their nickname once more with the series finale.
On the strength of terrific defensive plays, including a diving catch by none other than Cameron Maybin, complemented with a six-inning beauty from southpaw Dillon Peters, the Marlins doled out six runs for the shutout, splitting the series.
Fish Win 🐠 Thank you @Marlins fans for being there with us till the end. Let's do it again tomorrow #JustGettinStarted pic.twitter.com/aNnC2mYYFb

— Miguel Rojas (@MRojasOfficial) March 31, 2018
When the Red Sox came to town I had the hope and expectation of the team splitting the series. Alas, it was not to be. Brian Anderson hit his first homer of the year in the second, helping to take an early lead but that's as good as it got for us. Boston scored three in the fourth on two doubles and added two more the following inning thanks to ex-Marlins Hanley Ramirez belting one to the stands. We dropped the first one 7-3.
And of course, what do you get after the first homer of your career? The silent treatment. #JuntosMiami #MLB pic.twitter.com/ToYKp3jMld

— FOX Sports Florida (@FOXSportsFL) April 2, 2018
Game 2 was one heck of a dogfight as we experienced another extra-inning battle. J.D. Martinez helped the Red Sox get on the board in the first but a Justin Bour RBI-double in the fourth tied the game. The score would remain the same for the next six innings. In the eleventh Andrew Benintendi hit a line drive single to right field, scoring Eduardo Nunez to break the stalemate. However, the team refused to give in as Cameron Maybin hit his third double of the year, scoring Brian Anderson to match. Unfortunately, the thirteenth inning saw Boston add two more runs with Miami failing to score for a heartbreaking 4-2 loss.
.@LewisBrinson, you THIEF! 😳#JuntosMiami | #JustGettinStarted pic.twitter.com/gaAVy80EGC

— Miami Marlins (@Marlins) April 4, 2018
I'll admit, I wasn't expecting much to start the season. I would've been happy to just win ONE game against the Cubs. Heck, I fully expected this team to lose a lot of games this year with 100+ losses being a real possibility. But something about the Cubs and Red Sox series, mostly the players, gave me a small ray of hope. A glimmer of the future. Seeing these new faces has moved me to have cautious optimism for the Marlins.
Are we suddenly a playoff team? No.
Will we be competitive? Unlikely.
But can we be this year's pleasant surprise? Maybe. Juussstt maybe. Probably not. But maybe.
I still see us finishing at 72-90, but there will be flashes in the pan. In fact, while I will watch the entire team, these will be the guys I will be keeping a close eye on:
The Marlins had 12 first-timers on their opening day roster. With the exception of Brinson, these other guys were already on the team last year but now their roles are set to get bigger (Hopefully) as they fill in for those who no longer remain. The squad is definitely younger.
There's still plenty of games to go, it's a long grueling season after all. But if there is one thing I do know it's this: Derek Jeter, for all his faults, is a winner. When you play for an organization like the New York Yankees, YOU want to win. Sure, making money and profit is a priority especially as an owner. But he was a player. A man who wanted to win.
A man who still wants to win.
And so my dear readers, I raise a glass, toasting our brand new season likely to be filled with ups and downs (Hopefully more of the former). For these youngsters, it's a dream come true. They are really living a dream, for many of us, our dream. And even if it wasn't your ultimate goal in life, one can't help but cheer these guys on and hope that they succeed as ballplayers. As people.
Here's to the new ownership.
Here's to our team's success.
Here's to America's pastime.
And here's to, whether or not you're a Marlins fanatic, a year of great baseball.
PLAY BALL!
Star Performances
Brian Anderson rides into the start of the week on a four-game hitting streak, recording  5 RBIs in the series against the Cubs. He also hit his first double of the year.
Derek Dietrich also has a four-game hitting streak, including both his first homer and first triple of the year, notching in 3 RBIs of his own. He owns the third best batting average in the young season, standing at .316.
Dillon Peters gets a nod for his start on Sunday, while he only fanned two, he scattered six hits and kept the opposing team off the board. Well done, Dillon.
How about @Dillypickz today? 6 IP, 6 H, 0 R, 0 ER, 1 BB, 2 K.#JuntosMiami pic.twitter.com/GSorfgzjBj

— Miami Marlins (@Marlins) April 1, 2018
Views from the Cheap Seats is a weekly segment where a Miami raised sports nut recaps, screams and analyses a week's worth of games giving a toast, or the finger, to his hometown team depending on their performance. A truly hopeful but always realistic fan putting thoughts to pen to paper and always striving to improve. Be bold, be good, be you. I dedicate this year's labor of love to my old man, thanks for showing me a beautiful game pop.
Don't forget to follow us on Twitter, Facebook, and Instagram.
Photo Credit – Miami Marlins Twitter
(Visited 225 times, 1 visits today)